Let me just start by saying Merry Christmas Everyone (or as the Pastafarians say, Happy Holiday)! I hope that Santa was good to you, or at the very least that you got to spend a little time with your family or some close friends and had a day off work.
I gotta be honest, it doesn't really feel that much like Christmas when there's no snow on the ground. It's not the first green (or brown, depending on where you are) Christmas I've ever seen, but if I recall correctly, the last one I saw started off green, but a big dump of snow changed that pretty quickly. However, even without snow, it's still nice to see the light displays that people put lots of time and energy into outside their houses. I didn't really go out of my way to go on a tour and find the best light displays, but there was one that I pass by just about every day that caught my eye…
You've probably seen this at one point or another too. If you're driving down Park Street past GE, it's hard to miss. While it's not exactly elaborate, I think it's pretty funny. The house is the Vagos MC Clubhouse, and I find it funny because when you think of the stereotypical biker gang, you don't exactly picture them as the festive type. Love it or hate it, this display has got people talking!
While it's nice to take a break and check out the lights, the holiday season is usually about the busiest time of year, which can be awfully frustrating for people who leave their preparations to the very last minute. I'm often bad for doing that myself, but this year I actually impressed myself by getting a start on my shopping in November (Whoa!). Even still, there were a couple things I left to the final week before Christmas to get done – and that meant I had to brave the crowds. So what do you do when you know you're going to be frustrated? I tend to listen to a little metal music, and that seems to chill me out.
I don't often give myself Christmas gifts (unless you count all the routine things I buy for myself), but this year I decided to treat myself with a ticket to see Opeth, In Flames and Red Fang. I was planning on treating a couple of my good friends to the show too, but I do believe I bought literally THE last ticket available to the show.
I'm pretty sure I just bought literally the last ticket on sale for @OfficialOpeth tomorow night… Now to find two for my friends… #Whoa

— Ken Elrick II (@DrPatchbeard) December 21, 2014
See? I seem to be bad at getting tickets to things. I almost missed out on seeing Queens of the Stone Age in Oshawa this past summer (though that wasn't my fault). I drove to Toronto in hopes of seeing Between The Buried And Me only to be turned away at the door because tickets were sold out and nobody in the lineup had any extras. I waited online for the exact moment to buy tickets to not one but TWO Soundgarden shows only to be told instantly that no tickets were available for either. I guess it wasn't a surprise when I wasn't able to get a couple tickets for my friends. So instead of heading to Toronto with a couple buddies Sunday evening, I drove down by myself. I haven't gone to a ton of concerts on my own, I find it's always nice to have some company or someone to talk to, but this one was pretty awesome even on my own (though paying $4.50 for a bottle of water was the complete opposite of awesome). And you know what? I think it was going to this show that kept me in a good mood during what is usually a very stressful time.
Red Fang is an awesome up-and-coming band from Portland, Oregon. I first discovered them when I came across the video for their song Wires. It's actually one of my favourite videos, for both the song AND the content of the video.
I mean, who wouldn't love a music video that's just about seeing how much money you can blow on things to drive into with a car? I bet you've had dreams of driving through a tower of milk jugs, or a china cabinet, or a pinball machine.
I had originally planned on going to see these guys last December when they were in Toronto playing at Lee's Palace, but those plans were cancelled by a nasty snowstorm. This was my first chance to see these guys play, and while they were awesome… I would have loved to see them play a longer set. But when they're opening for a double bill of Swedish metal juggernauts, you take what you can get. They definitely kicked some ass during their short set!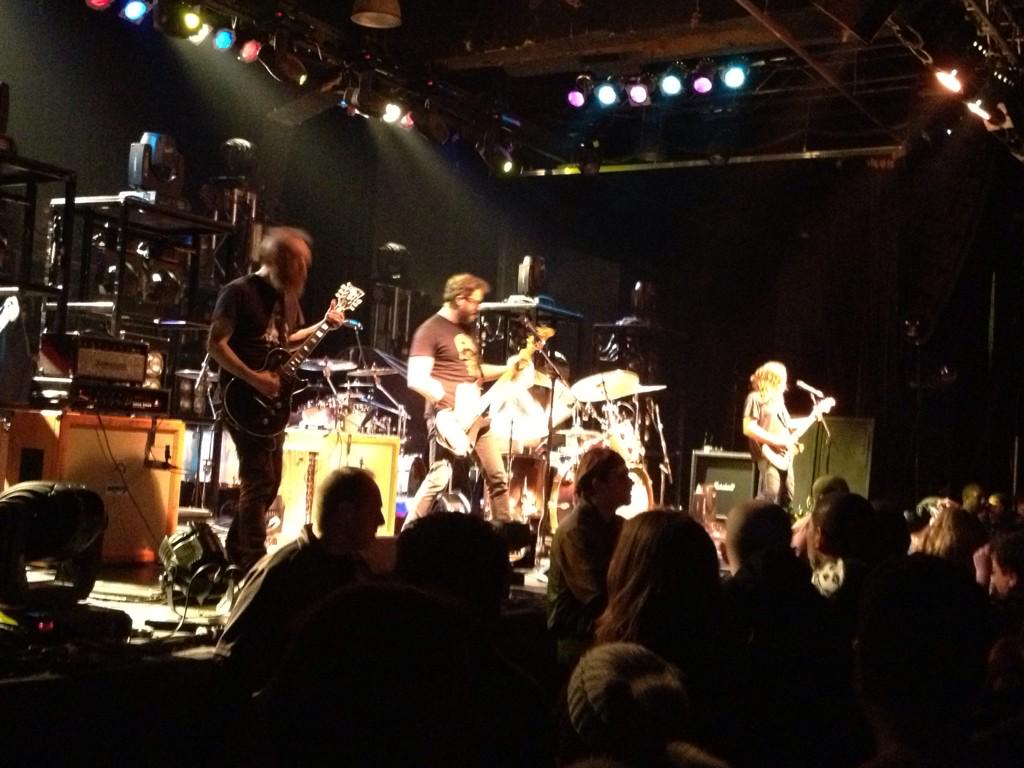 Up next was In Flames. I had actually seen them years before at a show where they played with Between The Buried And Me, Protest The Hero and Killswitch Engage. Even still, I am not familiar with tons of their music. I enjoy the band, but I've never really gone out of my way to seek out their music. As such, the only song I straight up recognized was their "Guitar Hero song," Take This Life.
At one point between songs, frontman Anders Fridén took a second between telling people to mosh harder to say "I know this isn't very metal to say, but Merry Christmas everyone!" Even metalheads get into the spirit!
After In Flames finished their set, I pushed my way into the middle of the crowd for the main event, Opeth. I've been trying to go see them for 6 years now, and something always got in the way. I had told myself back when the show was first announced that there was no excuse to miss it this time… And yet I almost did by not buying tickets in decent time.
But I did get there, and managed to cross another band off my bucket list. If you've never heard of Opeth but are into metal, you really must check them out. Even if you're not into metal but into prog rock, you'd probably enjoy them to a point.
I tried to take probably 25-30 photos of them while they were on stage (which is not always an easy task when you're right on the edge of the moshpit). These two turned out the best of all of them.
During the set, frontman Mikael Åkerfeldt goaded the crowd into booing him when he brought up the topic of hockey in a break between songs. He said something along the lines of "We are Opeth, from Sweden…" *crowd cheers* "… The superior hockey nation." *crowd boos* He then continued on, "Aw, did your team lose tonight? In Chicago?" (The Leafs did indeed lose 4-0). "And how many Swedish players does your team have? NONE!" Then he explained that he doesn't even really care about hockey, he just likes that it's an easy way to annoy Canadians and Finns. And he also said something like that in Russia once, but that might have been kinda dangerous.
Speaking of hockey, I bet Åkerfeldt would appreciate the Quebec Nordiques (even though they're no longer a franchise), given that they drafted a Swedish hockey legend in Mats Sundin and also were home (for one season) to another legendary Swede, Peter Forsberg before the team moved to Colorado.
I personally am fond of the ol' Nordiques, and that comes from my childhood. When the team moved to Cologrado and became the Avalanche, my mom went out and bought an offical NHL-licensed Nordiques mug, thinking for sure that it would be worth some ridiculous amount of money one day. Unfortunately for her, if you know where to look, it's actually not that tough to come across team merchandise these days.
For example, on the day following the concert, I went out to finish my shopping. One of the stops was at Giant Tiger where I found these awesome Nordiques lighters that I just had to buy!
#GTBoutique find of the day: sweet #Nordiques Bics! pic.twitter.com/kdmOcbLEdf

— Ken Elrick II (@DrPatchbeard) December 22, 2014
Fast forward to Christmas Eve… I thought I'd finished my shopping, but discovered there's just a couple more things I need. So off I go, into the traffic, the hustle, the bustle… The rage fuel. While I tried to find a parking spot, I couldn't believe the people who thought parking in the middle of the road in the Walmart parking lot was acceptable, even though there was the odd parking space available. So now, not only can people not walk directly across the designated crosswalk area, but people searching for spots have to now navigate their way around multiple parked cars, pedestrians AND the cars coming the other way! Even if you're sitting in your car with your 4-ways on, it's not cool to block the designated DRIVING area. Go park your car. It'll take 2 minutes to walk to and from the store.
Visiting the LCBO wasn't much easier, though it was nice to not have to deal with people parked where they shouldn't be. Have you ever been in the liquor store at 2 PM on Christmas Eve? Everyone was stocking up, and the lineups were huge… But I got through it, just barely.
Then it was just a short shift at my other job that separated me from freedom. When I got that shift out of the way, it was time to start relaxing. First up was a visit to the family of my girlfriend's brother's girlfriend (complicated, I know), where we enjoyed their traditional Christmas Eve fare of surf & turf.
The next morning, we got up to open our gifts. My girlfriend Anne had been telling me about how excited she was for me to open my gift, and immediately upon tearing away the wrapping paper, I knew why:
She got me this beauty of a sweater. Not only do I now have a proper Ugly Christmas Sweater, but it's emblazoned with Pantera's name and logos! She knows my needs, that's for sure! Maybe she saw my Ugly Christmas Sweater blog post… Either way, this is just about as metal as Christmas can get.
In the afternoon, we joined my dad and step-mom on their farm and had a nice family dinner, the four of us, dining on… Surf & Turf! That's a family Christmas tradition that goes back years, and I think I'm just about the luckiest guy around for being able to enjoy it two nights in a row. Then again, I may also be the unluckiest, since I spilled lobster juice on my pants both times.
All in all, it was a lovely quiet night in with a wonderful dinner and some great conversation. And while all the excitement of Christmas might be over for some, I get more! This evening I'll get to join my girlfriend's significantly larger family for dinner, and then on the weekend, another Christmas dinner with my mom! I'm blessed, I tell ya.
Happy Holidays everyone!