Do you have any Ugly Christmas Sweaters in your closet? They've become a staple of the holidays in recent years, but I was curious to know where the trend started. Time Magazine had this to say on their history:
Though the sweater as a garment has existed in the U.S. since the late 19th century, hideous holiday versions only began to sprout up in the last several decades.  Bill Cosby was a modern-day pioneer of the trend and is revered as an ugly sweater icon.  As Cliff Huxtable on his eponymous '80s sitcom, the family man's uniform of choice was a wooly pullover with questionable color mixing and patterns.  Thanks to Cosby, as well as Chevy Chase in National Lampoon's Christmas Vacation, these sweaters experienced a resurgence until their popularity faded as the '90s began.

But in the past decade, the trend has picked up steam once more.  According to the Ugly Christmas Sweater Party Book: The Definitive Guide to Getting Your Ugly On, there was a noticeable uptick in ugly sweater parties around 2001, and the tradition snowballed from there.  Now the tops are bigger than ever, but in a very hipstery, oh-so-ironic way.  Vintage stores, the Salvation Army, and Goodwill are reaping the benefits of this craze, but the trend has reached as far as fast-fashion shops like H&M and high-end retailers such as Nordstrom.
So it appears the ugly Christmas sweater craze appeals to everyone from hipsters to high-end fashion fans. I don't know about everyone's habits, but I'm guessing with most people (elementary school teachers not included), their ugly sweater gets worn once or twice a year – at an Ugly Sweater Party!
I've been to at least one such party, but my sweater was not exactly overly ugly. It was red, which I think qualifies it as a Christmas sweater, but just. Let's just say that there are many, many uglier sweaters out there. I've been seeing tons of them online over the last month or so, and so I decided to put together a list of some of my favourites.
The Black Metal Corpse Paint Snowman
Nothing says "I'm going to burn down the church after midnight mass!" like this black metal snowman, complete with a burning church in the background. It's obviously inspired by the Norwegian Church Arsons of the early 90's.
Birthday Boy Jesus
This is in the true spirit of Christmas: celebrating it as the birthday of Jesus. However, if you happen to look like Jesus, you can wear this as a birthday sweater!
The Reindeer Threesome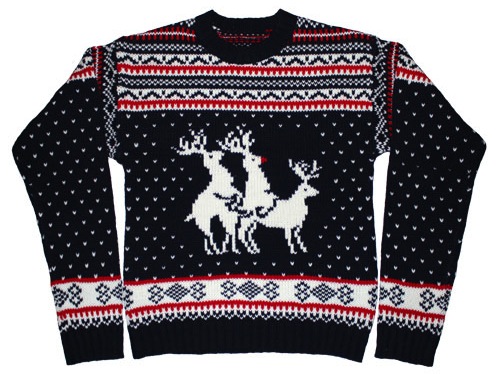 [Via Amazon]
Well, if nothing more, this sweater gives us an idea of what gets Rudolph's nose really glowing.
The Street Fighter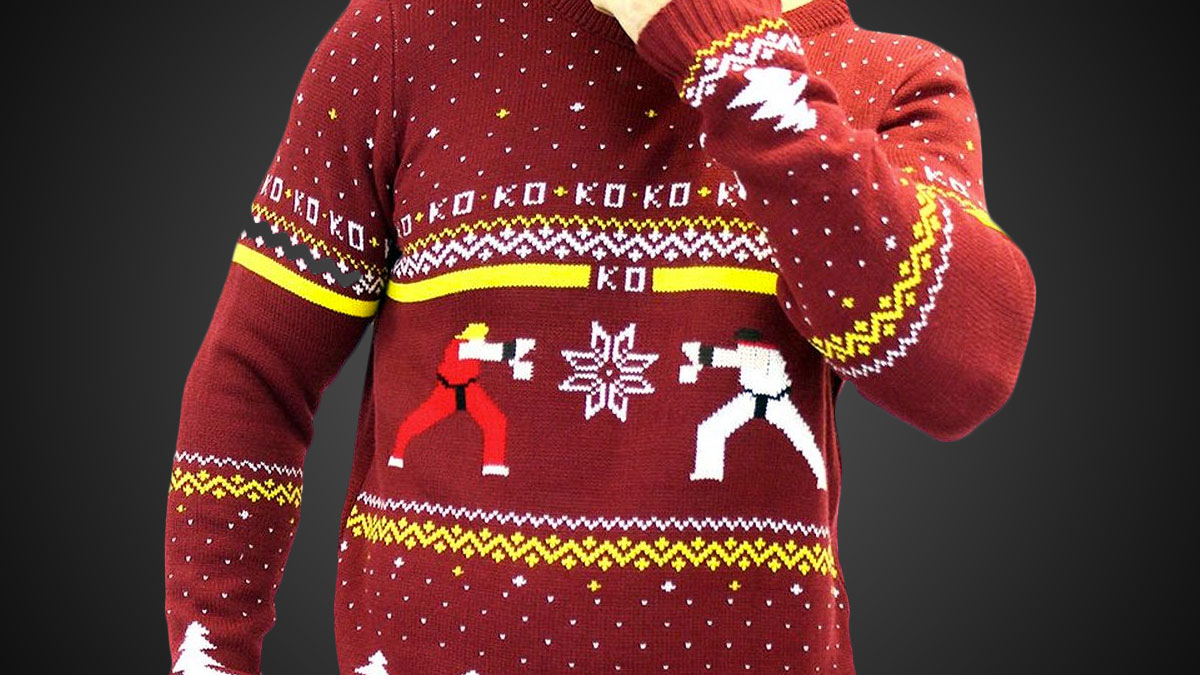 [Via dudeiwantthat.com]
Perfect for the hardcore gamer, or perhaps anyone whose name is Ken or Ryu. Who knew they could hadouken in the form of a snowflake?!
The Reindeer Hangover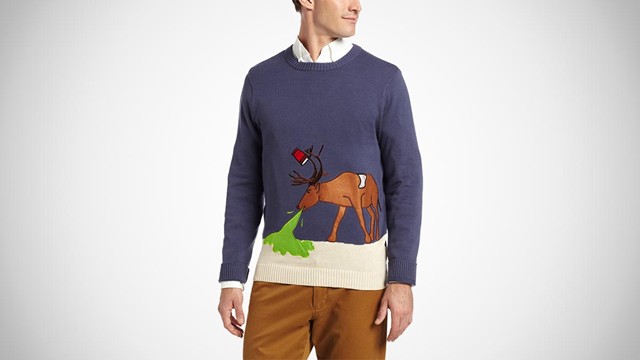 [Via dudeiwantthat.com]
If your ugly sweater party calls for heavy alcohol consumption, this depiction of what might happen to you later in the night or the next morning is the perfect choice!
The Ugly Christmas Swimsuit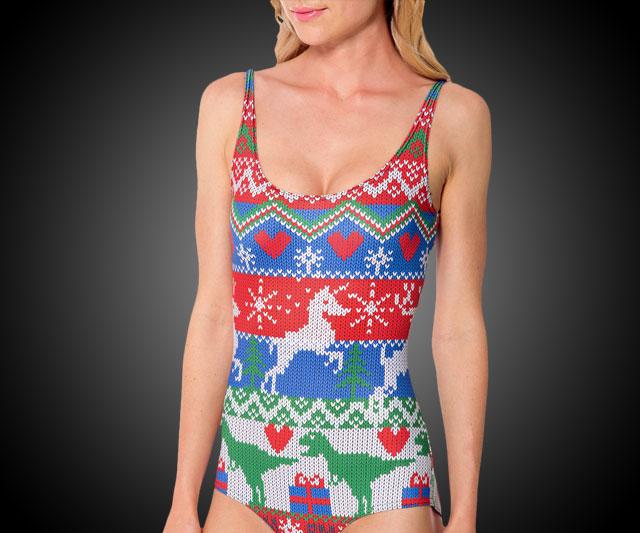 [Via dudeiwantthat.com]
Because when I think of Christmas, my mind instantly goes to laying in the sun, wading out into the lake or floating peacefully in the pool… Not so easily done in December in this part of the world, but if your holiday plans will be taking you somewhere tropical, this would be a good choice.
The Ugly Hanukkah Sweater

[Via Reddit]
You don't need to celebrate Christmas to get in on the ugly sweater craze!
The Dwayne "The Rock" Johnson

[Via Reddit]
Sure, it's not exactly a knit sweater, and it has an actual photo instead of a knit design on it… But who wouldn't agree that The Rock's 90's self is perfect on an ugly sweater?
The "Christmas At Jurassic Park"

[Via Reddit]
Sometimes you just gotta go, you know?
The "Don't Eat The Yellow Snow"

[Via Amazon]
When Santa has to go, he goes in style.
The "Hey, That's Not Where That Goes!"

[Via Reddit]
I can't help but think that Dumb & Dumber inspired this one…
The "Lamp In The Front Window"

[Via Reddit]
This one was obviously inspired by the classic A Christmas Story.

[Via pagecovers.com]
The "One… Two… TEN!"

[Via eBay]
Another classic film-inspired sweater… Just make sure if you buy one, you tell the person selling it to you to "Keep the change, ya filthy animal!"
Now any of these options would serve you well at an Ugly Sweater Party, but if you're looking to score points for the ugliest sweater at the party (or even in day-to-day life), there's only one option (which comes in multiple colour schemes!)…
The Ultimate Ugly Sweater

[Via habsblog.com]
Happy Holidays!