[Via Consequence of Sound]
Yesterday afternoon, while I was hanging in The Wolf Den like I do every Saturday, Nazareth's version of This Flight Tonite came on. It's a classic song that I've been a fan of since my childhood, but I have a particularly unique memory of the song.
As a kid, I was always pretty fascinated with my dad's work. He's an auto mechanic, and as a toddler I would often tag along with him when he would go out towing cars. As I got a little older, I would occasionally go to work with my dad and spend the day. It didn't happen too often – just when they couldn't find a sitter or when I got kicked out of school. At the time, he worked at Class 'A' Automtive on Webber Ave., and even though I spent most of my time sitting playing on the shop computer, I did get to know my dad's coworkers fairly well.
One of his coworkers was a gentleman by the name of Dwight Lavoie. If you've ever brought your car to Class A, you might know him as the manager. Also, if you go to the races at Peterborough Speedway, you've probably seen him racing his #00 car.

[Via peterboroughspeedway.com]
Anyway, as the story goes (and this is going back quite some time, so it may not be entirely accurate), I guess when Dwight gets mad, he's got a real talent with stringing together profanities (like many of us). And if you've ever worked on a car, there's a good chance you've surprised yourself with the profanities that come out of your mouth. I know I certainly have surprised myself. As my dad tells the story, during one particularly angry moment, Dwight was stringing together curse words in ways my dad didn't know were possible. This Flight Tonite happened to be on the radio, and thinking quickly on his feet, my dad started singing along.
"I should not have got on this flight with Dwight!"
Since I heard that story some years back, I'm always tempted to sing those lyrics whenever I hear the song. Yesterday, it came on and I decided to share my story and ask listeners what lyrics they intentionally sing wrong. I got some great responses too!
In there, we have a listener who thought The Doobie Brothers were saying "Trying to grow," instead of "China Grove." Also, a caller whose name I assume is Bill puts his own twist on Honeymoon Suite's Burning In Love.
And here are some of the results from my post on Facebook:
Mikey W. says that he often changes the lyrics to ZZ Top's Sharp Dressed Man, singing "Every girl crazy 'bout a sharp dressed van!" He had a custom van in high school, which even had the ZZ stripes painted on its hood! I asked if he had a photo, and as of the writing of this post, he hasn't found one just yet. I can only assume it looked considerably cooler than this one:

[Via jholroyd.com]
Taya S. thought that Van Halen was saying "Marilyn Monroe" instead of "Panama," and that she still sings it that way. Jay B. chimed in with the fact that he sings "Animal" instead. My roommate will often scream "ENEMA!" at the top of his lungs when that song is on.

Who would want to write a song about an enema?! [Via WikiHow]
Val S. has possibly the best take on Golden Earring's Radar Love I've ever heard. Instead of "It's a half past four and I'm shifting gears," she likes to sing "It's a half-assed Ford and I'm shifting gears."

No word of a lie – this was the top Google image result for "half-assed Ford." [Via penguinrandomhouse.com]
Chris T. likes to change Foreigner's Jukebox Hero into a song about a "Juice Box Hero."

[Via DeviantArt]
Steph P. had a different take on The Police's Message In A Bottle. Instead of "A year has passed since I wrote my note," she sings "A year has passed since I broke my nose."

[Via Professor Wikipedia]
Leigh Ann K. prefers a "Brown eyed Squirrel" to Van Morrison's idea of the perfect Brown Eyed Girl.

[Via Professor Wikipedia]
Jay B. and Melissa C. have the same idea as Bruce Springsteen did about Manfred Mann's version of his tune Blinded By The Light. The actual lyrics are "Revved up like a deuce," but the pronunciation makes it sound an awful lot like "revved up-" or "wrapped up like a douche."

[Via lemonharanguepie.com]
There's a couple of different takes on a couple Elton John songs. Craig F. likes to sing a classic line along to Tiny Dancer: "Hold me closer Tony Danza!"

[Via iusedtohavehair.com]
Andrea H. likes to sing her own lyrics along with Rocket Man: "Rocket Man…. Burning up the trees on every lawn!"

[Via Professor Wikipedia]
Amanda R. said that when she was 3, she'd sing along to AC/DC's Dirty Deeds Done Dirt Cheap, thinking the words were actually "Dirty Jeans Under Jeeps." I think I might actually like those lyrics better. She still sings them around her parents for a chuckle.

[Via eriejeeppeople.com]
John J. rewrote Bob Dylan's Blowin' In The Wind to be about insects. "The ants are my friends, they're blowin' in the wind."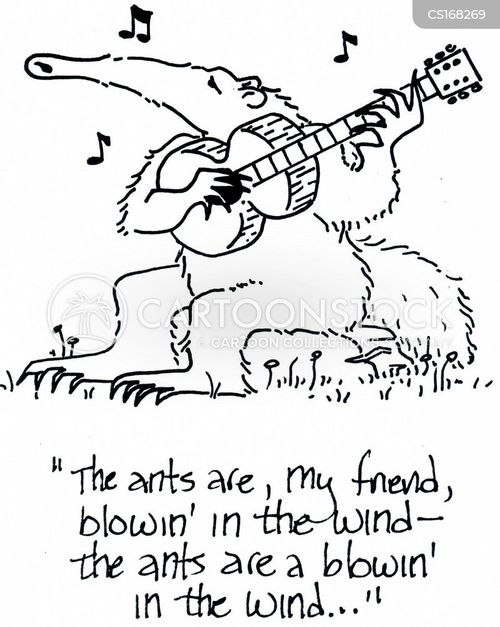 [Via cartoonstock.com – as if the giant watermark didn't give it away.]
 Michael S. is fond enough of Boston's idea of Peace of Mind, but he's got other priorities: "All I want is to have a piece of pie!"

He didn't say what kind of pie he prefers. Hopefully pumpkin is okay. [Via Professor Wikipedia]
Dawson K. likes to turn The Beatles classic Let It Be into a song about the alphabet: "The letter b, the letter b after a and before c."


[Via globalnerdy.com]
Mike O. has his own take on a holiday classic… Instead of Chestnuts Roasting on an Open Fire… He sings "My nuts roasting on an open fire." Sounds painful!

[Via mlkshk.com]
There you go! Got any to add? Feel free to put them in the comments!