Last night was another installment of the Corus Feeds Kids Concert Series at The Venue. As far as concerts go, this season has been very good to Peterborough. In addition to a couple awesome shows by Big Wreck and Sam Roberts Band at Showplace, there was an awesome Oktoberfest party with The Trews at The Venue. Then, the CFK series brought The Tea Party and David Wilcox to town! You can see my review of the David Wilcox show HERE.
Last night saw hometown boys I Mother Earth take the stage at The Venue. It was also kinda cool, since, as I understand it, drummer Christian Tanna actually manages The Venue.
Now unfortunately I missed the opening sets by Levon and Gentlemen Husbands… You know how it gets sometimes, when you meet up with a couple friends and have a couple beers before the show… And then suddenly you look at the clock and realize you have 10 minutes to get downtown… Last night was one of those nights.
But when we did get there, it was just about perfect timing for the band to hit the stage.The first thing I did when I got to The Venue was make an ass of myself to the girl working the door. As she put my wristband on, she managed to get the sticky part square on the wristband, which was perfect. In an attempt at a lighthearted joke, I said "That's awesome! You got significantly less skin than the girl who did it last time I was here!" My roommate Cole, who was with me at the time, told me afterwards that his jaw dropped when he heard me say that. I didn't realize that I may have given off the wrong vibe until she started apologizing for that other girl – but I tried to assure her that I was just kidding around. Anyway, to the girl working the door – if I offended you, I'm sorry. It wasn't my intention. Right then, moving on…
For the other shows in the CFK Series, I've managed to situate myself in The Wolf VIP Area which is one of the wings raised up beside the dancefloor. It's a great spot to watch the show from, but I ended up getting a good spot right up front by the stage so I decided just to stay there and watch.
– Now before we get into the photos, an apology for the quality of them… Although I guess my blogs are kinda known for shitty blurry iPhone photos. That's what you get in this one too! I did try and weed out the blurriest, though. On that note, let's continue. –
The band kicked off their set with a great rendition of Summertime In The Void during which singer Brian Byrne had the crowd in the palm of his hand as he encouraged them to sing the chorus all on their own – and they did quite well.
Now I was a couple beers in at this point, so I wasn't able to memorize the setlist or anything, but if I recall correctly, the next song up was Like A Girl, which happens to be one of my favourites. It really showcases Jag Tanna's versatility on the guitar. I don't know if I've ever seen someone slap a guitar like it was a bass as proficiently as he does.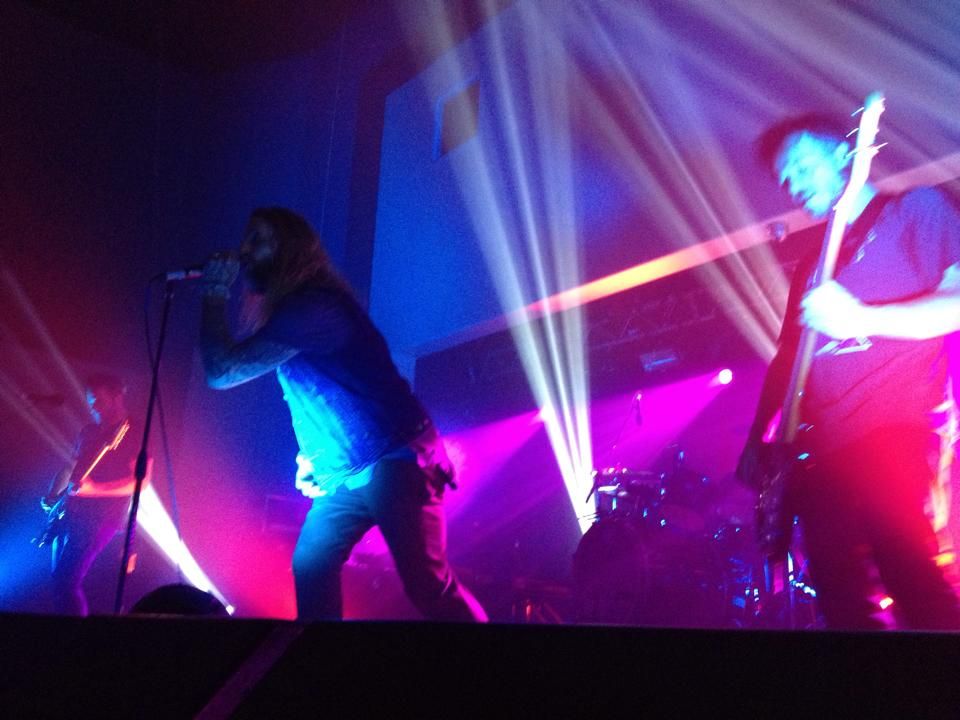 During the day, working my shift at The Wolf, we played a couple tracks from IME's first album, Dig, as part of the Feels Like The First Time Debut Albums theme weekend. Hearing those tunes was a great warm up to the show. When the band launched into Not Quite Sonic, I got the impression the rest of the crowd had been listening to Dig all afternoon too, from the way they sang along.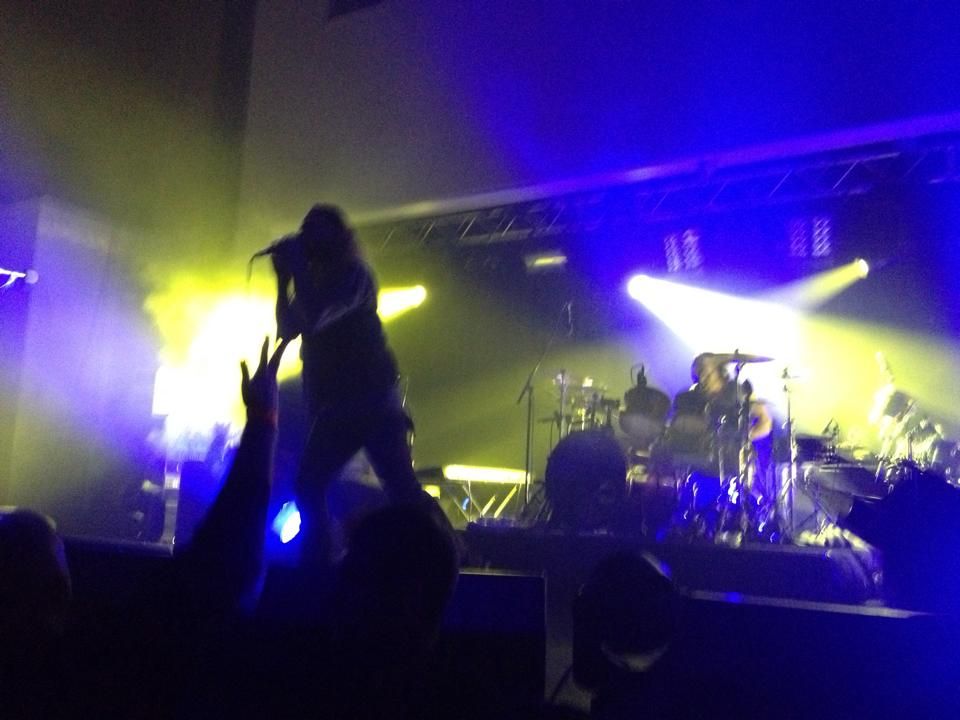 There were multiple points throughout the show where I was so mesmerized by the band that I almost forgot where I was. The musicianship these dudes bring to the stage is off the charts.
Now I'm a sucker for just about anything from their 1996 album Scenery & Fish. That's one of those albums that I listened to on repeat A LOT when I was in high school (at Crestwood, where the Tanna Brothers went years before!). In fact, I think I may have included it as one of my "deserted island albums" when asked to list a few that I would have to spend the rest of my life listening to. As such, I was pretty stoked when the band played One More Astronaut and Another Sunday. Another big highlight of the set was Earth, Sky & C., and Shortcut to Moncton with a sweet jam sesh in the middle was fantastic.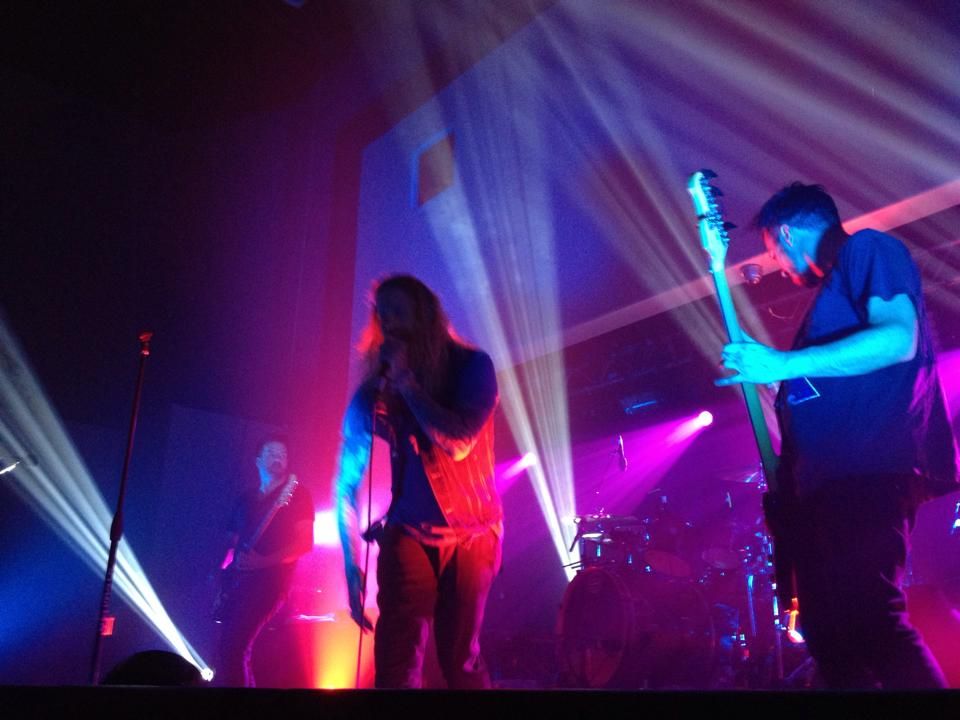 At one point in the show, I ended up at the very front of the stage, standing looking up at bassist Chuck Dailey (who I mistakenly thought was actually Bruce Gordon until I was corrected on Facebook). I ended up taking a bunch of photos of him as a result. I was already a fan of Gordon's bass playing, but seeing Dailey bringing it to life right in front of me was incredible. Immediately after the show, I tweeted this, but now I really wish I could go back and edit it…
What a great time standing at the very front, stage left for @IMotherEarth at @TheVenuePtbo! Bruce Gordon is one #mother of a bass player!

— Ken Elrick II (@DrPatchbeard) December 7, 2014
Bruce Gordon IS a mother of a bass player, but it was Chuck that deserved my praise last night. Sorry about that, Chuck! Anyway, on that note, here's a few photos of Chuck!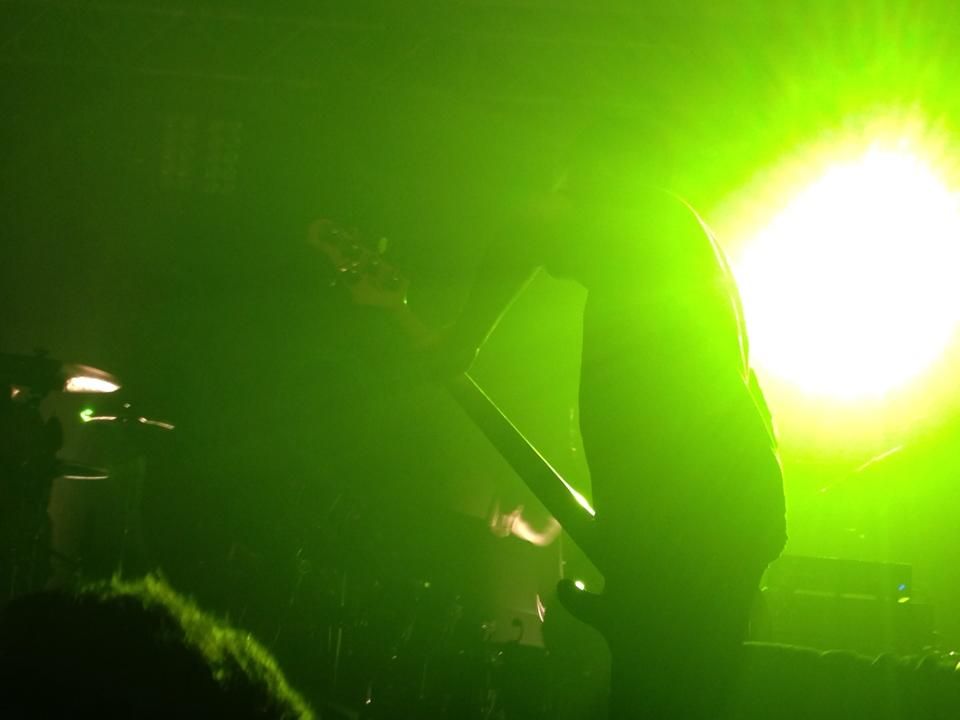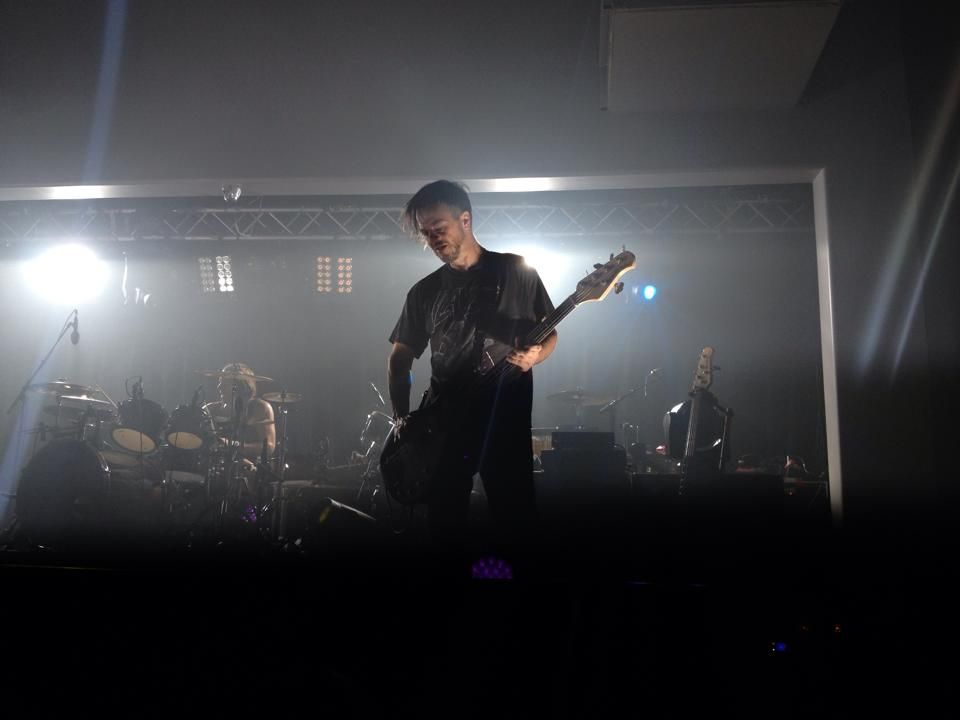 I was trying to get a photo of his Slayer shirt. It didn't work as well as I'd hoped.
If there's one thing I learned from standing right up at the front of the stage, though, it's this: When I Mother Earth is on stage, all you need to do is LISTEN.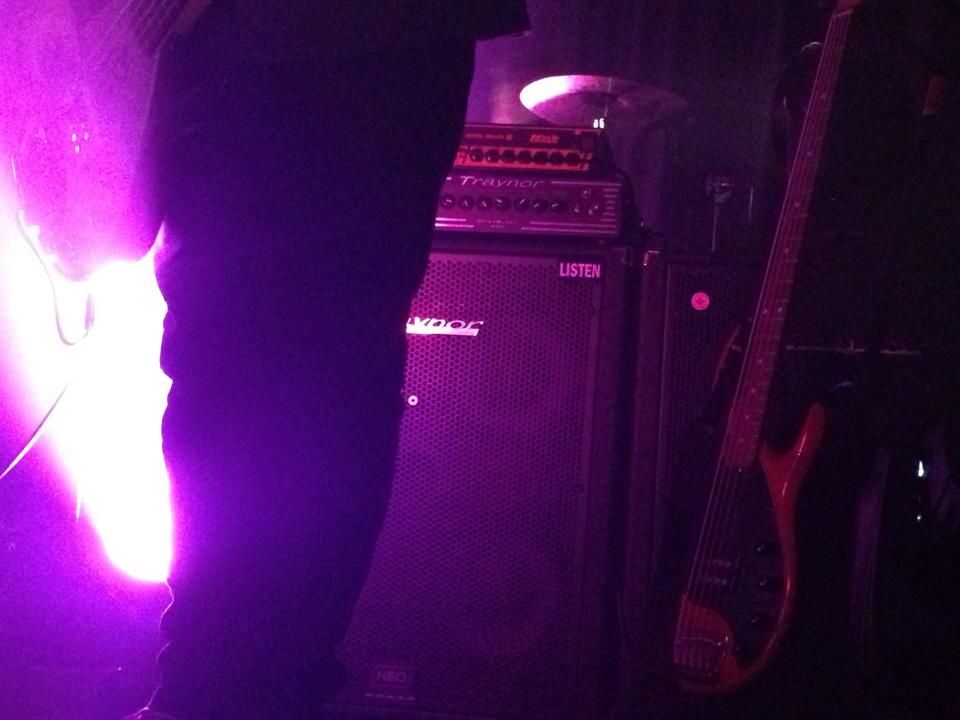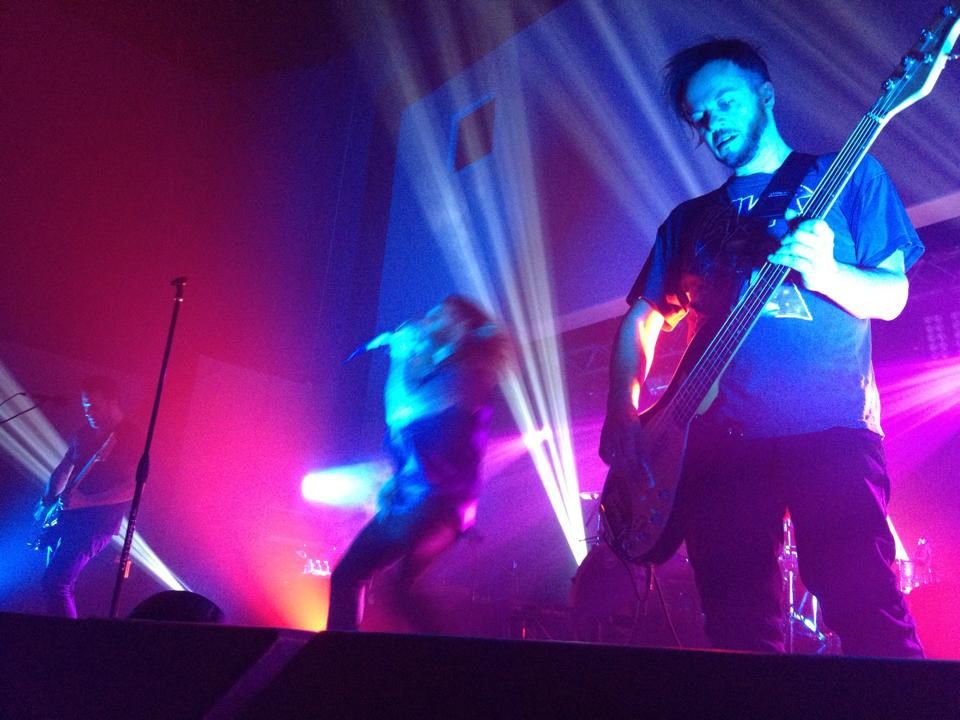 After the show, I caught up with my boss Rob and his wife Kya, who also works here, and we chatted a bit about the show. Rob said he couldn't believe that they played for about 2 1/2 hours, and when he told me that, I could barely believe it myself… It certainly didn't feel like they played for that long, but time flies when you're having fun. I also thought back to the first time I saw them when they first did their first reunion shows in Toronto a couple years back and they played for AT LEAST that long. Kya, who is a drummer, told me she would have loved to see more percussion solos from Daniel Mansilla, who was pounding away on his congas and bongos and whatever else he has back there. Also playing with the band was Chris Collins, who held down keyboard duties.
It's always a great pleasure seeing I Mother Earth play live, and being right at the front of the stage was a real treat. Thanks for a great night, Venue!