[Via Huffington Post]
Last week, 62-year-old actor and former professional boxer Mickey Rourke stepped into the ring for the first time in 20 years.
It was, uh, pretty interesting to watch. I did post a blog about it this weekend, and you can read that HERE.
If you haven't seen the video, here it is:
I mentioned it in the last blog I posted about it, and I'll say it again here: There's something that looks a little fishy about this fight. It was billed for five rounds, but Rourke won by knockout in the 2nd. His opponent, Elliott Seymour, went down after taking a couple of body shots, and the fight was called after the second such instance. I don't think I've ever seen a KO caused by bodyshots before, but I'm no expert on boxing. Still, I couldn't help but think the fight was rigged.
Yesterday, a news story was published that basically confirmed this suspicion. According to The Huffington Post, he paid a mentally ill homeless man to take a dive in the bout in order to make him look good.
As the report states:
According to the Daily Mail, the 63-year-old's first fight after a two decade hiatus was fixed and opponent Elliott Seymour was paid to lose Friday's encounter. The newspaper's website also alleged that the film star was taking advantage of the man's mental health and unlucky circumstances.

A source close to Seymour's family said that "it was clearly a fixed fight," and that "the whole bouncing off the ropes, hands down punches were not landing and they were intentionally hitting each other's gloves."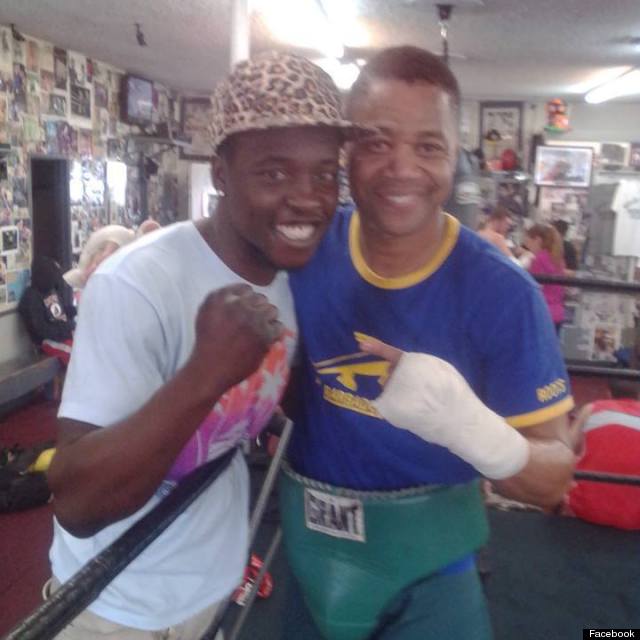 Elliott Seymour with Cuba Gooding Jr. [Via Huffington Post]
They also suggested that Seymour's mental health had suffered after his boxing career took a turn for the worse. The 29-year-old's delusions of grandeur and anger issues allegedly resulted in his family getting a restraining order against him.

Another source, based at Seymour's gym, backed up the claims and suggested that Rourke's punches were so slow an infant could avoid them.

Seymour's family source also alleged that the troubled boxer had been sleeping on the streets for 18 months, and often wrote Facebook posts about being homeless. He was apparently approached by Rourke's associates while training at the Wild Card gym to organise his participation in the bout.
Digging a little deeper into the Daily Mail report, you find this from a source close to the family:
'There are people at Wild Card gym who know that Elliot's in a really terrible situation and pretty much living on the streets, these are Mickey Rourke's people who Elliot's been around and known for some time. 

'I think it was just an ideal situation where Elliot has a title, he's desperate and clearly his boxing career isn't going anywhere and he's pretty much living on the streets, so for him it's a win because gets off the streets for a while.

'One of the well known boxing reporters writing about the fight said they might as well have got somebody who was sleeping on the subway and it would've been a better opponent, well what he doesn't know is that's pretty much what happened.'

The family source, who asked not to be named, spoke out because they are worried Seymour has mental health issues and has been exploited by the the fight's organisers.

They said: 'All these headlines Mickey Rourke beat someone half his age… yeah he did but you're not telling them the real story, the real story is he's homeless and desperate and he will probably go back to living on the streets when he gets back. People have no clue about that.

'There's so much more to the situation than people know, and there's so much that's more important than the fact it was fixed, which is the fact he doesn't have a home and he's got some mental health issues.
However, on the other side, some commentators have refuted the claims of match-fixing, saying Rourke won simply because of Seymour's weak abilities and poor professional boxing record.
Mickey Rourke has still yet to comment on the allegations… He's probably too busy getting ready for his next fight.

[Via The Daily Mail]