[Via Bleacher Report]
If you're not overly familiar with Mickey Rourke, you may know him as that guy who's not Sylvester Stallone… Okay, well maybe not, but those two do seem to have a bit in common. Rourke has been acting since the late 70's, and is probably best known in recent times for his roles in Sin City…

Marv [Via Professor Wikipedia]
You might remember him as the bad guy in Iron Man 2…

[Via screenrant.com]
He's also one of The Expendables.

With Sylvester Stallone [Via expendablespremiere.com]
I wouldn't exactly call myself a giant Mickey Rourke fan. By that I mean I don't run out to see a movie specifically because he's in it. To be honest, I haven't even seen most of the movies he's been in… But if watching The Wrestler doesn't make you enjoy his work, I think nothing will.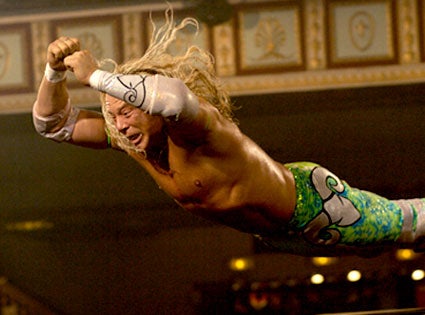 As Randy "The Ram" Robinson [Via Deadspin]
While I was reading up a bit, I learned that initially Rourke wasn't too tickled by the role of Randy "The Ram" Robinson inThe Wrestler. It seems he was under the impression that all wrestling was fake (and it wasn't until doing wrestling training that he realized how easy it really is to get hurt). When you take into account the fact that Rourke is a former boxer, this stance kind of made sense.
During his teenage years, Rourke was an amateur boxer who posted a record of 27-3 (with 17 of his victories coming by knockout) between 1964 and 1973. In 1991, he decided to take a break from acting and give boxing another shot, because he felt that he was "self-destructing," and had "no respect for himself as an actor." During this stint in the ring, he was undefeated, with 6 wins (4 by KO) and 2 draws. He also suffered a number of injuries, including a broken nose, toe and ribs, a split tongue, and a compressed cheekbone. He also suffered from short-term memory loss.
This explains his kinda messed-up looking face. I don't mean to be rude, but he's even acknowledged it himself in a 2009 interview with The Daily Mail.
'I had to have cartilage taken from my ear to rebuild my nose and a couple of operations to scrape out the cartilage because the scar tissue wasn't healing properly. That was one of the most painful operations, but the worst was haemorrhoids.'

There has been much speculation about the state of Rourke's face: is it the result of the boxing or bad cosmetic surgery?

'Most of it was to mend the mess of my face because of the boxing, but I went to the wrong guy to put my face back together,' he says.
Again facing some "personal issues," Rourke decided to step back into the ring yesterday (at the age of 62) for his first fight in 20 years. He went toe-to-toe with 29-year-old Elliott Seymour, and believe it or not, came out on top!

[Via NBC News]
Now having seen the video, I must say that it's a little hard to take it seriously, though Rourke certainly did, reportedly losing 35 pounds for it.
Many observers, including ESPN's Dan Rafael, saw the fight as a publicity stunt.
This is so sick. 60-something Mickey Rourke coming to the ring to face a guy who could barely walk to the ring. This ain't gonna be pretty.

— Dan Rafael (@danrafaelespn) November 28, 2014
Deadspin shared the video, and included this little blurb to go along with it:
Mickey Rourke has made his living as an actor, and if you expected his sanctioned boxing match today in Moscow against a 29-year-old to be totally legitimate then you've been watching too many movies.

The match against Elliot Seymour was scheduled for five rounds, but lasted less than two after we're led to believe the 1-9 Seymour was leveled by a 62-year-old's body shots. Yes, Rourke did have a brief professional boxing career of his own, but that was more than 20 years ago. Just watch the video; it's a farce.

We don't even need to imply that Seymour took a dive; a guy with a 1-9 record fighting 25 pounds above his usual weight is probably taking the L against anybody, even somebody 33 years older. But seriously, Mickey: when the guy you're boxing "goes down," you should probably stop punching him.
And now, without further ado, the video (which was shot in Russia, by the way):
The first bodyshot to bring Seymour to the ground happens around 0:57, and the second comes not long after. It is especially fun how Rourke gives him another good shot to the side while he's going down. This whole thing does look pretty ridiculous, though, don't you think? I mean, I've never been in a boxing match, and I've never been punched by Mickey Rourke, but I've also never seen someone get knocked out by a couple fairly tame looking body shots. Then again, maybe there was a "no-headshot" rule put in place to save Rourke having to go through more facial reconstruction surgeries.
Any way you look at it, Mickey Rourke is off to a good start in his boxing comeback… And that won't be his last fight either. Apparently he'll be fighting four more times in Russia before he's done.