Orsainville Detention Centre [Via Buzzfeed]
Remember a few months when those dudes in Quebec broke out of prison by being picked up by a helicopter?
It happened back in June, and I actually wrote a blog about it. You can see that blog here: Quebec Doesn't Mess Around With Jailbreaks!
That story gained international attention back in the summer, and cemented Quebec's reputation as (probably) the province with the most badass jailbreaks. As was reported in that blog, there had been another helicopter jailbreak in Quebec less than two years prior.
The prison break is the second time in less than two years that a helicopter has been used to free Canadian prisoners. The previous incident happened in March of 2013 when a pilot was forced at gunpoint to pick up two men from another prison in Quebec, according to the AP.
The story came to a pretty anticlimactic end, with the escaped prisoners being recaptured while sleeping in an apartment three weeks later. Now, video of the jailbreak has been released after a publication ban was lifted.
And I'll be honest, I'm not sure why it took them so long to release it. I mean, when you think "footage of helicopter jailbreak," something like this comes to mind: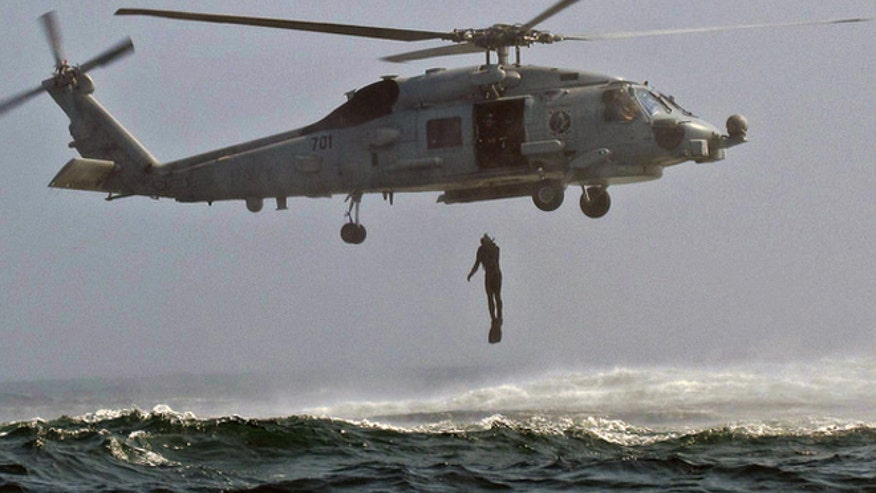 [Via Fox News]
… Except, you know… Concrete and fences in place of the water.
And you know, it may have looked as awesome as that. We'll never know. Why? Because the footage that was released shows almost nothing. ALMOST. Have a look for yourself:
Yep, you can barely  see anything, except for some dudes in the background running laps. Because it's so hard to see what happens in the video, Sun News Network describes the events that are shown:
The footage from two jail cameras was shown in court last week as part of the trio's sentencing hearing.

One camera shows the trio walking around the jail's courtyard, chatting amongst each other while the other inmates run, train and play sports.

A few minutes later, Denis leaves and returns with a white towel he didn't have before. He walks over to the fence, puts his hands on it and looks up at the sky. Then he starts to move, his hands in his pocket.

Pomerleau puts on his jacket and signals to the other two. Lebebvre waves his hands in the air.

Off camera, the chopper lands.

The second camera managed to capture the helicopter's tail and some of its propellers. It lands for 23 seconds, then takes off with the three inmates on board.

The other inmates go about their business as if nothing happened.

A pair of pliers can be seen on the ground, apparently thrown from the chopper.

The other inmates pass by them, but never pick them up.

Court heard the camera operator lingered on the pliers instead of filming the escape out of fear an inmate would snatch them use them as weapons.
At first, I figured it was a non-movable camera, which would explain why it didn't adjust to see the helicopter. When I learned that was not the case, I was a little upset, but I guess it's justified. Don't want those prisoners getting their hands on some pliers. If they can fashion a stabbing tool out of a toothbrush, I'd hate to see what they'd be able to MacGyver out of a pair of pliers.
So there you go, there's the video. If you came here expecting something epic, I'm sorry that wasn't it… But because I don't like to let people down, I'm going to try and make up for it by recommending you watch True Lies starring Arnold Schwarzenegger and Jamie Lee Curtis. I would post the video of the helicopter rescue right here, but of course YouTube doesn't have any good versions of it. So… Fire up your DVD player and see what I mean!

Ahh, the 90's: The Golden Age for Cheesy Movie Taglines. [Via Professor Wikipedia]