How did you like this year's first taste of winter?
I was at work at my weekday job on Tuesday night when the snow started. When I saw how quickly it had started coming down, I worried that it might get busy and delay my chance to leave. Bad weather, for some reason, tends to make pizza joints busy.
I had motivation to get out early, too. I was planning on changing the tires on my girlfriend's car, to make sure she had snow tires to get herself around. The longer I waited, the more snow was coming down. By the time I did get out of there, we tried to hit the road out toward my parents' house and my dad's shop, despite Kearnsy's constant reminders on the radio to stay off the road unless it's an emergency. We only made it a short distance before turning around and returning home.
Instead, we came back and spent a nice night in playing cards with my roommate and his girlfriend. Occasionally, we'd have a look out the window or the door to see how deep the snow had gotten. Over a couple hours it seemed like at least 8 inches fell. I don't know what the final number was for snowfall, but it was enough to make a mess.
Now I was fortunate enough to not be stuck on the closing shift at Domino's on this particular evening, but my friend Dave was not so lucky. He was out all night delivering pizzas in all that snow, and doing so on all-season tires! Some people will tell you winter tires don't make a difference, but I'm quite happy with the way mine perform.
As everyone in my house was on their way to bed, my phone rang. Here's how it went down.
1:17 AM: Receive phone call from Dave telling me that he got his car stuck on his last delivery of the night. He asks if I can help him, so I mobilize and suit up for a rescue mission. My roommate, his girlfriend and I all piled into my little Volkswagen Golf and set off on the non-plowed city roads. We had to go from our house (near the Memorial Centre) to Chandler Cres., the new subdivision off Parkhill Rd. near Ravenwood Dr… Quite a trip in that snow.
While his car turned out to not be stuck too bad, this is what I pictured:

[Via The Sun]
~1:30 AM: Detour around, among other things, a GO Bus that's stuck at the intersection of Charlotte & Monaghan. It was still snowing at this point, so I'm not sure if there were actually any snow plows out yet. I ended up actually plowing a few streets with just the front end of my car.
~1:45 AM: Arrive at Chandler Cres., leave the car on the road and trudge through deep, drifting snow toward Dave's car. Once we got there, we tried pushing the car back onto the road, but it seemed hopeless. So we eventually jumped back in my car, dug it out, and continued west up Parkhill Road.
~1:55 AM: Encountered a guy stuck in a Mazda RX-8 on the side of Parkhill Rd. We helped push him back onto the road, and after he said he was alright, we continued on our way. Looking in the mirror, I think he may have slid himself right back off the road immediately after.
Seriously though, an RX-8! Not sure it's the best winter car, but if I had one I don't think I'd try and go driving in deep snow like that with it.

Not the actual RX-8 we pushed out. [Via wallpaperfly.com]
~2:15 AM: Return to Domino's with Dave so he can cash out. Our coworker Madison said she's never been so happy to hear the door chime go off. At this point she's likely been sitting for close to an hour doing nothing but waiting.
~2:20 AM: Decide this would be as good a time as any to take some photos of my car in the snow. You can see those photos below.
~2:25 AM: Drive my roommate and his girlfriend home, then return to Domino's.
~2:35 AM: Drive Madison home. She lives not far from where I picked Dave up, so it's like retracing our steps again. Fortunately in the previous hour, the snow had stopped and most of our route was now plowed. Not all of it though. We managed to get there and back just fine.
~3:00 AM: Return back home and crack open a beer after all that!
We returned the next day after borrowing my dad's 4X4 pickup, and pulled Dave's car from the snow. He was incredibly grateful, but to me it was just another adventure.
Anyway, here's these photos I was talking about.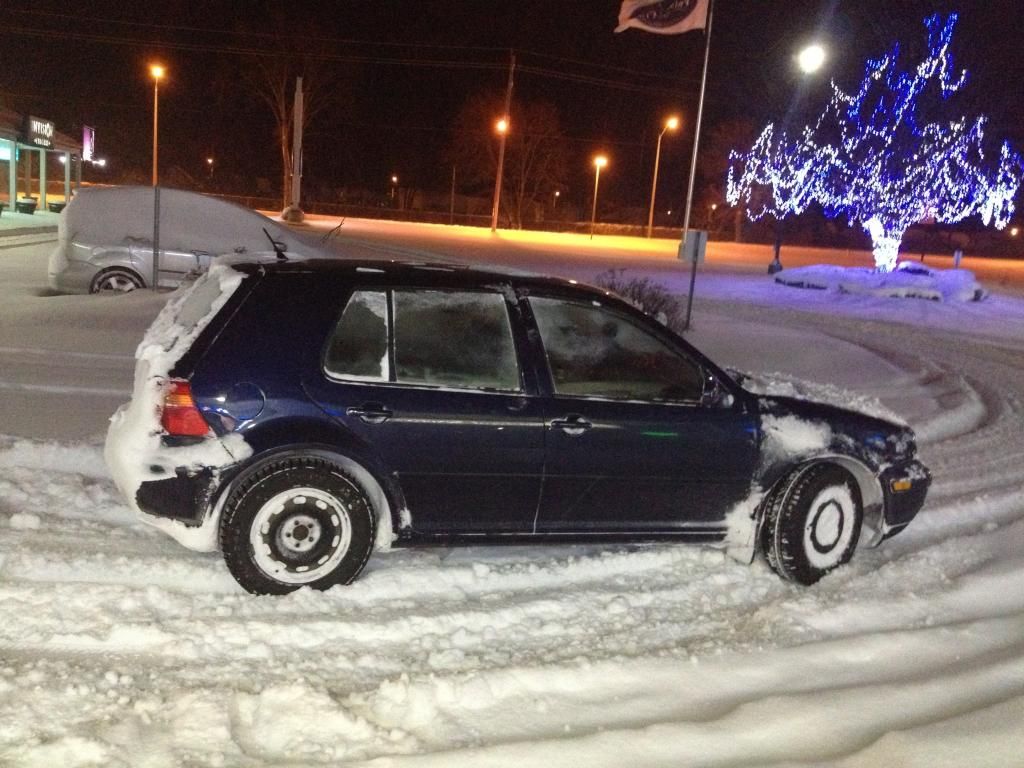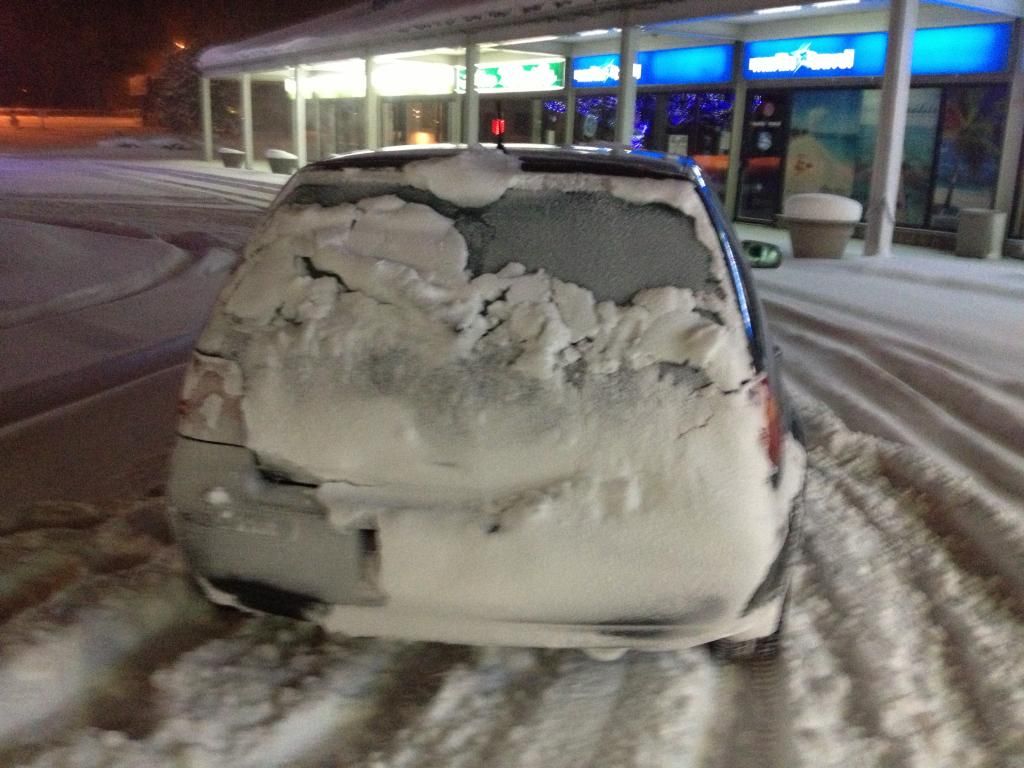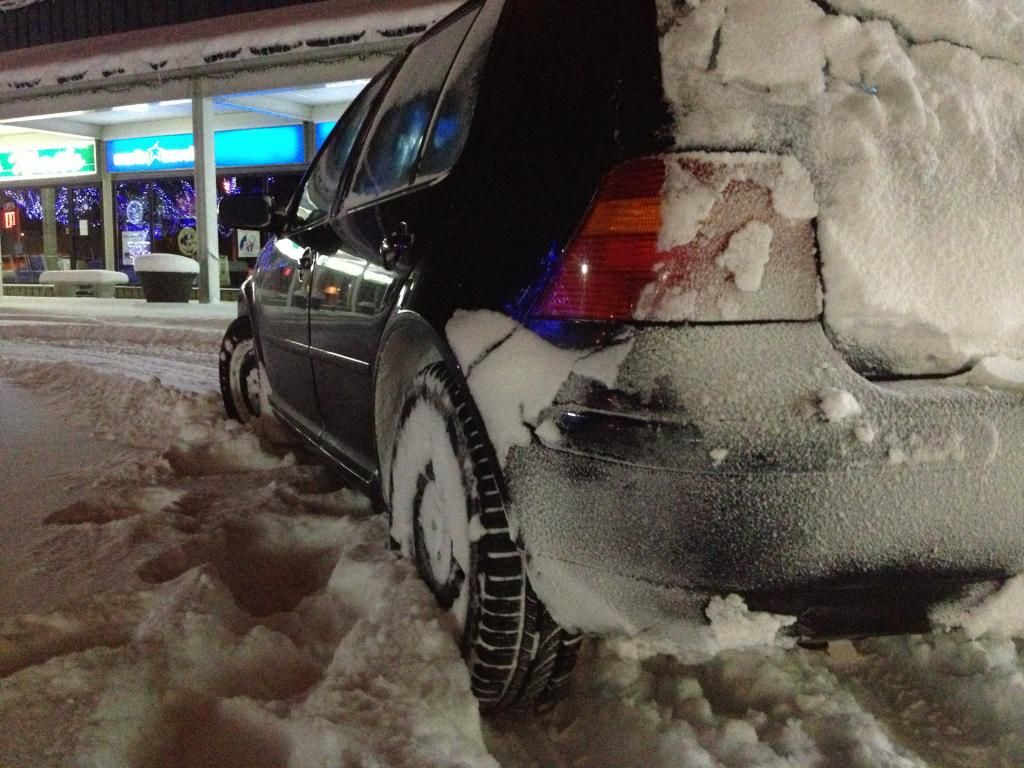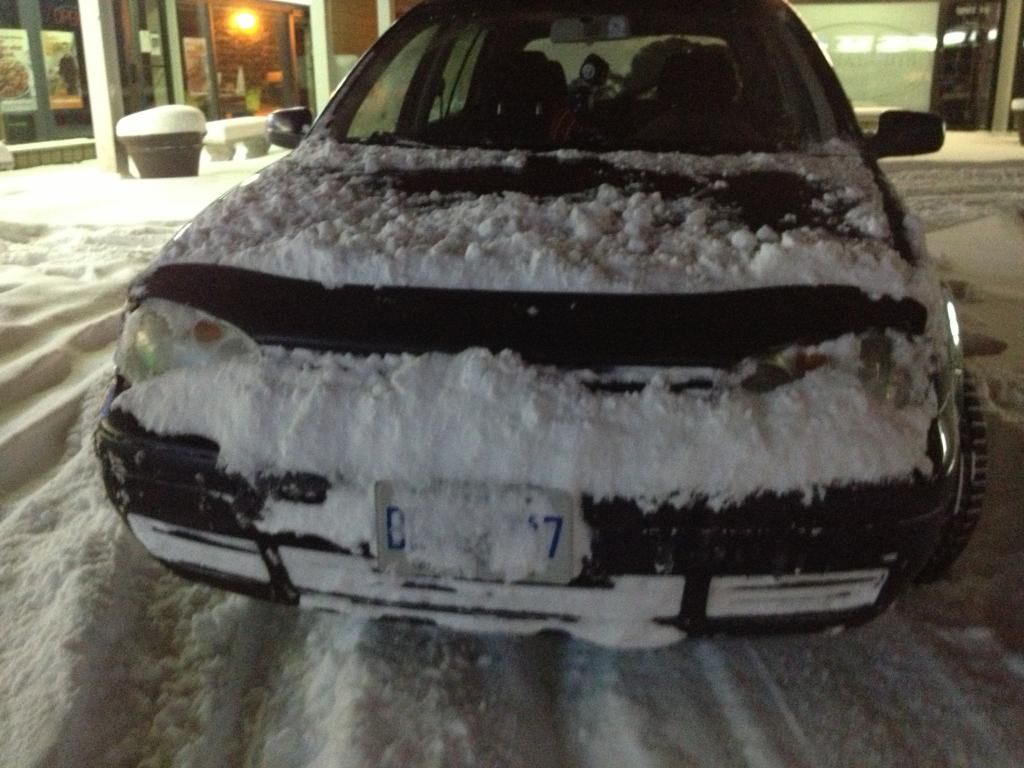 The result of plowing streets with the front end of my car.
In the middle of it all, I thought to send out a tweet, impressed by my car's ability in the snow.
Rescuing friends and plowing streets in my little Golf. For all the grief she gives me, she's pretty decent in deep snow. #Patchback #vw

— Ken Elrick II (@DrPatchbeard) November 19, 2014
And to my surprise, Volkswagen Canada saw the tweet and sent one back to me!
@DrPatchbeard we love this story! Did you happen to get a picture of you saving the day in your Golf? We'd love to see it!

— Volkswagen Canada (@VWcanada) November 21, 2014
Though I didn't think to take any photos during the rescue mission, I figured they might like to see the ones I did take.
@VWcanada None during but a few after playing in the #snow! #Patchback pic.twitter.com/CB54hAWgkC

— Ken Elrick II (@DrPatchbeard) November 21, 2014
So what did you do during the storm? Did you stay in? Did you go out hooning? Did you have to rescue anyone yourself? Tell me in the comments!