I'm a huge food lover. I mean, obviously everyone needs to eat to sustain themselves, but I think most people stop when they're full. Me? I'm more like Louis CK…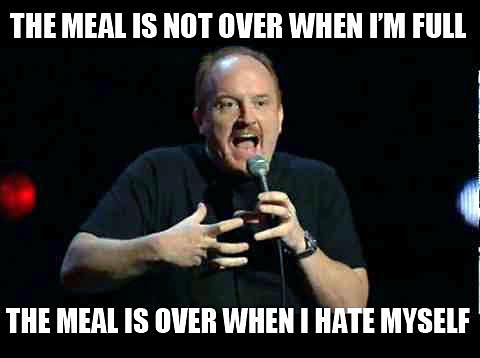 [Via Reddit]
Now I understand that's a habit I'll eventually have to change, but for the time being I'm going to try and enjoy as much unhealthy stuff as possible before I make a drastic lifestyle change.
One of the things I've really come to appreciate over the past year and a bit is all the things Taco Bell has to offer. I'd dabbled in Taco Bell before, but never went with any regularity – possibly due to my mom refusing to take me there throughout most of my childhood. But when I started seeing my girlfriend Anne, and discovered that her favourite food group was Fries Supreme, my visits became far more frequent. Eventually, we were visiting about once a week, and the people working the drive-thru at our local KFC/Taco Bell actually started to get to know us. Once, when I went through in my car, a staff member even commented on the fact that I wasn't in my van that time around. So yeah, it's a pretty regular thing.
When they brought the Doritos Locos Tacos to Canada, that was a huge day for me. Even still, I can't help but look at the American menu and get jealous at the things they have that we don't. That being said, there's no such thing as Fries Supreme south of the border. What they DO have is… BREAKFAST!

[Via GQ]
Waffle tacos?! A.M. Crunchwrap Supremes?! Sign me up!
But since it's only available south of the border, it meant a road trip was in order. Fortunately, last weekend, Anne and I found ourselves in the Niagara Region for the wedding of a friend of mine. Sunday morning after the wedding, we were finally going to fulfill our dream of eating Taco Bell breakfast. We were supposed to do it on a previous trip to Niagara, but someone forgot their passport… so it didn't really work out.
Not so this time!
When we walked in, we were greeted with some snazzy looking menu boards.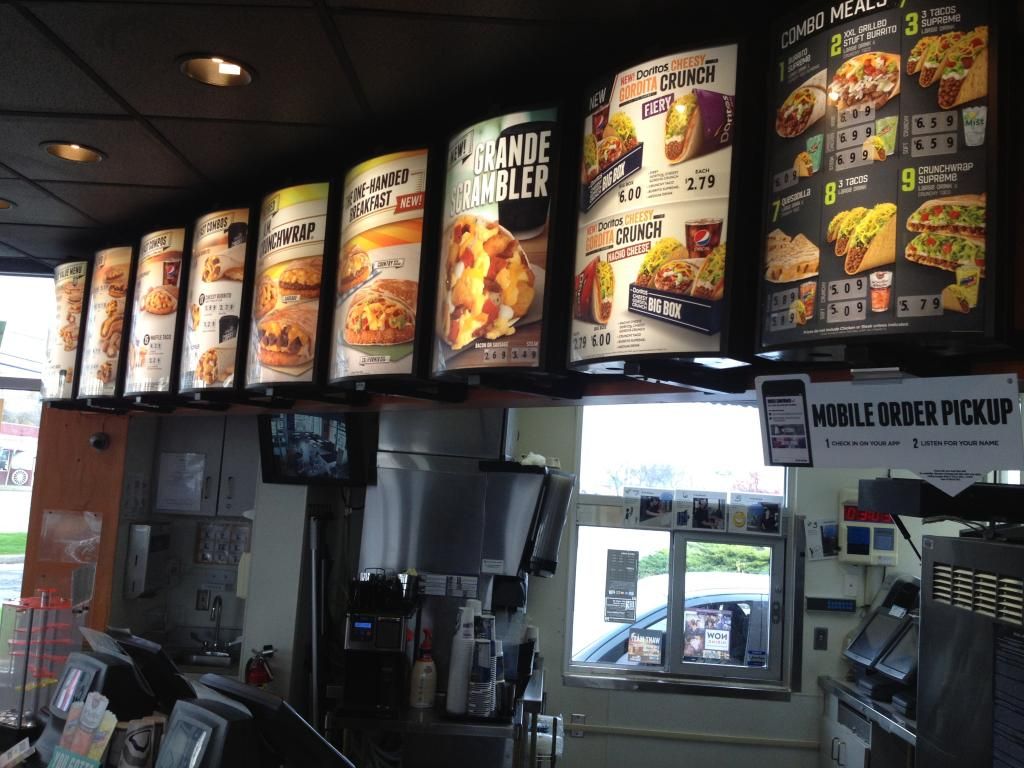 A young man came to the counter to take our order, but we needed a little more time to decide. I explained this to him, which led to some light conversation.
Me: "Sorry, we just need a minute to decide… There's so many options! We don't have this in Canada."
Employee: "Really?! You guys don't have Taco Bell in Canada?"
Me: "Oh no, we have Taco Bell, but they don't have breakfast. We actually go to Taco Bell all the time. And I mean really all the time – like once a week."
Employee: "Oh wow."
Me: "Yeah, I know… it's not good for us but… it just tastes so good!"
Employee: "Yeah man, I know what you mean. It's so good but it's not good for you, but sometimes, it's just like 'Man… I need a chalupa.'"
It was at that point that I knew we were going to be friends.
We placed our order, and continued to look around the restaurant.
Now if you've been to one of the newly renovated Wendy's restaurants, you may have seen the Coke robot they've got. Well the Taco Bell we went to (in Niagara Falls, NY) has a Pepsi robot!
So many options! Anne was equally impressed.
Before sitting down, we made a stop at the condiment stand, and I was quite pleased to see that they had Fire Sauce! I was able to get that stuff here in Peterborough for a while over the summer, but it was a limited time thing up here. Apparently it's a full time thing down there, as well as their Verde Salsa.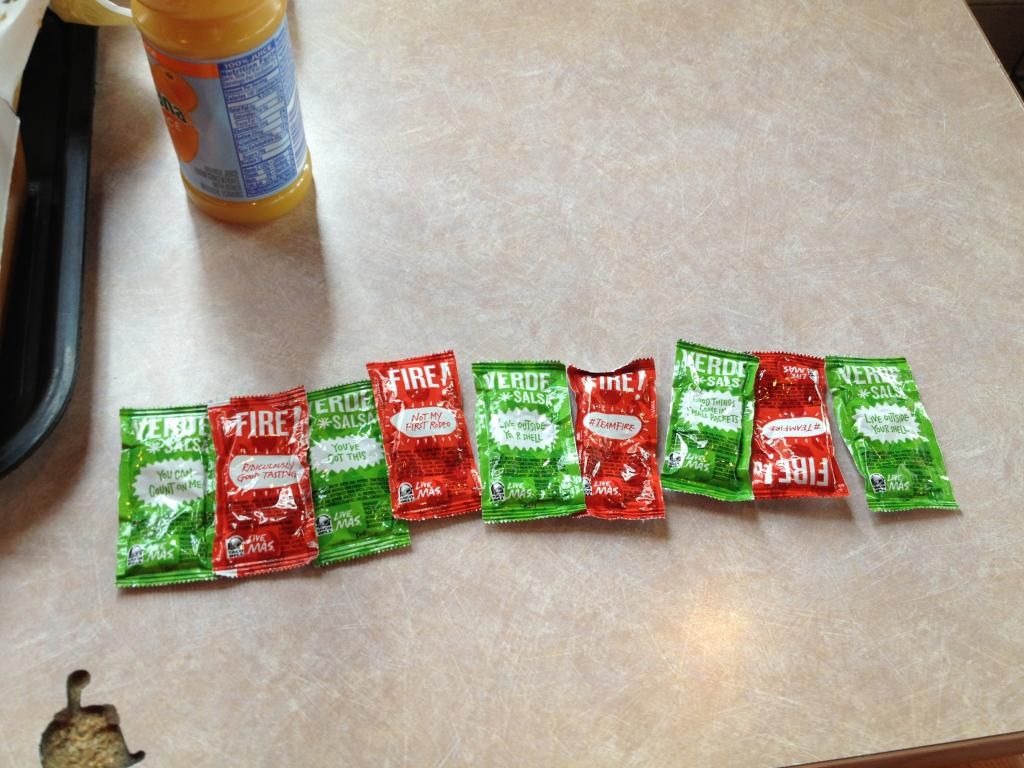 After a few minutes, they called my name (much like what happens in pizza joints when you pick up your order) and I grabbed our tray of deliciousness.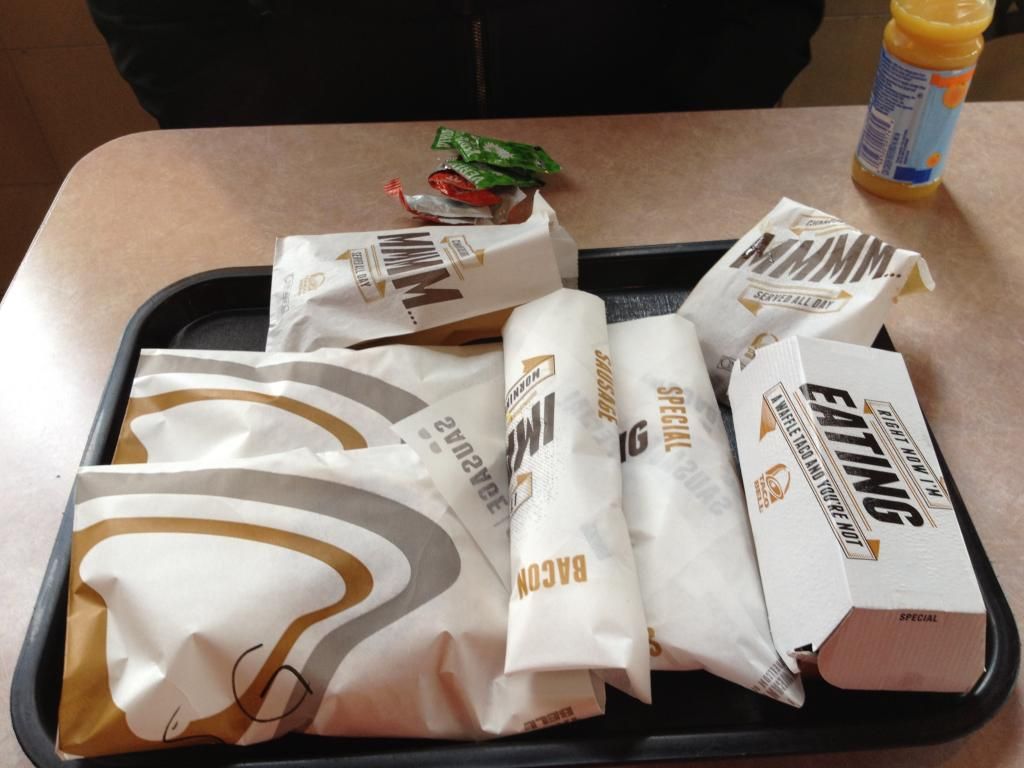 I like it. Even the packaging is pretty appealing. the first thing I tore into was mySteak A.M. Crunchwrap, and oh man did it deliver some flavour!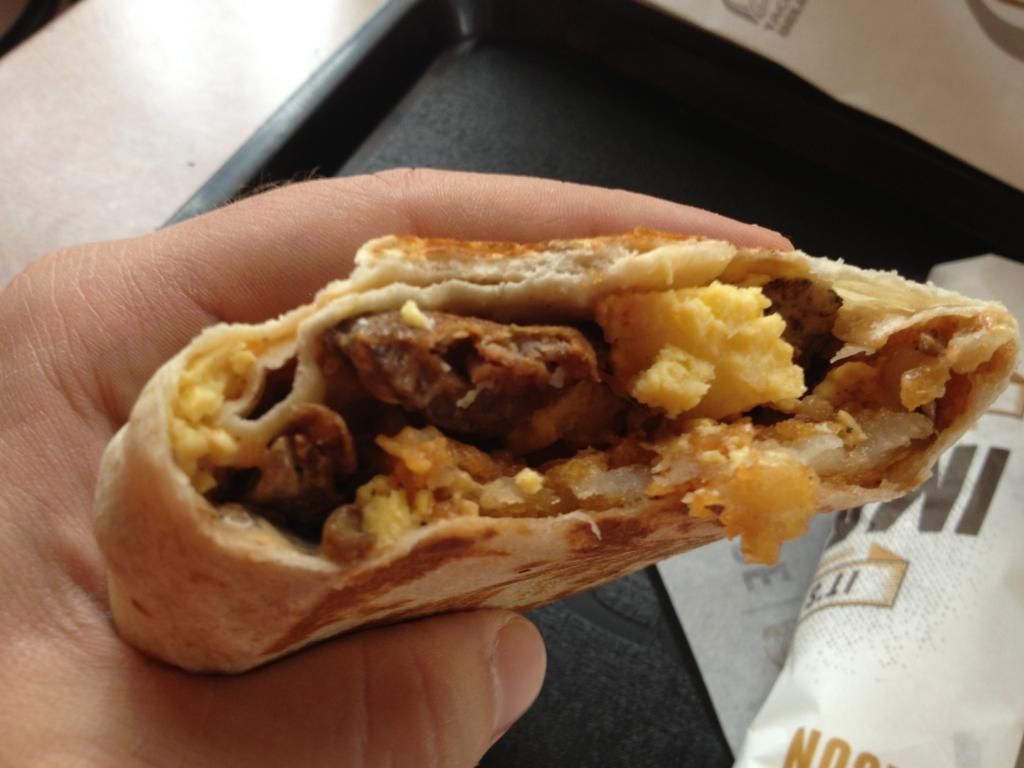 Next thing up was my Bacon Waffle Taco, which has a clever box which brags to your friends for you while you're busy stuffing your mouth.
Once you open up the box, you're greeted with the lovely smell of bacon and waffles… Together!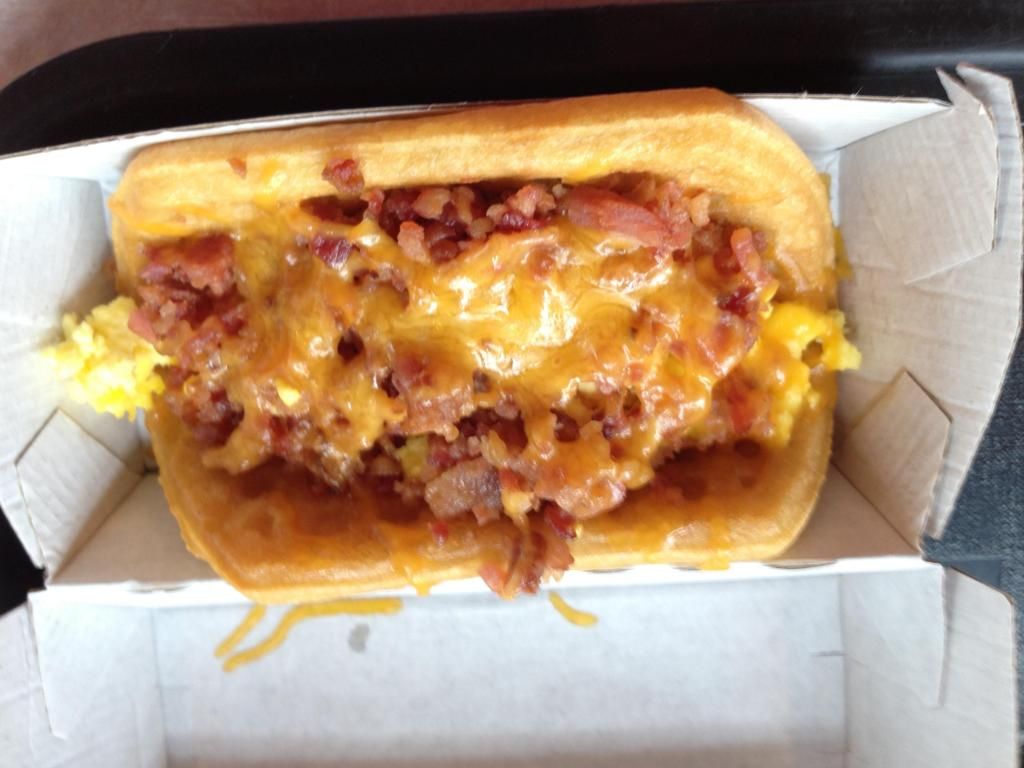 After devouring the Waffle Taco, I also got into my Sausage Breakfast Grilled Burrito, but didn't think to take any photos of it OR the Cinnabon Delights that came with my breakfast combo. Both were delicious, however.
That's just a small taste of what they have to offer, but it's enough for me to wish that Taco Breakfast was offered in Canada. Perhaps one day… But until then, if you find yourself south of the border and looking for some food before 11 AM, Taco Bell Breakfast is a pretty good option… At least, if you're already a fan of Taco Bell.