Rush fans, you'll want to check out this video these videos.
For those of you who have been following the band since their inception in the late 60's, or since their major-label debut in 1974… You might remember these tunes. They're not songs that have appeared on any of their albums, but they're good examples of the band's style with original drummer John Rutsey.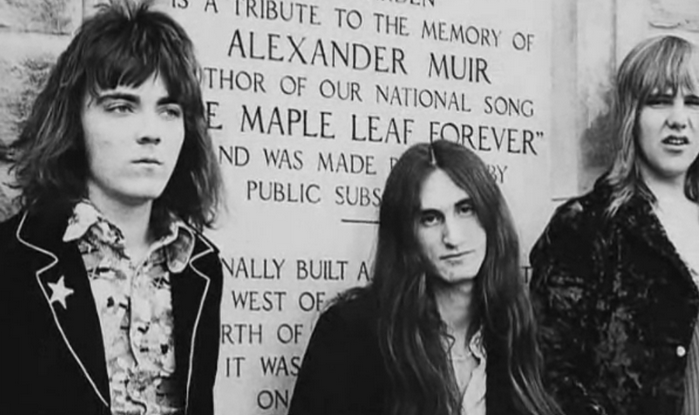 Rush with John Rutsey (left) [Via drummertalk.com]
Though Rutsey was only featured on the band's first album, it's often been said that "Without John, there would be no Rush." He was the one that was always pushing the group to practice. Eventually Rutsey left the band, largely due to concerns over his diabetes. It was thought that if he were to go on tour with the band and drink excessively (as young rockers often do), it could potentially cause some big health issues.
While it's a Far Cry (hah! Rush pun!) from the proggy sound the band formed once teaming up with drummer and lyricist Neil Peart, it's indicative of the band's straightforward rock & roll style from the early days.
Being interviewed by radio.com about this video, bassist/vocalist Geddy Lee had this to say about Rutsey (who died in 2008):
Was it bittersweet, watching the footage with John Rutsey? Yeah, it is sad in one sense, but it's also quite a nice thing that this footage is available, so people can see what we were like with him, and what he was like. I think in a way, it helps keep his memory alive. He's part of our history.
Another thing that's pretty cool about this is the fact that Rush is playing at a friggin' high school! Seeing Rush play anywhere is an awesome experience, but I couldn't imagine how awesome seeing them play on the stage at Crestwood would be. Mind you, 40 years ago, they weren't quite as big a deal as they are now. But that's what young Canadian bands did back in the day – they toured around and played high schools. This show took place at Laura Secord Secondary School.
Without further ado – the videos!
I've Been Runnin'
The Loser
If you're diggin' these tunes, they're just two of the videos you'll find in the new R40 package that's coming out November 10th. That's going to be an excellent day for music releases, with Foo Fighters' new album Sonic Highways, and The Endless River, the first new Pink Floyd album in over 20 years, being released that day as well. The Rush package is a 6-disc Blu-ray set which features their major concert films from the last 11 years: Rush In Rio (2003), R:30 (2004), Snakes & Arrows Live (2008), Time Machine 2011: Live in Cleveland, and last year's Clockwork Angels Tour.
If you could see any band play on the stage at your high school, who would it be?