[Via Thinkstock Photos]
I've been a fan of listening to music on vinyl ever since my dad taught me how to drop the needle on the turntable at a very young age. It's certainly not the most practical medium for music listening (at least until someone invents a record walkman or something), but there's a reason it's so popular again today: The quality is unbeatable – at least with a high-quality piece of vinyl.
Sure, it's a little more complicated than just downloading something off the internet and pressing play in iTunes or whatever music software you prefer (and certainly more expensive), but for audiophiles, there's few other options. See, digital formats like MP3 files (and even CD's) have limitations in how much data they can hold, and certain frequencies will get cut off throughout the song. Also, often times there will be a fair amount of compression added to it, which can sometimes make certain parts of songs difficult to hear over everything else.
Where vinyl differs is that it's an analog format. The sound that you hear is about as close a reproduction to the original sound as you're going to get. The sound is created by a needle going through the grooves of the record, with the grooves shaped differently to make different sounds. This is the most basic of explanations, but you get the idea.
Now anyone can see the grooves of a record just by holding it in front of their eyes, but have you ever seen what they look like up REALLY close?
The folks at The Vinyl Factory shared these photos of a vinyl record under an electron microscope.
Tactile and textured, vinyl is all about psychical character. So we were delighted to find these striking photos of vinyl under a scanning electron microscope (SEM). Although less delighted – and actually quite horrified – to see how much dirt and dust was lurking in between the grooves.

Not any old microscope, an SEM produces images of a sample with stunning clarity and depth of field by scanning it with a focused beam of electrons. Chris Supranowitz (Institute Of Optics) had the winning idea of using an SEM to create the intricate topography of vinyl below.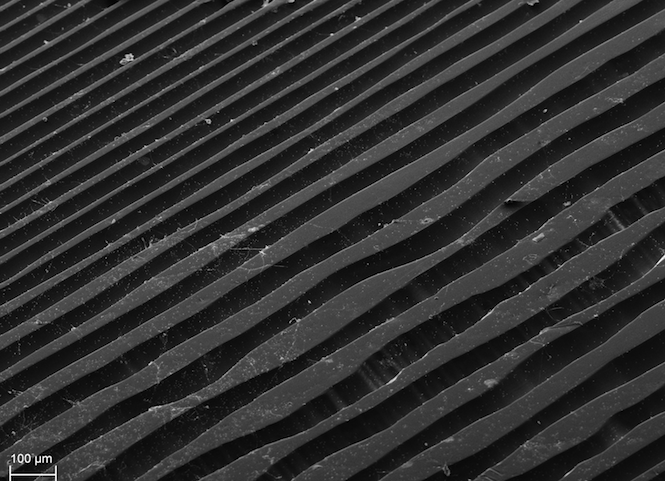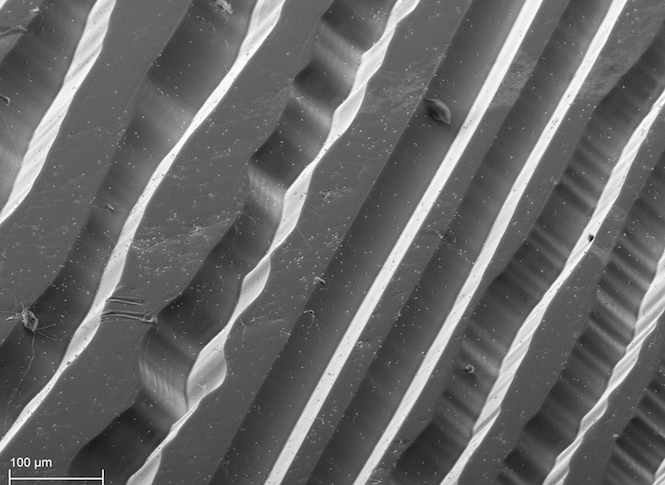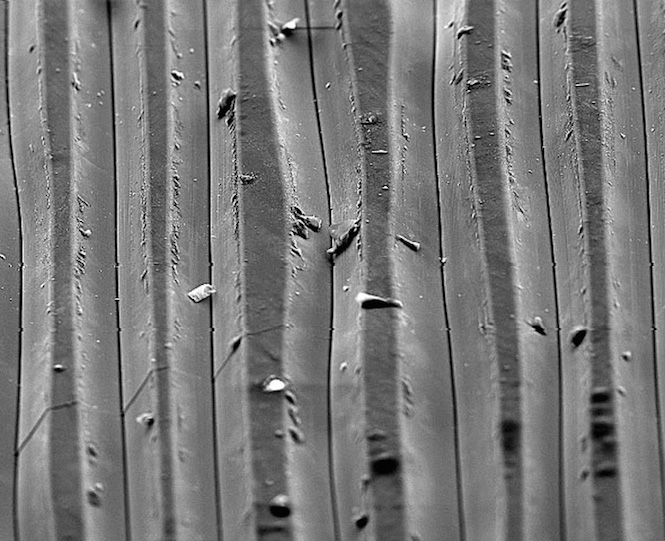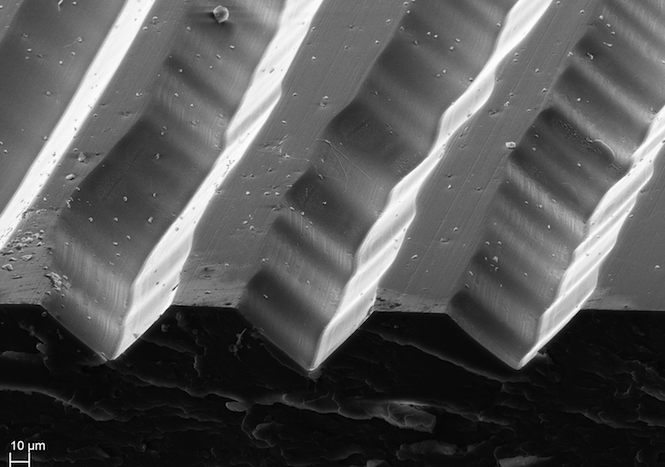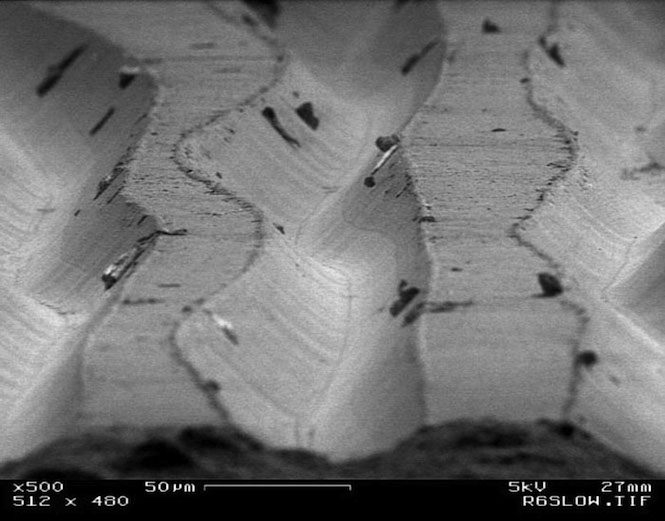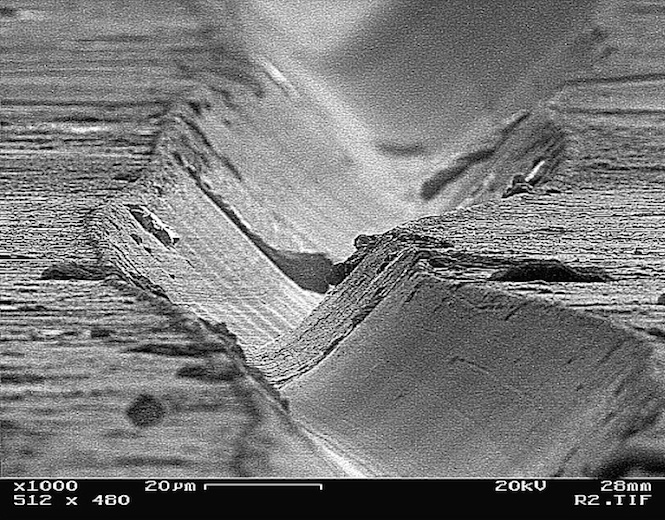 If you're not overly familiar with vinyl but are curious to know whether or not it really sounds better, I would highly recommend picking up a copy of Wilco's Yankee Hotel Foxtrot on vinyl. Listen to a digital version of it (CD or MP3), then listen to the vinyl version. You'll notice a number of sounds in the vinyl version that aren't nearly as noticeable in the digital version. Maybe it's just me, since I know that album like the back of my hand… And I'm sure there are tons of other great examples, but that's the one that jumps out at me.
Another reason I love vinyl: each individual record has character. With digital files, you get an exact reproduction of the sound every single time. Vinyl, however, tends to degrade overtime. Add in a little bit of dust or dirt and eventually you get the odd pop and hiss in your music. Obviously, if there's too much of that, it's a distraction, but sometimes it can enhance a song.
My turntable looks pretty rad with white #vinyl on it. pic.twitter.com/Zwm5I4Fih4

— Ken Elrick II (@DrPatchbeard) June 24, 2013
For example, every time I pop Ween's White Pepper on the turntable, there is a very distinctive series of pops during the song Even If You Don't, which I've come to expect to hear now. I'm sure mine is the only record which has these pops in those particular spots, and while some people might find it annoying, I actually really like it. You can't get that kind of character from a digital file.
[Hat Tip to Alan Cross]