[Image via MTV]
Friends, I've got to tell you… I'm pretty excited for the show that's happening at The Venue this evening. It'll be a regular ol' Freaker's Ball when Dr. Hook takes the stage.
They're one of those bands that I thought I'd never really have a chance to see live, so I was thrilled when I found out their farewell tour would be bringing them to our fair town.
As with (I'm sure) the majority of people, I first heard of the band when I heard their biggest hit, The Cover Of The Rolling Stone, back when they were still known as Dr. Hook & The Medicine Show.
You know, they did get to be on the cover of the Rolling Stone thanks to that song, but they'd have to be happy with a caricature version of their smiling faces.

[Via Wikipedia]
I don't think I truly got a feel for what the group was all about, however, until I saw their live DVD, Dr. Hook & The Medicine Show: Live.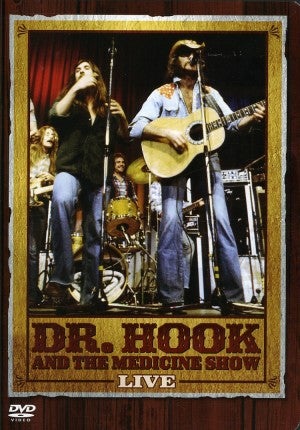 [Via Gawker]
The film features the band in all their stumbling, nearly incoherent glory, as they played on a German late-night TV show back in 1974. For an idea of what I mean, listen to the singers (Ray Sawyer and Dennis Locorriere) introducing the song Roland the Roadie and Gertrude the Groupie.
Or what about their first-ever single, Sylvia's Mother…
I think what blew my mind the most about seeing this group performing is the fact that between songs, they can barely stand up straight, but as long as they're strumming away, you wouldn't even know it. I can't help but wonder how much they'd had to drink and smoke before stepping on stage. For example, while introducing Freakin' At The Freaker's Ball, Locorriere delivers a great line: "If you're just sittin' around on your waterbed, man, or you're studying, you know… If we're keeping you up, we're sorry. Try to wake up -" at which point he's interrupted by Ray Sawyer saying "Try to smoke something! How do you say it? Tobacco!"
Another great example of the band's lack of sobriety is shown here as Locorriere tries to introduce Sawyer, who "yodels his ass off." Have a look and see what I mean.
If you've never seen that DVD, I highly recommend giving it a watch. For a considerably more in-depth review, check out this Gawker article: "Dennis, We've Been Crying Too Much": Dr. Hook and the Untold Story of the Best Rock Movie Ever Made
Or, even better, just get your ass to The Venue tonight to see what's sure to be a great show!