[Via Buzzfeed]
Basketball doesn't strike me as a sport that often leaves its players nursing horrific injuries. There's not nearly as much body contact as in sports like hockey and football, but sometimes a freak accident happens. Last night was one of those times.
Last night, Team USA were having a Blue/White inter-squad scrimmage. During the scrimmage, Indiana Pacers star Paul George suffered a pretty nasty broken leg while attempting a block. There's (rather graphic) footage of it, but before I show you that, check out the reaction of his teammates…

[Via Buzzfeed]

[Via Buzzfeed]
And now, the clip of what happened. BE FOREWARNED: This is pretty graphic. If you've got a weak stomach you may want to look away. If not, scroll on.

[Via Buzzfeed]
And here's a video of the incident:
The rest of the scrimmage was cancelled, with the players visibly upset after George was carted off on a stretcher. Coach Mike Krzyzewski pulled the plug out of respect for George and his family.
One ESPN writer noticed that the stanchion George injured himself on seems to be closer to the court than in the NBA.
Basket stanchions at Thomas & Mack Center appears to be significantly closer than NBA standard. pic.twitter.com/q0Nd5N847D

— Brian Windhorst (@WindhorstESPN) August 2, 2014
As gnarly as the injury looks on video, George is expected to make a full recovery.
From TSN:
Indiana Pacers All-Star Paul George has undergone successful surgery on his injured right leg and is expected to remain in the hospital for about three days.

The 6-foot-10 George is resting comfortably after surgery at Sunrise Hospital to repair the open tibia-fibula fracture, USA Basketball said in a release early Saturday morning. Dr. David Silverberg, Dr. Joseph Yu and USA Basketball team physician Riley Williams (Brooklyn Nets, Hospital for Special Surgery), were present for the surgery, the release said.

George suffered the gruesome right leg injury late in the U.S. national team's intrasquad scrimmage Friday night. He leaped to contest a fast-break layup by James Harden with 9:33 left in the fourth quarter and his leg smashed against the bottom of the backboard stanchion and crumpled.

According to sources of ESPN, doctors believe George will miss the entire 2014-15 NBA season following the surgery. No official timetable has been given.
As soon as I saw the video clip, my mind instantly jumped to Anderson Silva, and the broken leg he sustained in his battle with Chris Weidman.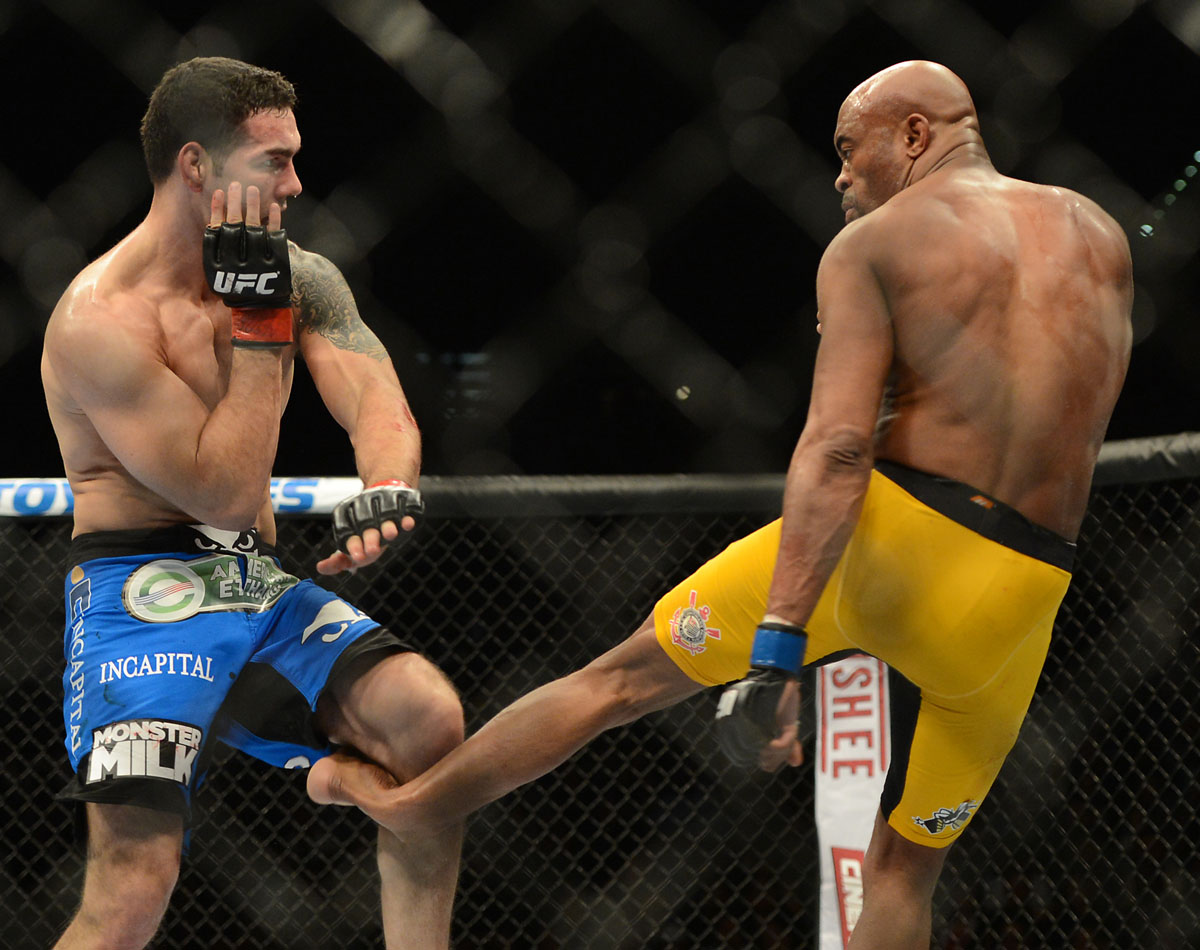 [Via Baltimore Sun]
One main difference is that the whole point of MMA fighting is to beat the living piss out of your opponent. Not so in team sports like basketball.
Or football for that matter.
See, another injury this bears a striking resemblance to is that of former NFL quarterback Joe Theismann.
Theismann never played another game of football, but he's confident that Goerge should be able to make a recovery. From the Indy Star:
But Theismann said in a phone interview today that he thinks George will be able to return and have a successful career because of medical advances. Theismann noted he did not have a metal rod inserted in the leg and the tibia and fibia were about three-eights of an inch shorter after they healed. That led to knee and back issues and made it difficult for Theismann to maintain his balance.

With the insertion of the metal rod, George will avoid those problems with the proper rehabilitation, Theismann said.
Since his injury, Theismann has helped a number of athletes who have suffered similar breaks.
Theismann said he plans to call the Pacers on Monday morning and leave his contact information if George has any questions or is looking for support. It is something he routinely does when players suffer major leg injuries, including Louisville Kevin Ware, who was injured playing in a NCAA Regional final game at Lucas Oil Stadium in March of last year.

"I would tell (George) the same thing I told Kevin," Theismann said. "Right now, your focus needs to be on rehabilitation, especially after (getting the cast removed). But at some point, if you ever have any questions, or if you're curious about the way the way the leg is feeling or what you're doing, I want to be there to support you anyway I can."
Everything seems to be looking up at this point, so let's wish Paul George a speedy recovery!