I like to refer to myself as a bit of a gearhead. I don't necessarily have the skills to back it up, but I enjoy tinkering around with cars. A little under 2 years ago, I bought myself my very own project vehicle: A 1984 Volkswagen Vanagon Westfalia named Rosie (aka The Patchbus, since she's come into my ownership).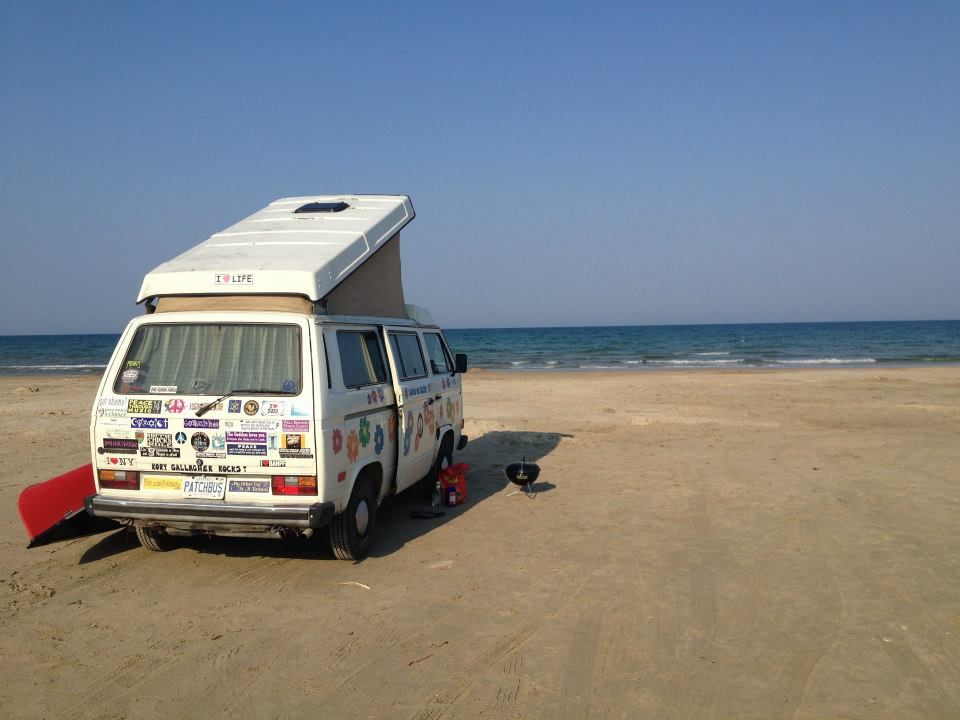 All in all, she was in pretty good shape (save for a bit of rust on the body panel seams, which is very common on these). A little bit of work got her on the road for a summer full of adventures last year. She took me to and from Montebello, Quebec and Tobermory without any major problems. That's not to say she was perfect, because there was the odd minor issue. With a 30 year old engine that had clocked well over 280,000 km when I bought it, it needed a little love. It still got me where I needed to be, but not as smoothly or efficiently as I figured it could. So I kept my eye on kijiji, and found an ad for a 1.9L Vanagon engine for sale.
So I've got something new to tinker with… #Patchbus pic.twitter.com/vf2JBMmDc8

— Ken Elrick II (@DrPatchbeard) November 3, 2013
I picked it up in Belleville, and as it turns out, I had met the gentleman who sold it to me while I'd been camping in Tobermory. We stayed at the same campground, him in his bus and me in mine. When he saw mine, he came over to chat. Little did we know we'd be meeting up to do business months later.
The Patchbus was in storage at this point, so the engine sat through the winter waiting for its new home. Finally this spring I got started on swapping them. Considering I'd never done anything like this, I had no idea what I was doing and was honestly a little scared. I hear that these are some of the easiest engines to remove and replace though, so that bit of information eased my worries a little bit.

The old engine, just before I started tearing parts out.
I'm really lucky to have my father to help me. He's a licensed mechanic with over 30 years experience, and without him I would have been lost. You can only learn so much from those Haynes Shop Manuals. It also meant that I had lots of working space and tools to use.

My workspace, with my dad's bus sitting in there beside mine.
Now I could show you all the photos I took along the way, but I don't think it'd be that interesting. Really, they're just photos of me holding electrical connectors and pointing to where they plug in, in case I forgot how to put it back together.
Once I'd removed all the electrical connectors, coolant hoses, fuel lines, thottle cable and air intake, the engine was ready to come out. I should mention that this took me weeks to accomplish, since I didn't really know what I was doing, and only got a couple hours a week to work on it. On top of that, most of the bolts I had to remove likely hadn't been touched in 30 years. But once everything had been taken off, it was time to bring in the engine crane.
And once I got the engine out and onto the floor… Well I certainly felt accomplished, but my work was only half done.

Now time to put the new one in. (Sorry for the bad quality iPhone photos)

But not before I pose for a photo in the engine bay!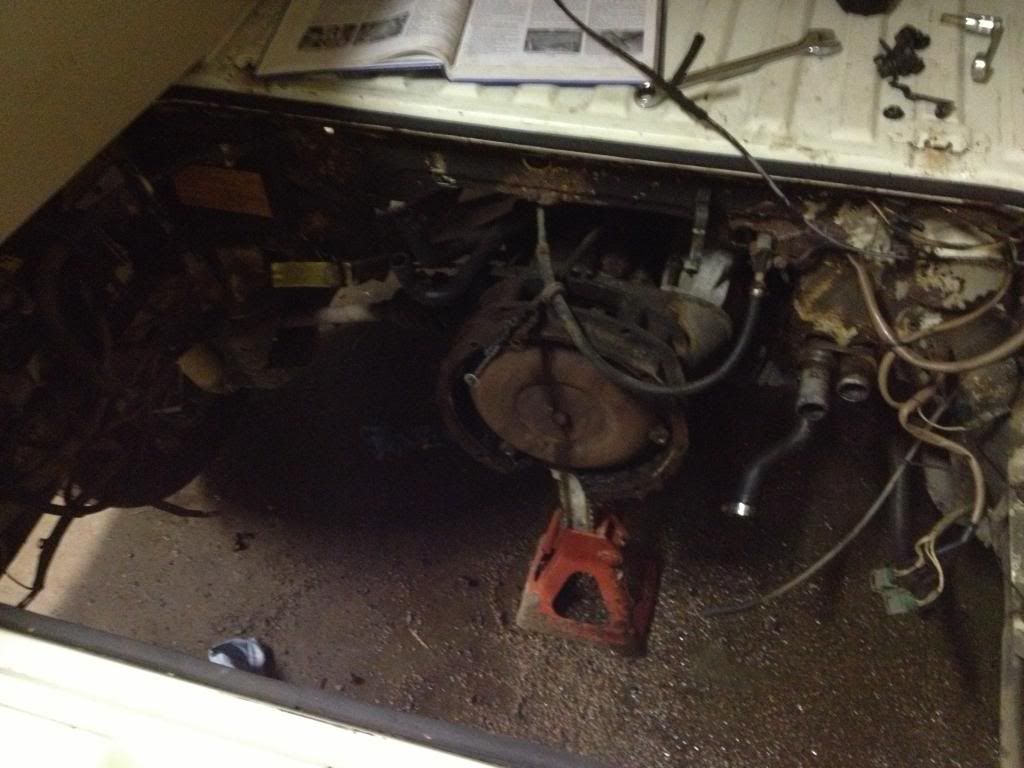 There's actually TONS of space in there.
I had to swap a few parts from the old engine to the new one (flywheel and throttle body, specifically). After that, the new engine was ready to go in.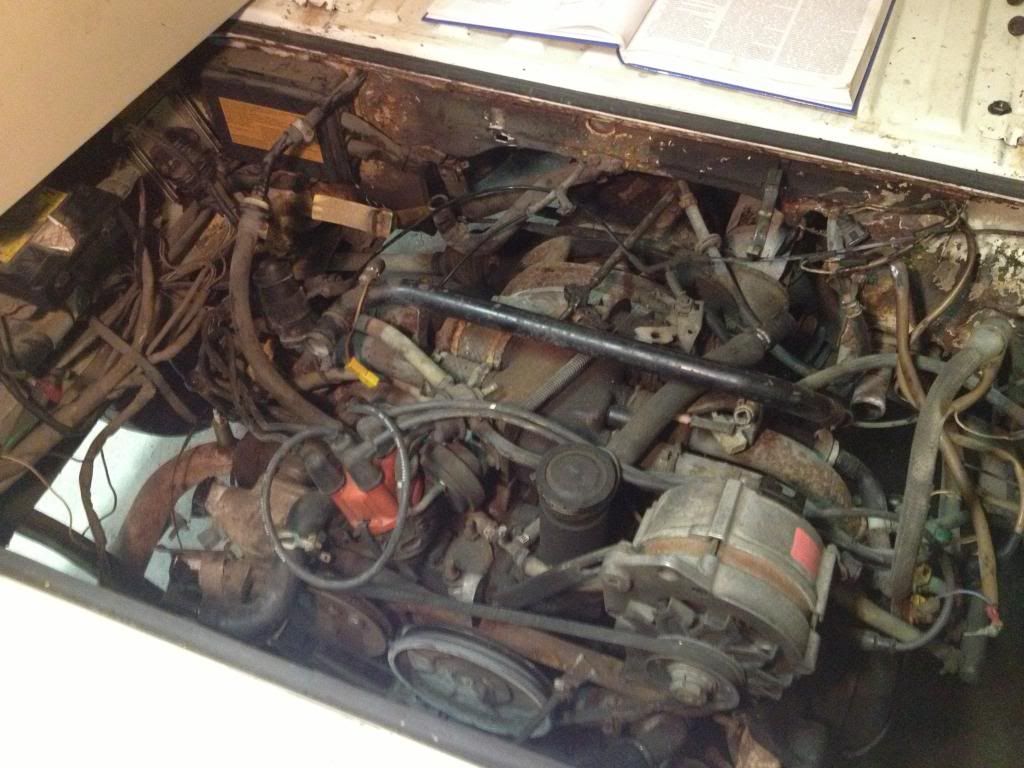 And in it went.
Before I could get it running, however, I had to wait for parts to come in (which added another week and a half to my wait time). The big thing that I added was a brand new exhaust manifold to replace one that had rotted out on the engine.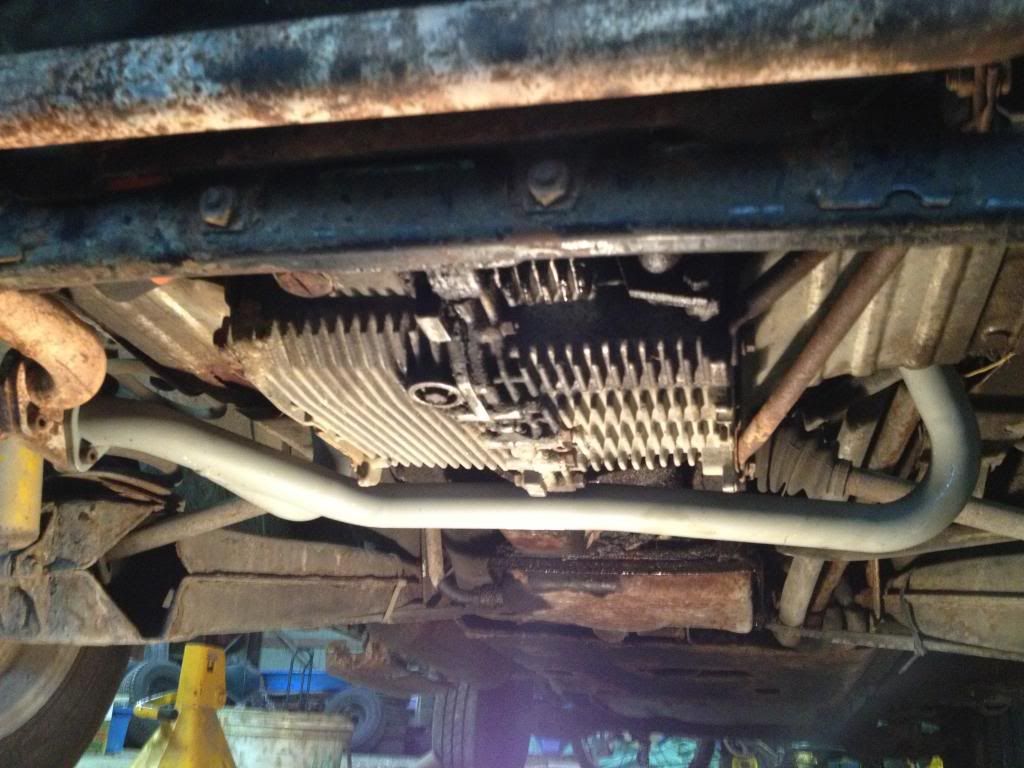 It didn't take long for it to lose that bright grey colour.
On with all the hoses and connectors and fun things, et voila! She's just about ready to run.
And you know, all was looking well. It started right up.
There's a really noticeable knocking noise in that video, which my dad figured was a collapsed lifter. It eventually stopped and the engine began running smoothly… But not before I had to take it out again.
See, after running the engine for about 15 minutes, my dad noticed an oil leak coming from the bell housing (where the engine attaches to the transmission). Turns out I'd fudged the bucket a little bit, and the engine would have to come back out.
Parts are piling up considerably faster the second time around. #Patchbus #EngineSwapPartII pic.twitter.com/PBMjX2WX7K

— Ken Elrick II (@DrPatchbeard) June 8, 2014
Second time around is so much faster. It's back out. #Patchbus #EngineSwapPartII pic.twitter.com/VcPVO7fSlz

— Ken Elrick II (@DrPatchbeard) June 9, 2014
The second time around went WAY faster since I knew what I was doing. I had the engine out in 2 hours, though I've heard that guys who really know what they're doing can have them out in half an hour. Not too shabby for someone with little experience.
So, where did I go wrong? As it turns out, I messed up while attaching the flywheel to the new engine. It was on the floor while I was working on it so I couldn't get too up close and personal with it, and I failed to notice that there was a guide pin that goes between the crankshaft and the flywheel that ensures the flywheel could only go on one way. I had not aligned the flywheel properly and had crushed the guide pin, but that caused the flywheel to flail around and eventually start leaking oil from the crankshaft.
Fortunately, we had another engine, which meant we had another guide pin. With the engine on a table this time, it was considerably easier to work on. Another couple hours and the engine was back in, and the Patchbus was ready to drive.
My first impression was "My god, I can't believe how smooth it runs, and how quiet it is!" Looked like I had achieved my goal. A couple days later, I was off to Quebec for Amnesia Rockfest. A lot of people commented on how ballsy it was to take such a long trip with an engine that hadn't proven itself to me yet, but I have a tendency to throw caution to the wind. It paid off too, because I made it there and back with no issues.

Also, I got that sweet awning that attaches directly to the rain gutter. I bought it from BusDepot.com, if anyone is interested.
Of course, the day after we returned from Quebec, I got in to go to work… And she wouldn't start. We knew there were electrical issues, but we weren't sure what they were. After dropping her off at my dad's place for diagnosis, he discovered the battery was bad. And luckily for me, he happened to have a new one around that fit!
All this time, a new battery was the solution. Brand new Interstate Megatron. #RobotInDisguise #Decepticon #Patchbus pic.twitter.com/8Z4uMUwipj

— Ken Elrick II (@DrPatchbeard) July 2, 2014
No issues starting now, but this wasn't necessarily the end of the road. One day, driving around, I anxiously watched as my temperature gauge climbed all the way to top while I was stuck in traffic trying to get somewhere safe to see what the problem was. I figured I'd done some major damage when I saw coolant literally pissing out underneath the engine. Can't drive it like that, so it's time to call in a flatbed to tow her.
I do want to take a second and thank Fitzsimmons Towing & Repair and their tow truck driver Cory for taking fantastic care of my baby. He was extra careful in the process of loading and unloading, and especially while driving out to my dad's shop. On top of that, he was just about the friendliest tow truck driver I've ever met (and I've had a lot of tow truck experiences over the last year or so).
It's safe to say I was pretty stressed out at this point. I'd just broken something on my van, I was planning to leave on a camping trip in a couple days, and I didn't have any money for parts that it might need. Luckily, as it turns out, a $5 part fixed the problem. One of the heater hoses had been riding on the drive axle as it spun, and it eventually wore a hole right through the hose. Toss in a little flush-T in the place of the worn hose, and problem solved!
And she made it Silent Lake no problem the next day.
And that just about brings us up to date.
Do you have a classic car that you've put a lot of work into? I'd love to hear about it. Tell me about it in the comments!