Time for another entry in my Adventure Time blog series… This time, our destination is Amnesia Rockfest in Montebello, Quebec.
I went last year for the first time to Amnesia Rockfest after my best bud Cole pointed out that there were some pretty sweet bands playing. I don't think we bought our tickets until a couple days before we left, and went down (or over, technically) with our pal John. This year, however, was quite different. As soon as the three of us saw the lineup, we bought our tickets and let the excitement start to build.

[Image Source: Alternative Press]
After having such an amazing weekend last year, we knew it would be another great time… But the great thing about a festival like this is that not only do you get to see lots of awesome bands live, but you also get to take a road trip, camp, get drunk in the morning and stay up all night if you want. Here's some photos showing how our weekend went.
The Trip There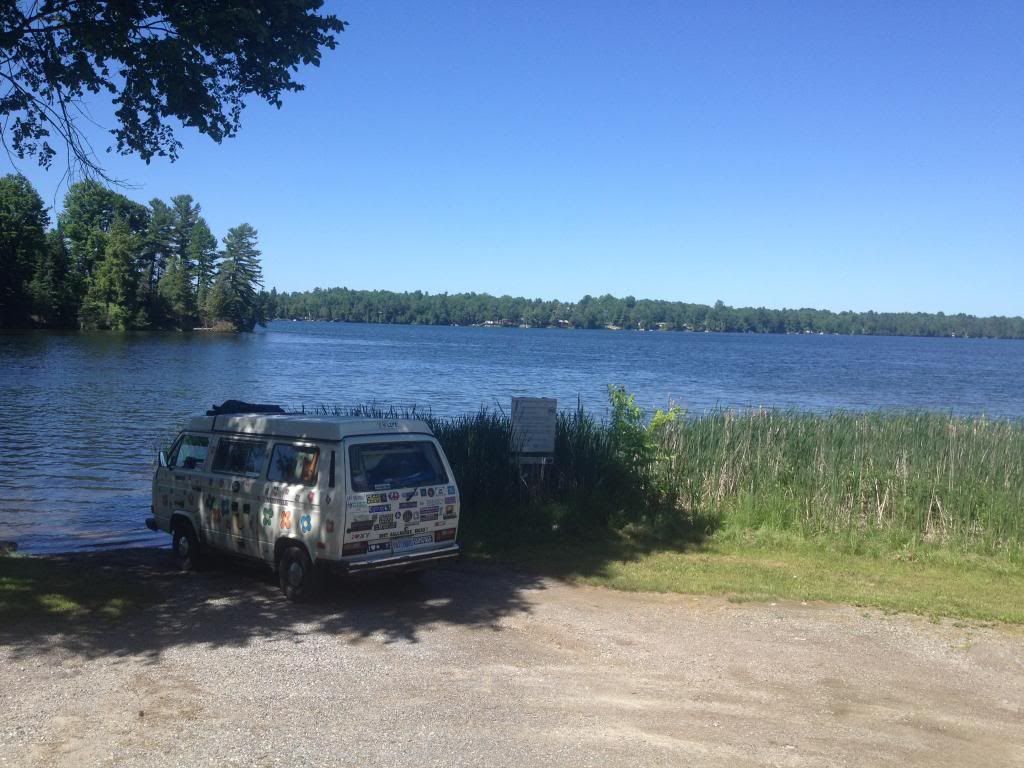 Of course, for a festival like this, a camper is a wonderful asset to have. I'm lucky enough to have the Patchbus. After finally getting my engine swap done (there will be a separate blog for that topic), this was the first trip I took in it. I know, driving to Quebec on an engine I haven't used at all is risky. It worked out okay though. First stop along the way was the rest stop on Silver Lake. I guarantee if you've ever driven to or from Ottawa along Highway 7, you've said to yourself "Wow, that spot looks beautiful." We stopped to take a quick swim, only to discover that this particular rest stop doesn't really provide any decent swimming spots… So back on the road we got.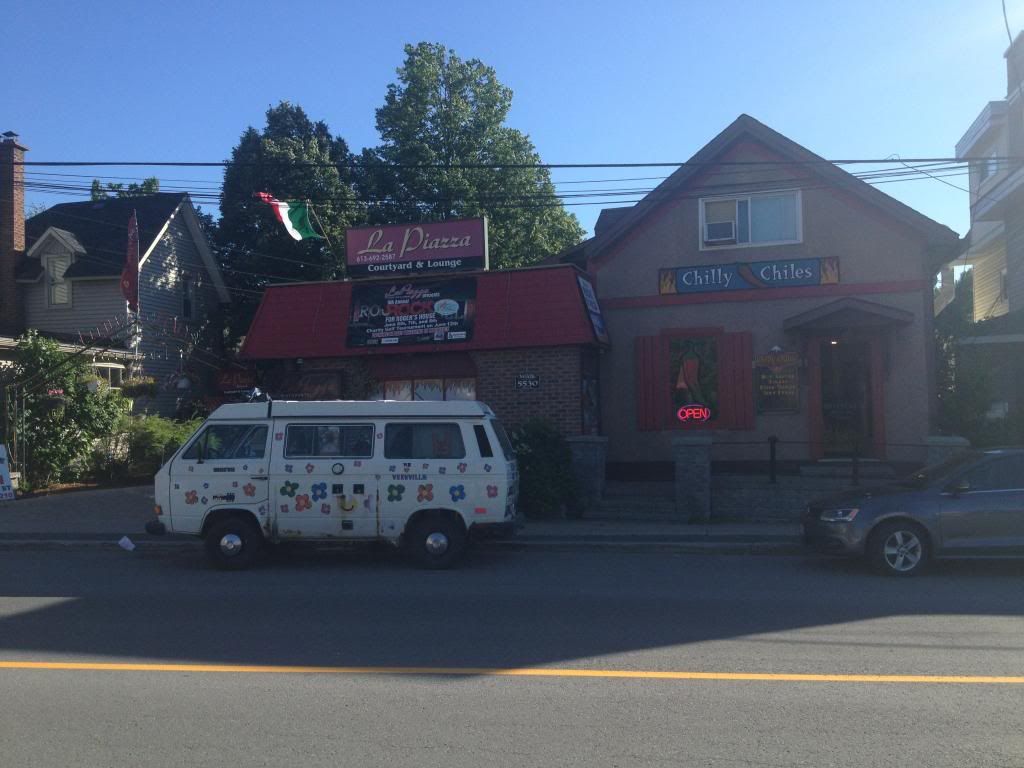 Next stop was a place that was a big part of our trip last year: Chilly Chiles, the store with the biggest hot sauce selection in Canada! Last year, we stopped here to burn our faces off and buy some sauces. I wrote a blog post on the experience. We wanted to recreate the burn… and we sure as hell did. If you ever find yourself in Manotick (or the Ottawa area in general), make sure you visit Chilly Chiles! Tell 'em I sent ya.
Scenes From The Campsite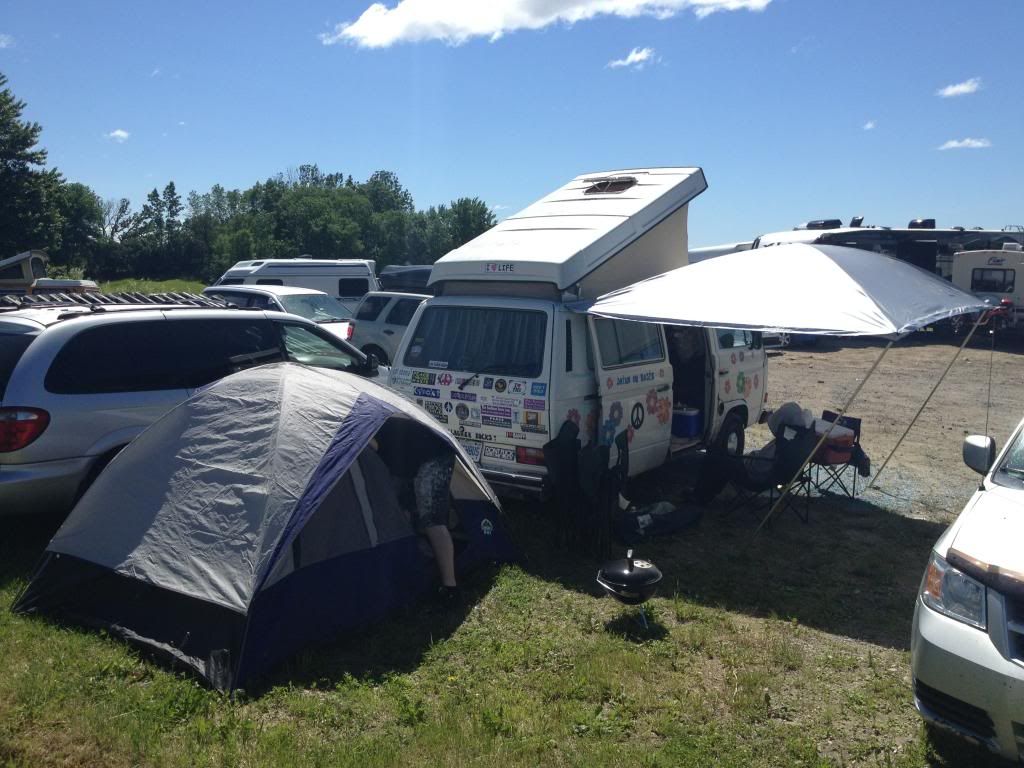 By the time we had got to Montebello the first night, the sun was going down. The ultimate goal was to get camp set up and then start drinking, so no photos were taken after that. This is our camp setup, though. We camped in the same lot as we did last year, owned by a friendly family who rent out camping spots to hundreds of people, just on the outskirts of Montebello. I finally got to use the sweet Ezy-Awning I bought for the Patchbus, and we had so much more shade this year.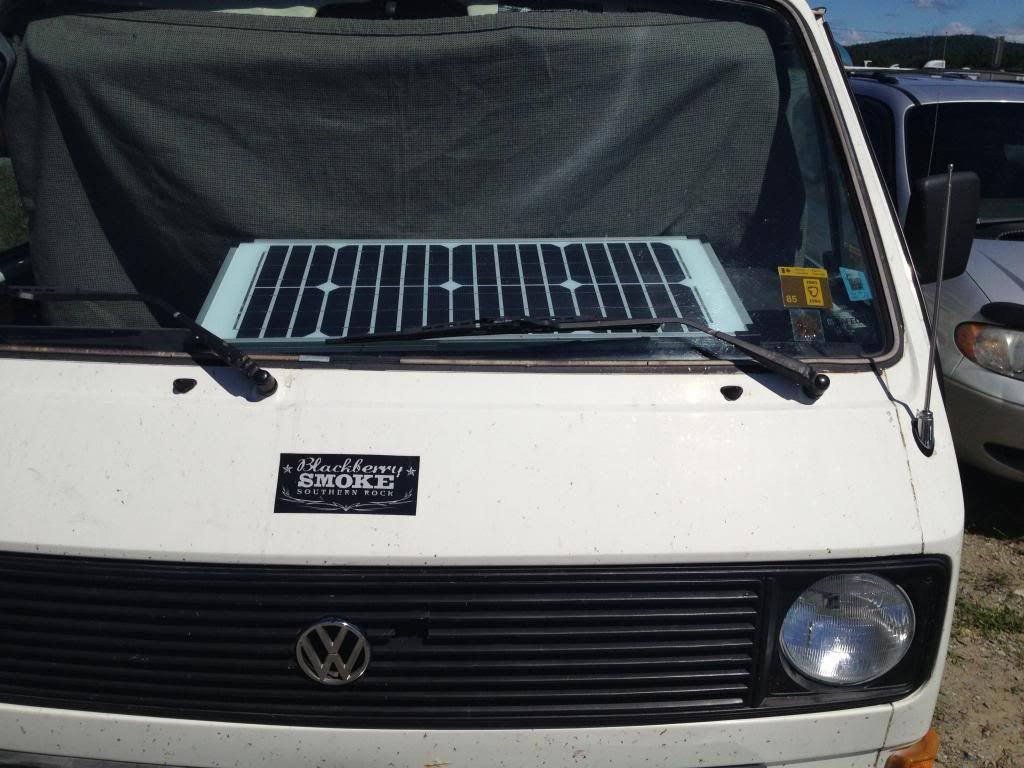 I also finally got to use this solar panel trickle charger that my mom gave my for Christmas. It kept my battery all charged up despite the fact that we were draining it by using lights and my boombox. Instead of having to get a boost to leave like we did last year, we were actually able to give someone else a boost!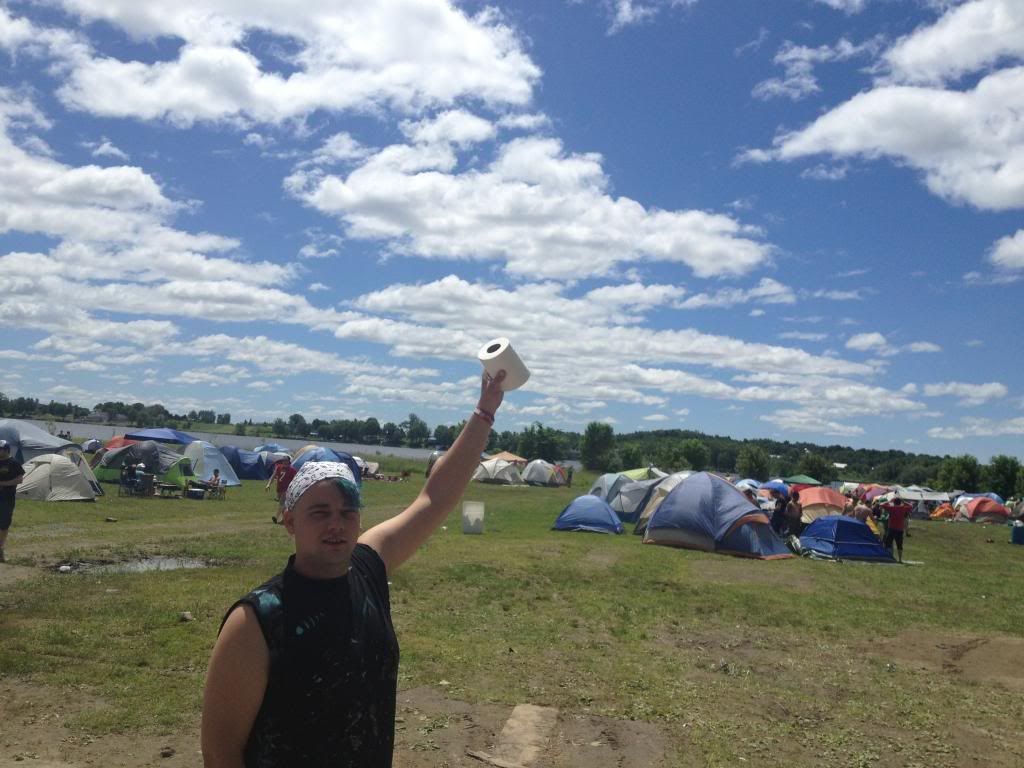 One thing I will say is that I never worried about my junk touching the contents of an outhouse – until this weekend. When you cram a bunch of people into such a small area, they're bound to fill up an outhouse or three. Here we see Johnny saluting the guy with the awful job of cleaning all the outhouses, after he'd come and gone.

To get an idea what our campsite was like (and how amazing the skies were!), here's a panorama. Click on it to get the full-size version.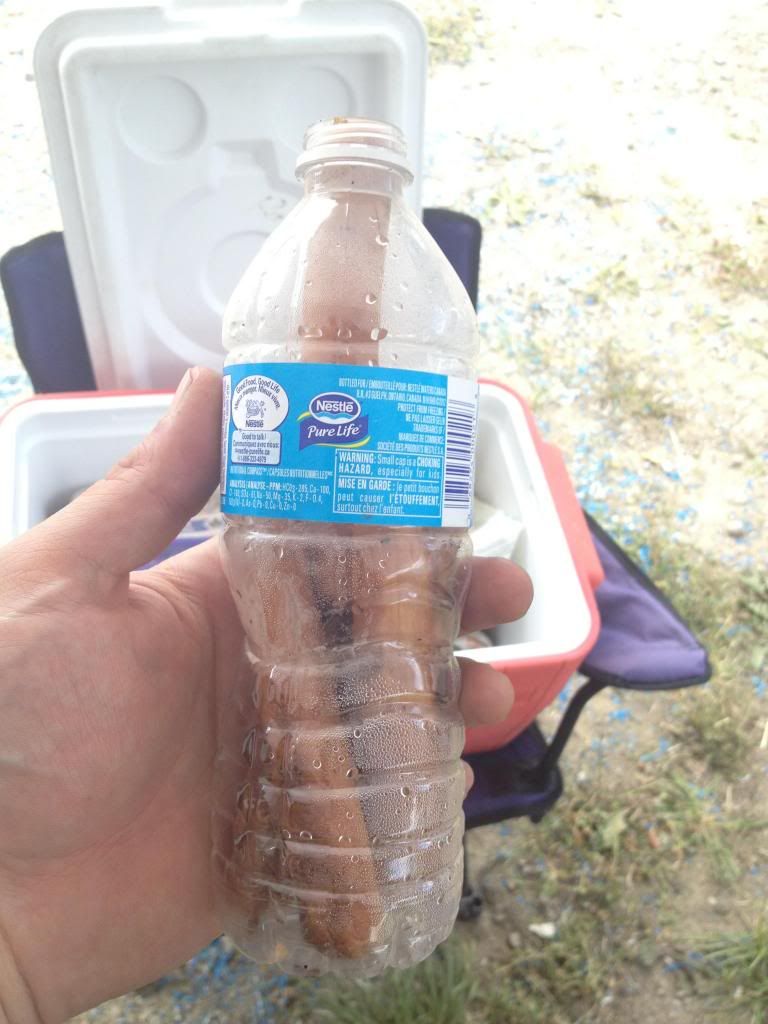 What do you do when  you forgot to bring Ziploc bags or anything similar? You store hotdogs in a water bottle. Anyone want a bottle of hotdogs?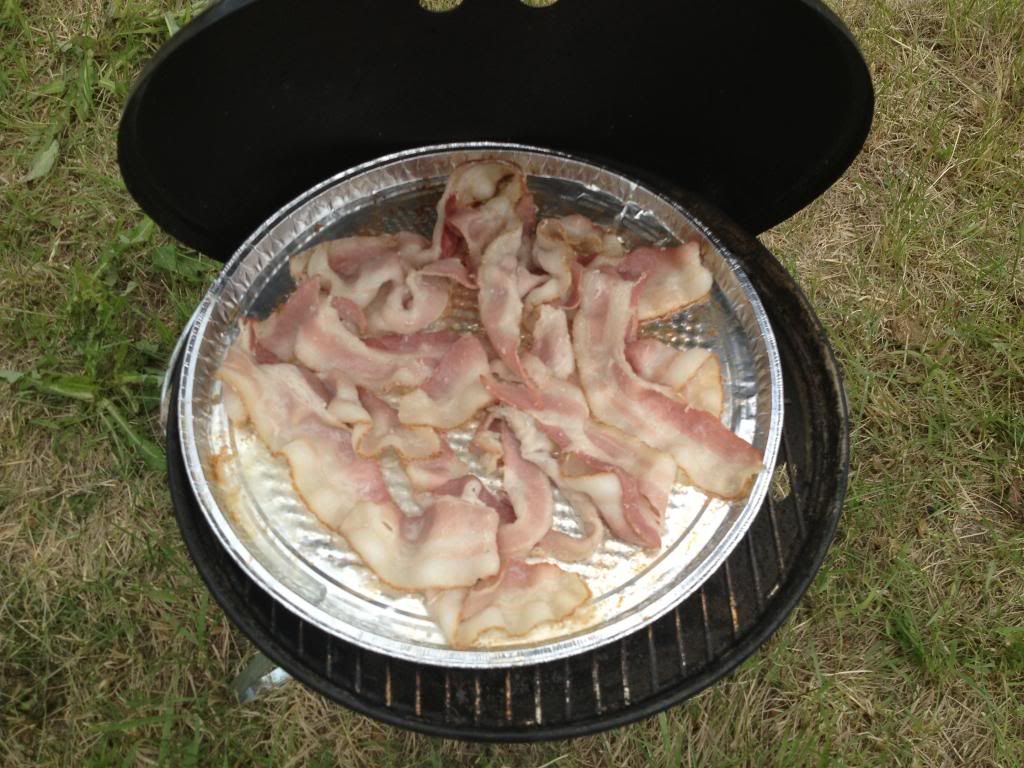 We did try to do a decent amount of cooking at our campsite (which was kinda tough due to the band schedule), but we had some lovely bacon and eggs for breakfast Saturday morning.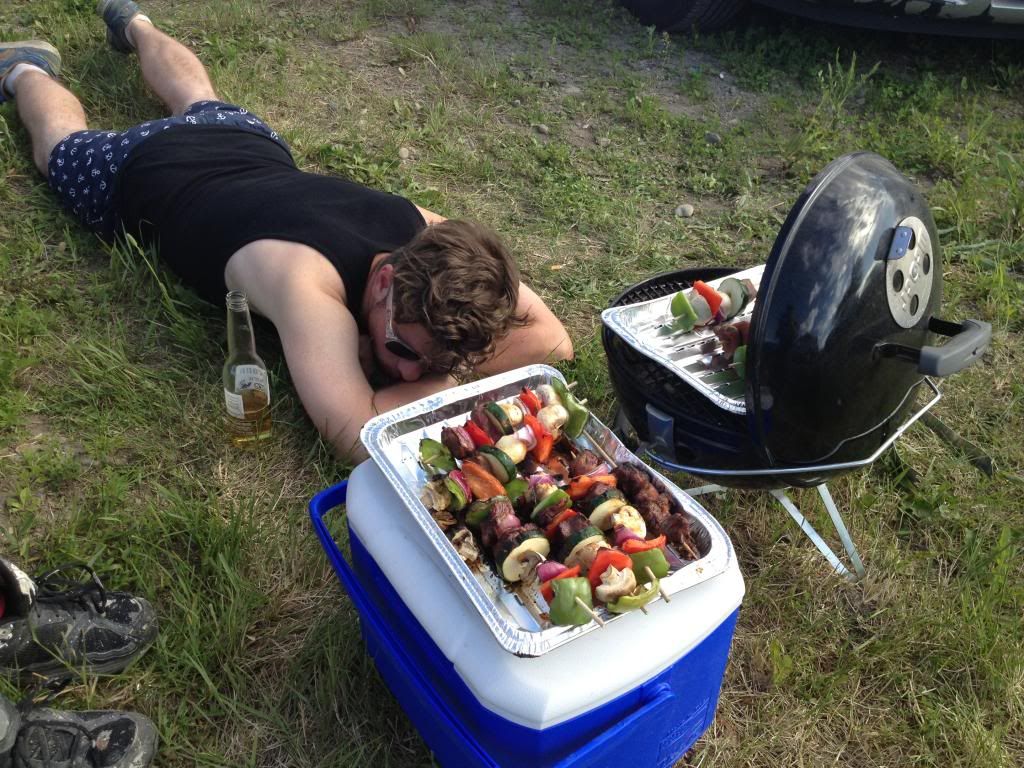 We even did up some kebabs on the bbq!
I could get used to calling this home.
Interesting Vehicles
One of the things I mentioned looking forward to in my preview blog was seeing lots of Volkswagens. I was not disappointed, though I didn't take a picture of every one I saw like I did last year. Instead, I took a picture of the one that got me going the most.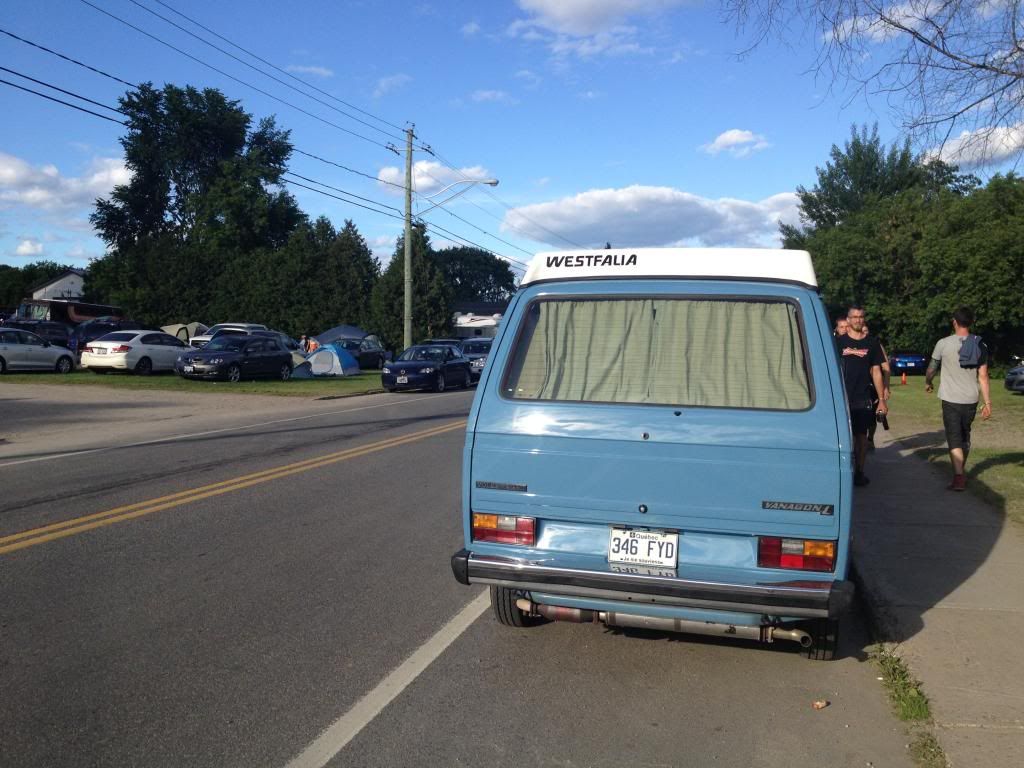 Ooh damn.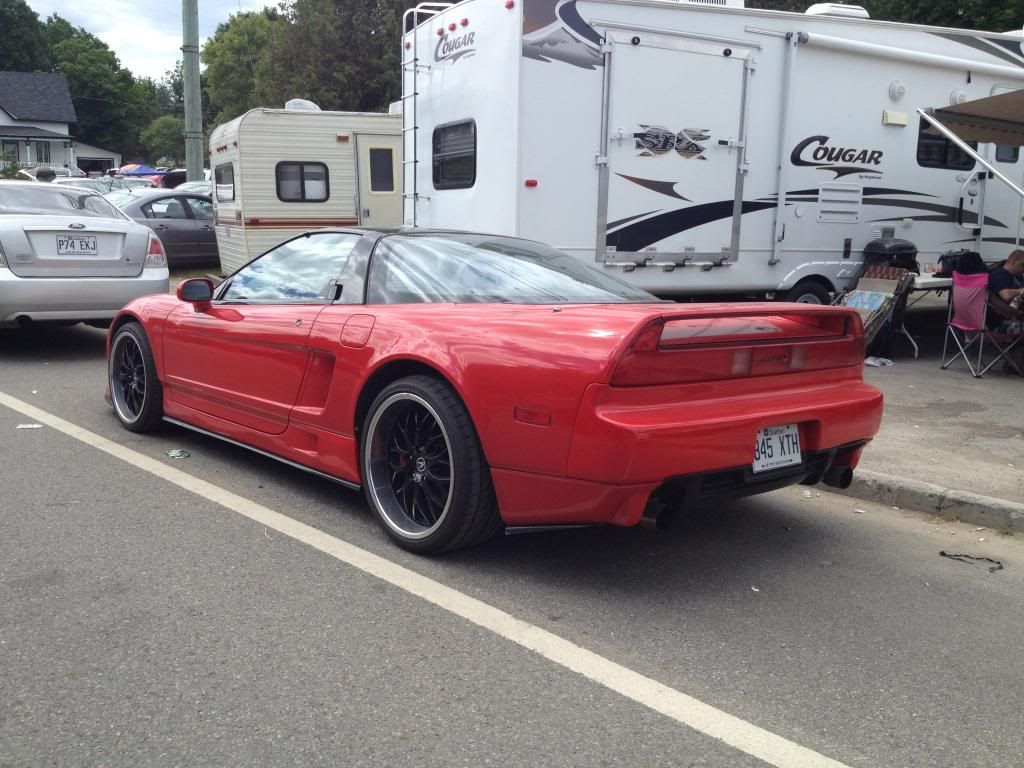 Someone brought their Acura NSX to Montebello during Rockfest. I mean, it's an absolutely beautiful area and nice to drive in, and I could only imagine how amazingly this thing drives… But there's so many hooligans around I'd be too worried that someone was going to damage it or barf on it or something.
Life Inside The Festival
Things get a little crazy in Montebello while this is all going down. The town normally has a population of 978 (or something similar), but according to this CBC article, more than 200,000 people showed up for the festival.
The first thing you notice on your way into the festival grounds is the empties everywhere. Montebello allowed festival goers to drink in the streets this year, provided they don't use any glass. You weren't allowed to bring your beer into the festival though, so at the gates, piles of empties accumulated. I did spot guys collecting them at one point, though.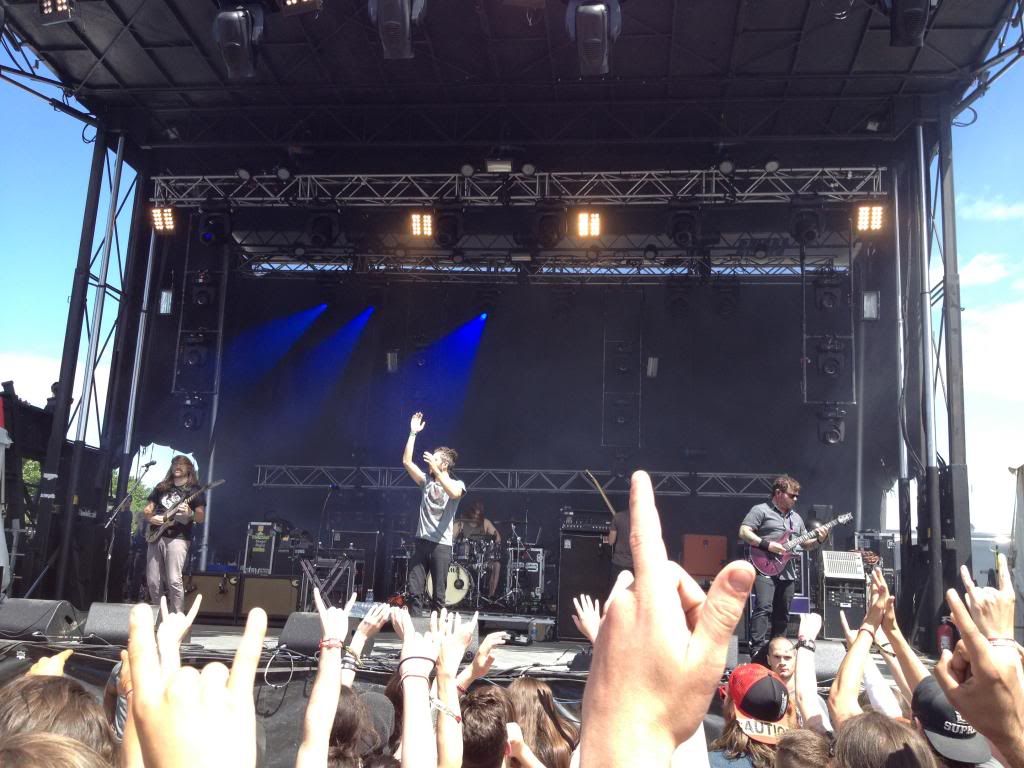 The first band I got to see was Between The Buried And Me, and only just. By the time we got through the gates and got our hands on some schedules, I discovered that I'd already missed their set. I literally dropped to my knees and screamed "NO!" like you imagine people only do in the movies. We made our way to the Jagermeister stage anyway, and I was thrilled to see the members of the band wandering around on stage, waiting to play. I guess there was a schedule change, and I was pleased as punch.
Paul Waggoner and Dustie Waring from Between The Buried And Me.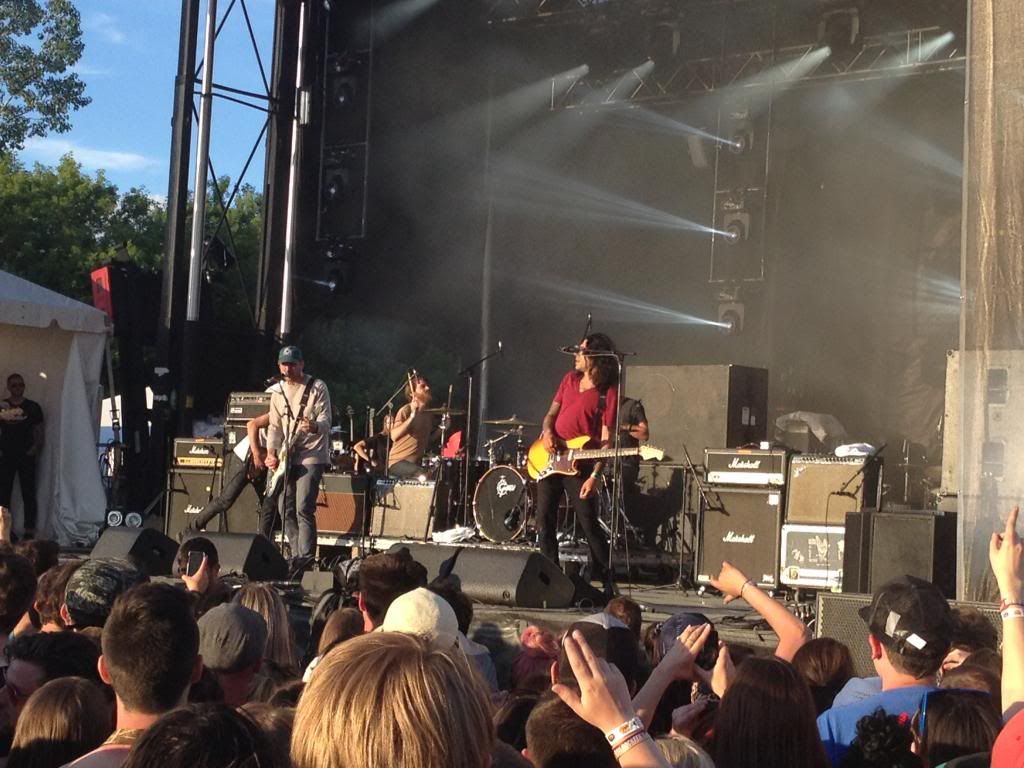 Brand New.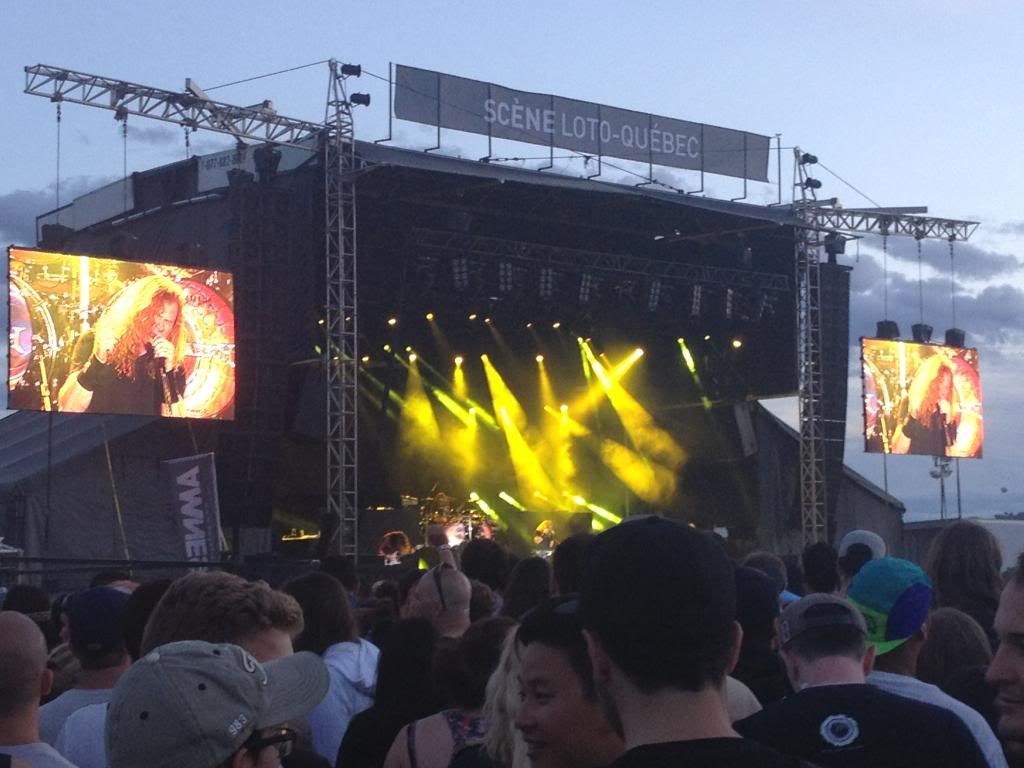 Megadeth.
This is Meshuggah. They were, for lack of a better word, unreal. They were easily one of the bands I was most excited to see as soon as I saw the lineup, but when my pal Devin described his experience seeing them play as "life-changing," the excitement only built from there. Despite only having a festival-length set, they delivered beyond my expectations for them. Their live show is so heavy, brutal, and crushing, yet incredibly intricate and precise. Later in the evening, back at the van, Cole mentioned that he'd felt kind of uneasy since seeing them live. Their set was so intense, and so was the energy in the crowd. Circle pits here and there, you really got the impression that crowd could erupt into a riot given the proper motivation. Fortunately, people were generally well-behaved (and probably exhausted from spending the entire day drinking beer in the sun).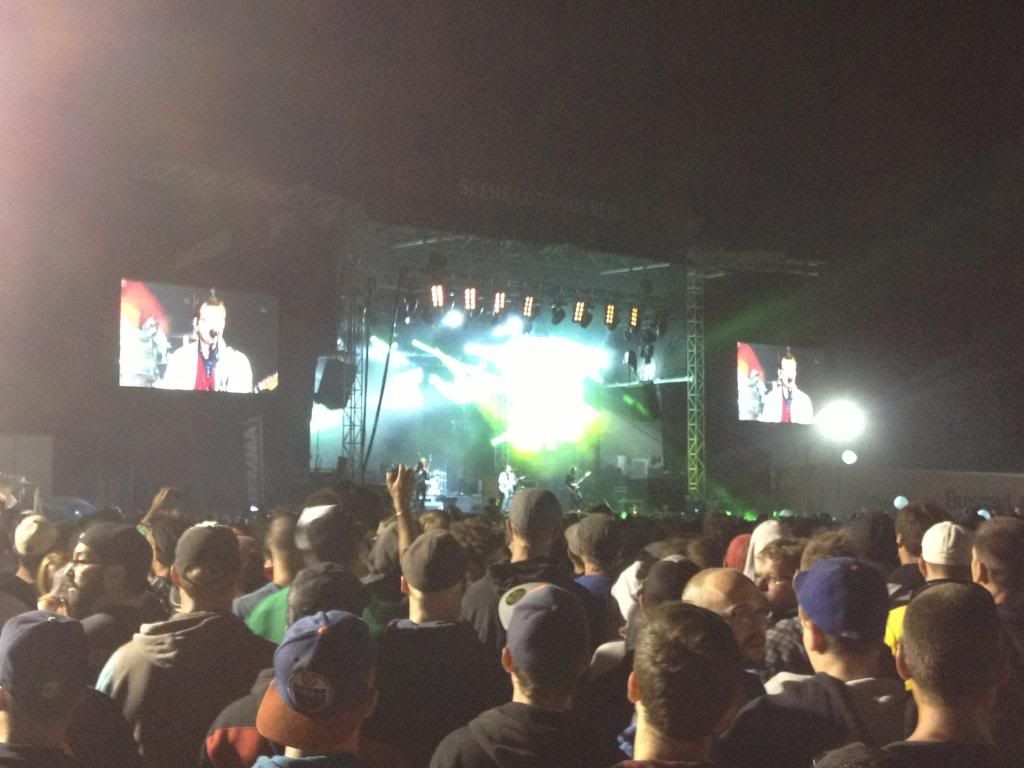 Weezer.
Mastodon was also incredible. Weezer had started about half an hour late, so after we made our way across the field to the Jager stage to see them, we ended up having to wait a while for them to start. As Weezer started into their last couple songs, the "F**k Weezer" chants began to emerge from Mastodon fans tired of waiting. They were a most excellent way to close out the Friday night (Blink-182 was up after, but we were so tired we only stuck around for a couple of their songs).
This is Dying Fetus. Yes, that's actually their name.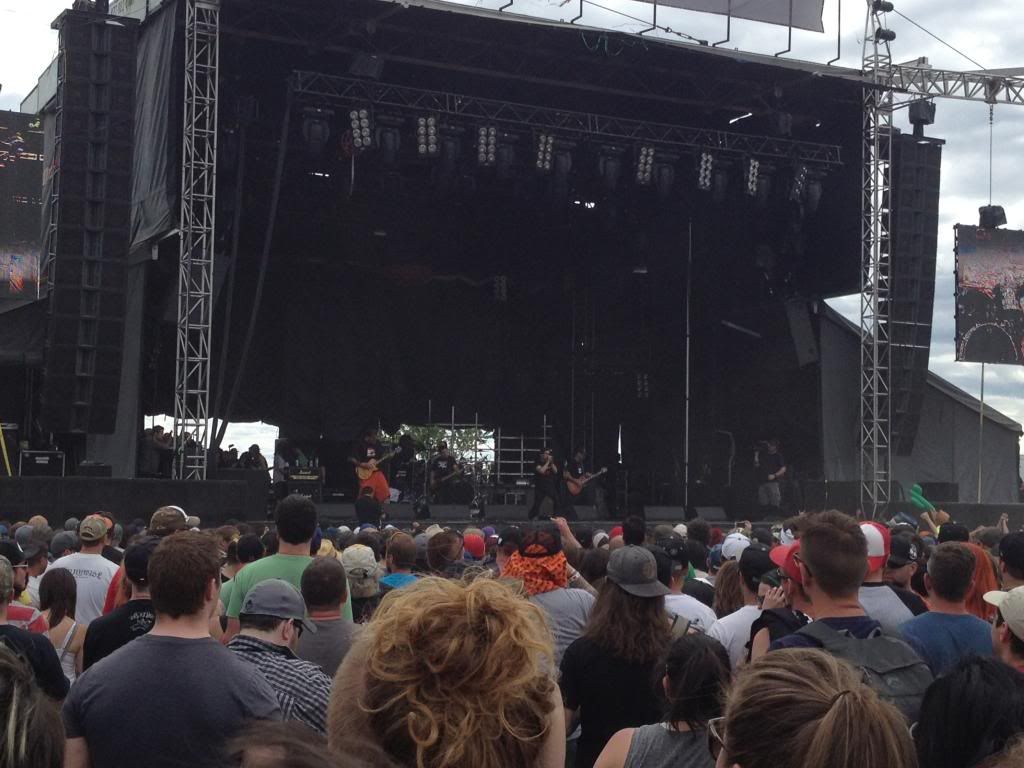 Lagwagon was up next, one of the bands returning from last year. Their set was on the main stage, after their set last year had to be moved to one of the small stages thanks to some technical difficulties. Guitarist Chris Flippin (the giant dude in orange shorts) used the term Jazz Cigarette multiple times on stage, which I quite enjoyed. I think that term needs to make a comeback.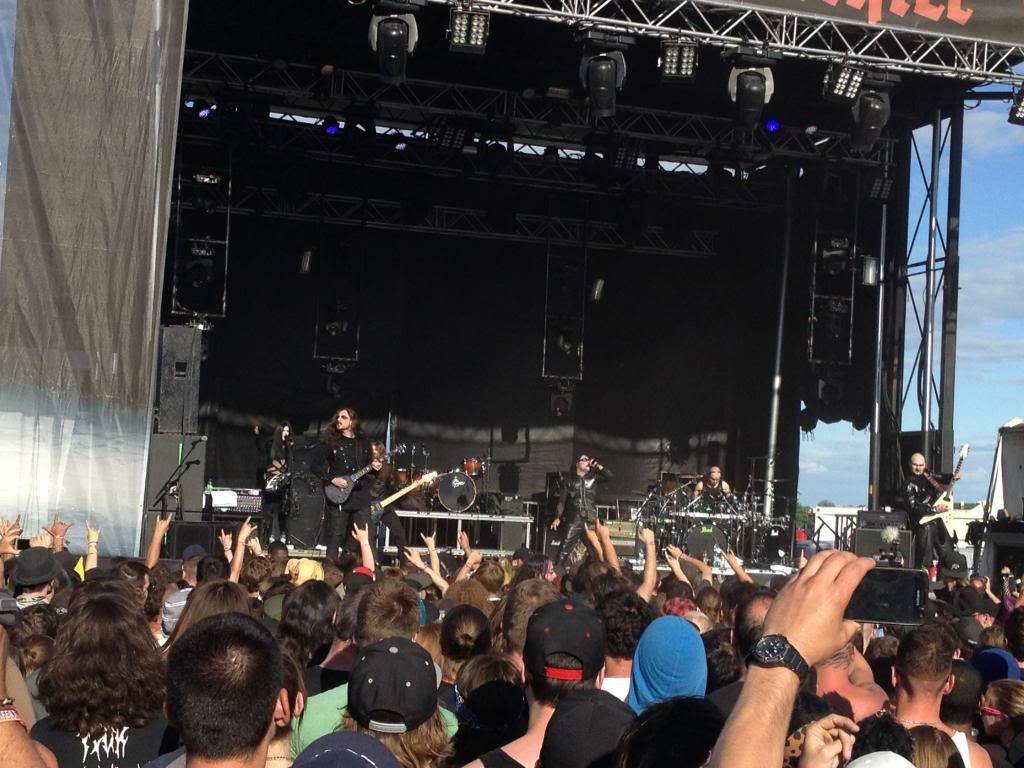 Cradle of Filth was the next band up. I've never really tried to get into them, but I did first discover them in high school when a few of my friends got really into them. I remember one friend I had who came into high school as straight-laced as anyone I'd ever met, and within a year and a half had been completely transformed to a goth kid who wore around trenchcoats covered with leather and chains. I started calling him Fetish Man (though I don't know if he ever appreciated it or not). That kinda fueled my curiosity, and I did listen to them a little bit but never got real into them. I wanted to see them play live because of that, though. Well, that AND The IT Crowd…
The next band to see was Primus, one of my all-time favourites. I managed to snap this photo of their stage setup before they started playing, but after taking it I pushed my way to the front and ended up right at the front barrier, unable to take any more photos thanks to the moshpit pushing me from behind and the constant flow of crowdsurfers kicking me in the head. Oh well, that's what you get when you get in the moshpit.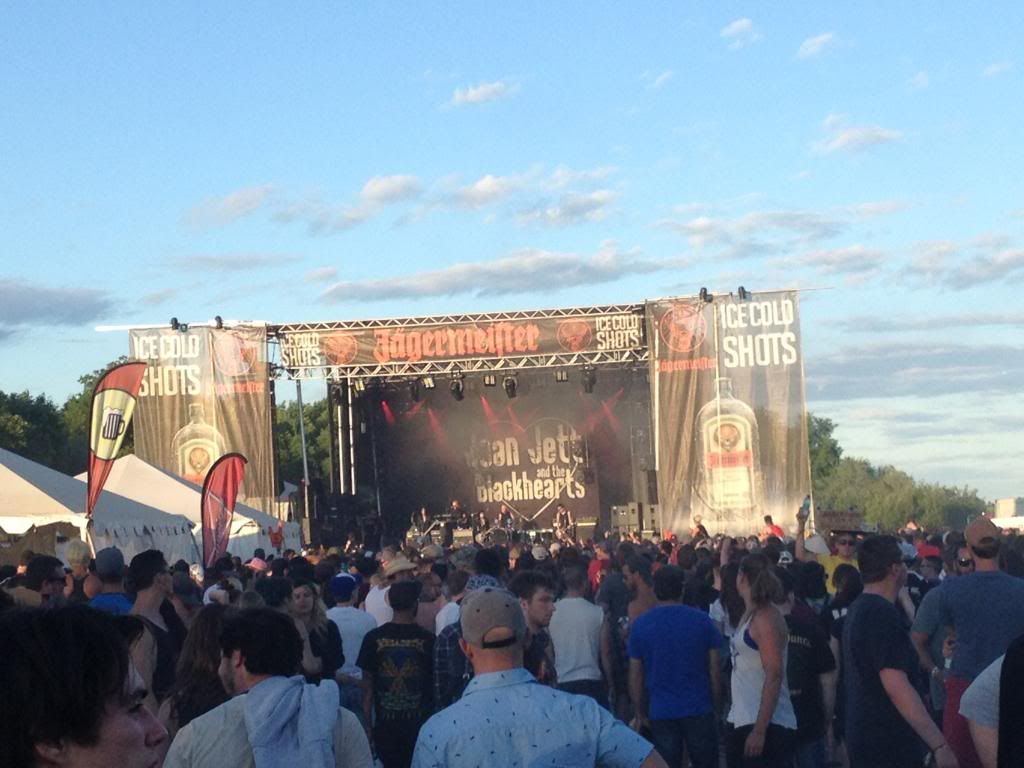 Joan Jett and the Blackhearts were there. We watched them for a little bit before taking a seat to get off our feet for a few minutes.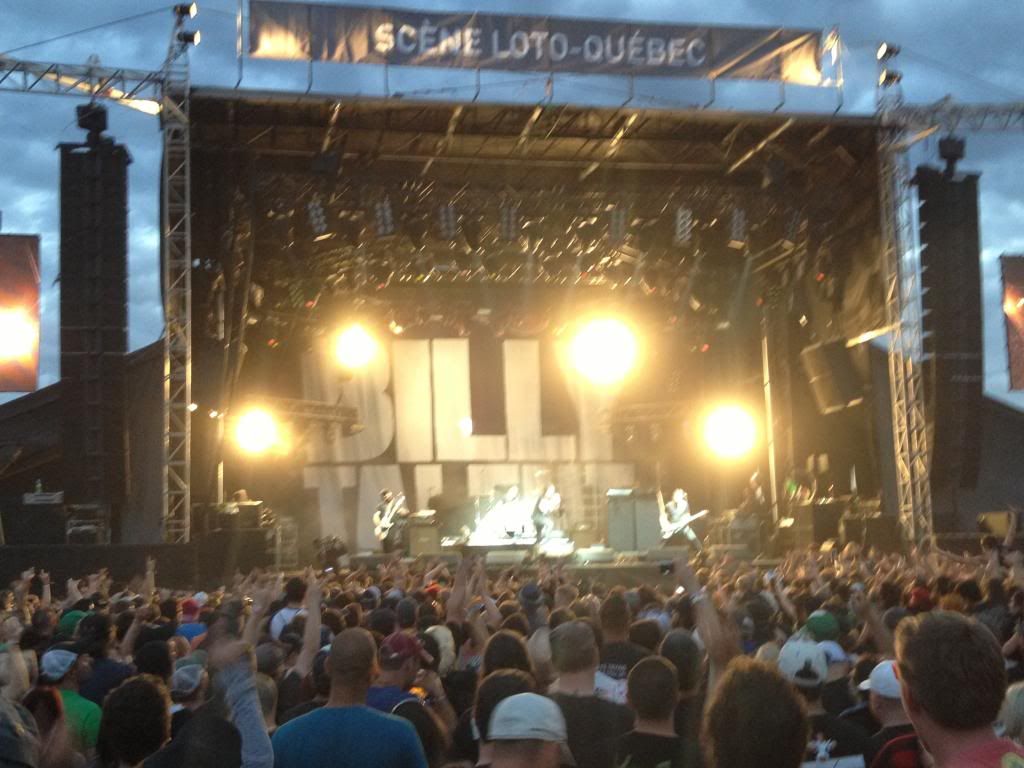 And this is my blurry shitty iPhone photo of Billy Talent. The crowd went CRAZY for them, and a bunch of people jumped the fence from the "common person's area" into the VIP area (among them, my tripmates Cole and John). This apparently angered the lone security guard protecting the area to the point where he started tackling people who tried to jump over before I got the chance to. Needless to say, I didn't try it after that.
After Billy Talent, I went to head back to the van for a little break from the action. The plan was to head back to see Alice In Chains, The Dead Kennedys and Mötley Crüe… But after drinking beer all day and continuing to drink beer when we got back to the van, we kind of just wanted to sit and chill. We really were going to go back, but before we knew it, we could hear Alice In Chains playing, and our 10-15 minute walk back to the festival seemed even more daunting. We ended up just chillin' at our campsite, enjoying the tunes from afar, and helping out our campsite neighbours who needed a boost to get out of town.
The Day After
Now I would love to say that I managed to stay up all night and see the sun rise on Sunday morning. That would make a great story… probably. But no, we were so damn tired we ended up in bed pretty early, and I just happened to have to answer the call of nature right as the sun was cresting over the hills in the distance. It's not very often I get to see a sunrise so of course I took a photo.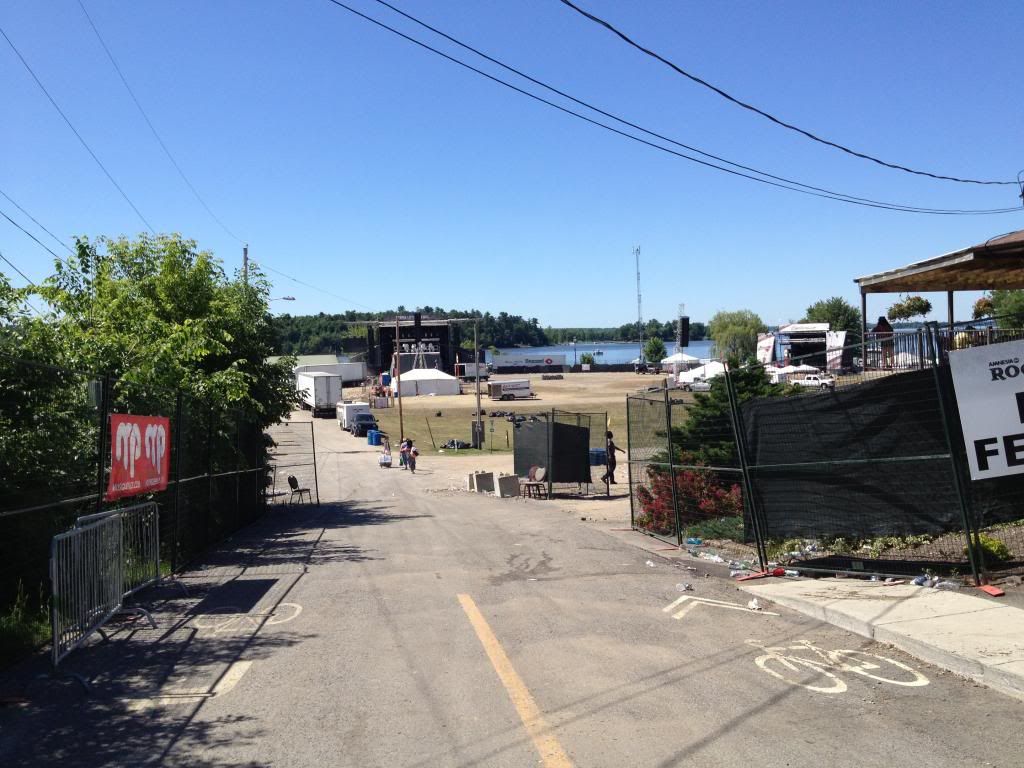 Cleanup and teardown were already well underway by the time we wandered back into town to make a visit to the Fromagerie Montebello. Might as well get some genuine Quebecois cheese curds while I'm there, right? It was weird to see the field so empty when, for the past few days, there had been people EVERYWHERE.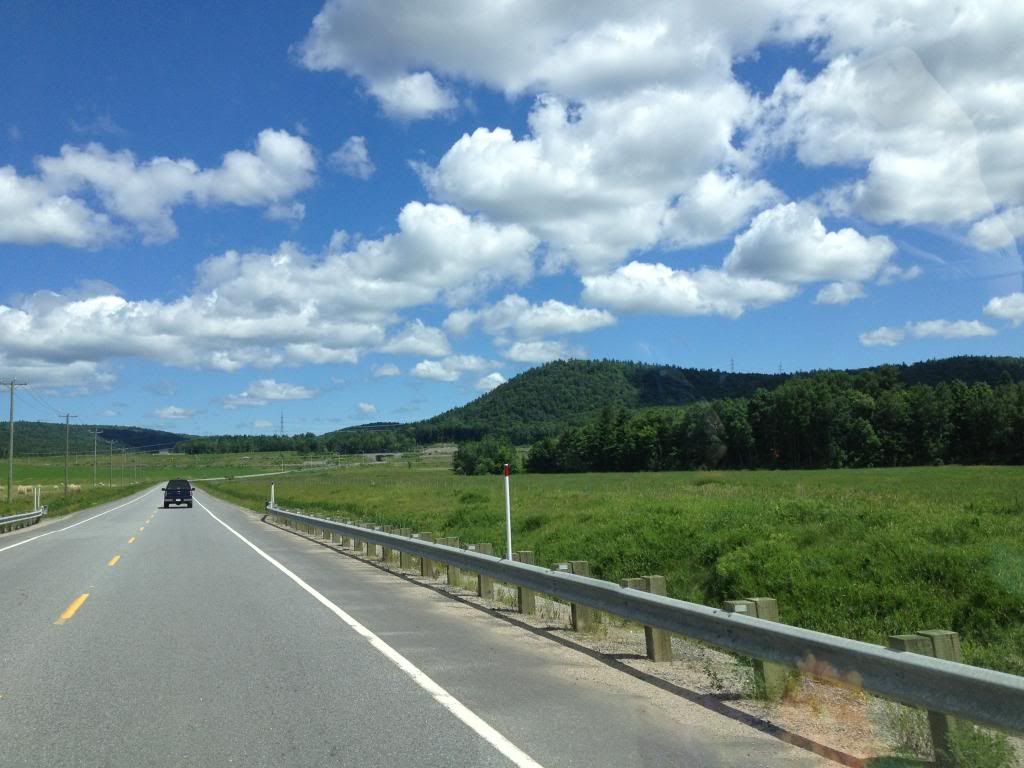 And just like that, we were on the road again… I found this lovely view just north of Fassett, a town just a couple kilometres down the road from Montebello.
You know, if the lineups for future editions of the festival are as awesome as this year's, I could see myself returning to Montebello for years to come.