[Image Source: Reuters]
I'm not entirely sure what to do with myself, now that the hockey season is officially over. I'm guessing many of you are in the same boat. At least it ended in spectacular fashion.
I've noticed a strange trend when it comes to watching hockey for me. At home, I don't have cable TV or satellite or anything, so if I want to watch hockey I either need to stream it online or go somewhere else. I managed to watch a decent chunk of the first three rounds of the playoffs, but once it came time for the Final to start, I just wasn't able to watch any of it.
I feel like a bad hockey fan, but this seems to happen every year around this time (at least every year since I got my first job).
I didn't get the chance to catch any of the first four games for various reasons: I was working, attending social functions, or working on my van anytime a game was on. I was working on my van again last night, but I finished up in time to catch the majority of the 3rd period.
When I entered, the Rangers were up 2-1 on a beautiful goal scored by Brian Boyle in the second period.
[NOTE: To see the full-size clip, click on it]

Just a few minutes after I got situated in front of the TV out at my dad's place, I watched the Rangers make a number of mistakes, leading to a bunch of icing calls and eventually a Kings powerplay.
And the Kings did not let that opportunity go to waste.
Marian Gaborik converted to tie the game, and eventually send it to overtime.
As the third period wore on, and in my opinion, the Rangers did not do much to help themselves. There were a few times where the Kings almost put it away, including the dying seconds with this shot from Jake Muzzin.
But the game went to overtime. The first overtime couldn't solve anything. Both teams had plenty of chances, with the play going end-to-end.
Ryan McDonagh came OH so close…
So did Tyler Toffoli.
Both goalies came up huge when they needed to.
There were more tense moments in the second overtime, perhaps none more tense than the moment Rick Nash had the game on his stick, and Slava Voynov came across in desperation to make an incredible defensive play to keep the clock ticking.
But it was only a matter of time until the game came to an end. The Kings at least waited until it was officially the longest Kings game EVER to put an end to it.
Alec Martinez happened to be in the right place at the right time, and put Tyler Toffoli's rebound past a down and out Henrik Lundqvist to seal the victory.
One can only imagine the feeling Lundqvist had as he laid in his crease, the entire Kings team celebrating their victory just behind his net…
Jonathan Quick did his best to console him during the handshakes…
He didn't feel any better by the time he got to the locker room.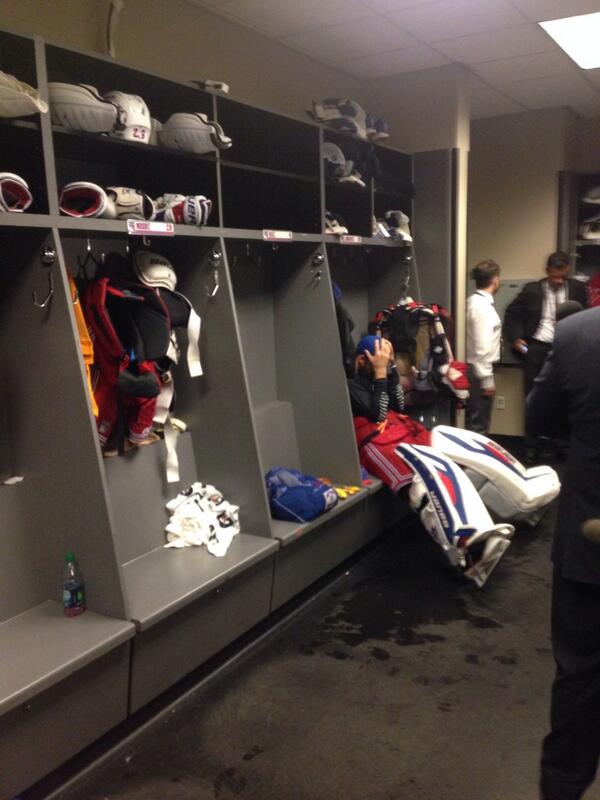 Leaf James Van Riemsdyk summed up how the Rangers must be feeling with a tweet last night, but Shark Logan Couture made sure to correct him…
You'll recall back in the first round when the Sharks had 4 chances to eliminate the Kings and choked in all of them.
On the other side of things, however, it was celebration.
The game had a nice local tie as well. Kings winger Justin Williams, who hails from Cobourg, was a force all through the playoffs and was rewarded for his work with the Conn Smythe Trophy as Playoff MVP. Also awesome was that his parents were in the building to witness it!
I wonder if he's got a shelf big enough for both of them…
Congratulations to the 2014 Stanley Cup Champion Los Angeles Kings!
DISCLAIMER: I do not own any of the photos or video clips in this post. All of them were found on Reddit, mainly HERE and HERE.