[Image Source: Thinkstock Photos | Story Via Huffington Post]
I'm a young man, and haven't yet entered the world of fatherhood. I have, however, encountered the occasional protective father. When you're a young man, the father of the girl you're trying to date can be one of the most intimidating people to meet. Sometimes it can be tough for any guy to convince dad that he's anything more than just some punk trying to get into his little girl's pants. Especially if you're nearly three times his little girl's age, and teaching her in high school.
But that's what dads do – they protect their children as best they can from getting hurt. That's the kind of dad I intend to be when the time comes. And if that means relying 0n a Louisville Slugger, then so be it.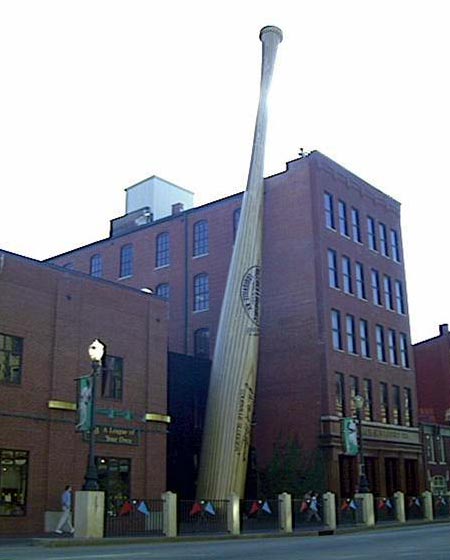 Hell, I'll grab the biggest one I can find.           [Via roadtripamerica.com]
A Maryland dad likely won't see any charges after he struck a local teacher with a baseball bat.

Police say the dad saw a series of texts on Thursday between the 42-year-old teacher and his daughter, a 15-year-old student. The girl's mother deemed them "inappropriate for a teacher and a student" to be sharing, News Net 5 reports. Investigators didn't agree and never charged the teacher with a crime, but the situation took a downturn later that day when the unidentified teacher showed up at the girl's house.
At this point, I really have to wonder about the teacher's lack of judgment. Put yourself in his shoes: The girl in your class who you have inappropriate feelings for has shown her parents the texts you've sent her. You probably should have been charged with a crime but were not. You just got finished up with police.
Do you…
A) Cut your losses, stop the texting, and avoid unnecessary future contact with the girl?
B) Seek counselling to deal with the fact that you have feelings for someone a third of your age?
or
C) Go to the girl's home to confront her father, who is roughly the same age as you?
He wanted to speak to the girl's father, but was told to leave, CBS local reports. When he refused, the dad reportedly whacked him with a baseball bat. The teacher sustained minor injuries.

Police arrived at the Nottingham home at about 9:45 p.m., but the teacher didn't press charges.

The Crimes Against Children Unit continues to investigate, according to The Baltimore Sun. The department said it won't release the names of the girl and her parents.
Dad's, what would you do if you were in this situation?