Image Source: Mashable.com
Facebook has a habit of rolling out updates that people aren't necessarily fond of. Remember when they updated the timelines so that suddenly, anyone who had a bunch of free time on their hands could see everything you've ever posted?
Changes to Facebook's privacy policy are usually what set users off, but the latest thing that seems to be making waves is the new "Passive Listening" feature that's now a part of the Facebook Mobile App.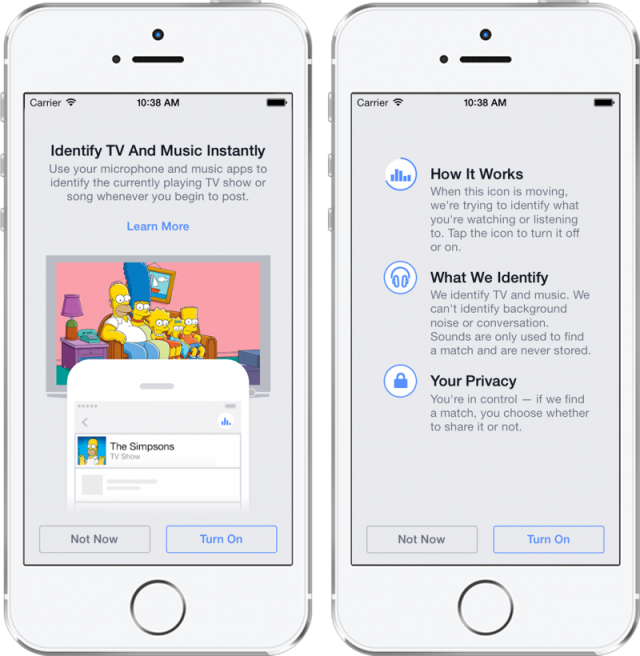 [Via arstechnica.com]
Facebook has added a new feature to its mobile app that uses a phone's microphone to identify ambient TV shows, music, or movies and include them in status updates. The feature is off by default, though the app offers to turn it on in an intro screen that it pops up for users.

Facebook has lately made a push into encouraging its users to talk about trends by introducing hashtags and a list of topics people are discussing on the site (Nicki Minaj, Aaron Hernandez, and Petco are some on this reporter's news feed, presently). The microphone trick is likely meant to make status updates more uniform so that cataloging can be more seamless. But it works passively, not on command, so any time a user writes a status update, their phone will be listening to surrounding noise.
Here's a video that explains it far better than I would be able to.
Facebook specifies that it will not store any audio it doesn't identify as an existing piece of content, and it stresses that the feature is optional. Though it's worth noting that many Facebook features are optional, until such a time as they are not.
That quote above is from an article that was written on May 21 of this year. The following day, an article appeared on International Busines Times' website which says pretty much the exact opposite.
Though Facebook assured that "no sound is stored," the company acknowledged to International Business Times that it does intend to archive the data gleaned.

The company did not discuss whether it plans to use the same feature to gather data from other sounds heard by the microphone, such as users' discussions about their medications or their children.

Though the press release stressed that no sound is stored when Facebook accesses your microphone, company spokeswoman MoMo Zhao said: "If a match is successfully made, the data is saved, but all data is anonymized and aggregated."

In other words, Facebook does store data via the new feature– it just doesn't store whatever data it collects as sound, and it does not link the data to the user.

Facebook declined to say whether it collects data when no match is made from the sounds captured.
Might be time to start fashioning yourself a tin foil helmet.