Story from HuffPost Music. Image Source: deryckwhibley.net
You likely know Deryck Whibley as the frontman of Sum 41. Or maybe you remember him from being briefly married to Avril Lavigne, as he became a bit of a staple in the gossip columns and what-not. In recent years though, he's kind of disappeared from the spotlight. That is until this past week, when he made headlines by opening up about a recent hospital stay.
But in more recent years, as the band's popularity plummeted, Whibley became better known for being unrecognizable after photos of his bloated face began circulating online last summer.

Now we know what happened.

On Friday night, May 16, Whibley posted a message to his website titled "Rock Bottom." Alongside photos of him in a hospital bed hooked up to IVs, he reveals that his years of "hard boozing…finally caught up to me."
Here's the original post in its entirety:
hey everyone, it's deryck here. sorry i've been so m.i.a. lately, but i've been very sick in the hospital for a month and was pretty sick for a few weeks leading up to my trip to the hospital. the reason i got so sick is from all the hard boozing i've been doing over the years. it finally caught up to me. i was drinking hard every day. until one night. i was sitting at home, poured myself another drink around mid night and was about to watch a movie when all of a sudden i didn't feel so good. i then collapsed to the ground unconscious. my fiancé got me rushed to the hospital where they put me into the intensive care unit. i was stuck with needles and i.v.'s all over. i was completely sedated the FIRST WEEK. when i finally woke up the next day i had no idea where i was. my mum and step dad were standing over me. i was so freaked out. my liver and kidney's collapsed on me. needless to say it scared me straight. i finally realized i can't drink anymore. if i have one drink the doc's say i will die. i'm not preaching or anything but just always drink responsibly. i didn't, and look where that got me. (i never thought i would ever say that! haha) anyway i have my passion and inspiration back for writing music. i already have a few song ideas for new songs. soon it will be time to start making an album and getting back to touring again. see you all sometime! there will be more posts again so say up to date friends.

DERYCK WHIBLEY
Sometimes it takes a near-death or life-altering experience to set someone straight, and that seems to be the case in this situation. Hopefully the newfound inspiration keeps flowing for him.
… And just because I love this photo so much, I'm going to throw it in… Remember when it came out that Avril Lavigne and Chad Kroeger of Nickelback were engaged? That was back in 2012, and for halloween that year, Whibley and his girlfriend decided to dress up as Chavril (*shudder*). Gotta say, he pulls off a pretty good Avril, complete with the Hello Kitty sweater.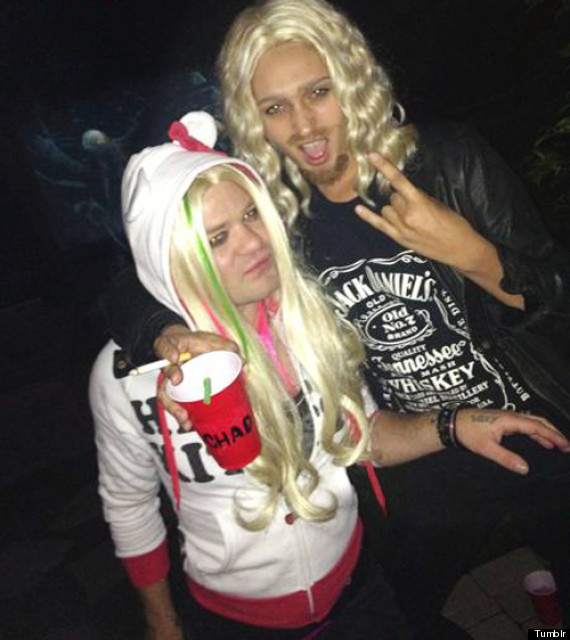 Image Source: HuffPost Celebrity
Here's hoping for all the best for Deryck in the future… And let it be a warning to you. Drink responsibly!