One thing I've come to enjoy over the past year or so is charcoal grilling.

Photo from The Fireplace Place
I'm not sure what it is that got me into charcoal grilling. For the most part, any time I'd barbecued anything up to the point where I bought my first little grill, it had been done on a gas grill, and that suited me just fine.
My dad is kind of an expert when it comes to charcoal, however, having run a catering business that specializes in large-scale BBQ's for a number of years now. Even still, I'm not sure that's what it was that made me want to get into it.
Maybe it's just the fact that it's generally a little more challenging to cook with charcoal… And who doesn't love a good challenge?
However, it has also been suggested (in this article, which is certainly worth a read) that grilling over charcoal is objectively better than grilling with gas, because of the aroma compounds charcoal brings to the table.
'Guaiacol is an aroma compound produced when you use heat to break down lignin, the resin responsible for holding strands of cellulose together to form wood. "It has a smoky, spicy, baconyaroma," says Sacks. "In fact, the flavor that most people associate with bacon is largely degraded lignin."

Translation: Cooking over charcoal makes your food taste like bacon. Let me repeat that: blah blah charcoal blah blah BACON.'
If you've never experienced food that's been cooked over charcoal, I recommend you give it a try soon! And I can help you get started.
Here's my step-by-step guide to preparing food over a charcoal grill. I'm no expert, and if I've gotten something wrong, please don't hesitate to let me know.
Step 1: Finish Mowing The Lawn
Mowing the lawn is obviously not necessary, but some flame-grilled meat is a great way to reward yourself after working long and hard on making your lawn look perfect… Or pushing the mower over an eighth of the lawn before it dies on you. Whichever applies more. In my case, it's the latter.
2. Select an appropriate soundtrack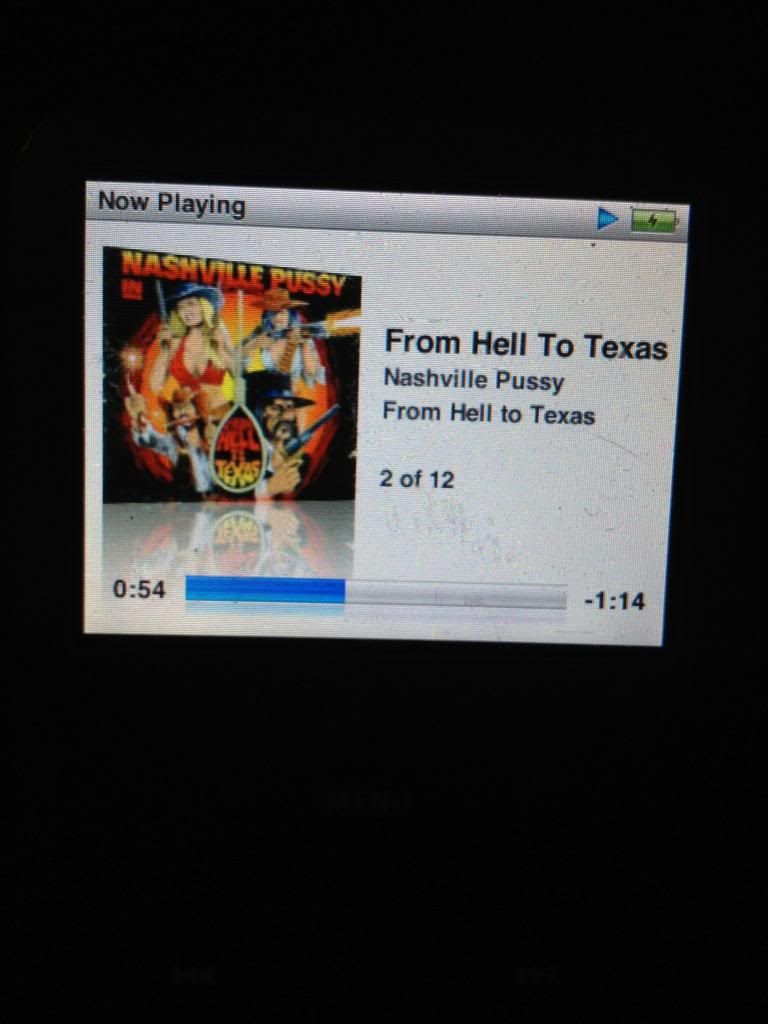 You're going to want to pick an album or two to keep you going throughout the process. It's going to be fairly time-consuming, so make sure you choose wisely. I was in a particularly rockin' mood when I got going with this, so I chose From Hell To Texas and Get Some by Nashville Pussy to be my soundtrack.
3. Prepare Your Grill
You'll need a grill in order to be able to do this. The bonus is that charcoal grills (unless you're going for the super high-end ones) are generally fairly inexpensive. For example, my little Weber grill only cost me about $50. It's small and bare-bones, but it gets the job done for me, and I can take it wherever I go.
I would recommend buying one that's easy to put together. The last thing you want is to be stuck with only the French instructions!

"Le grille?! What the hell is that?!"           Photo taken from this imgur post, used in this reddit thread.

4. Get some charcoal
I usually buy this Royal Oak Ridge Charcoal, but there are a few different varieties. Experiment with a few different kinds and see what you like best.
5. Arrange your charcoal in a pyramid-like shape
This is straight out of the instruction book that came with the grill. I'm not sure if it's consistent with other grills so you'll probably want to consult the literature that comes with your grill. Note that my grill is a bit on the dirty side, thanks to using it a bunch without cleaning it. It's recommended for best results that you keep your grill clean, I'm just lazy.
6. Douse your charcoal with lighter fluid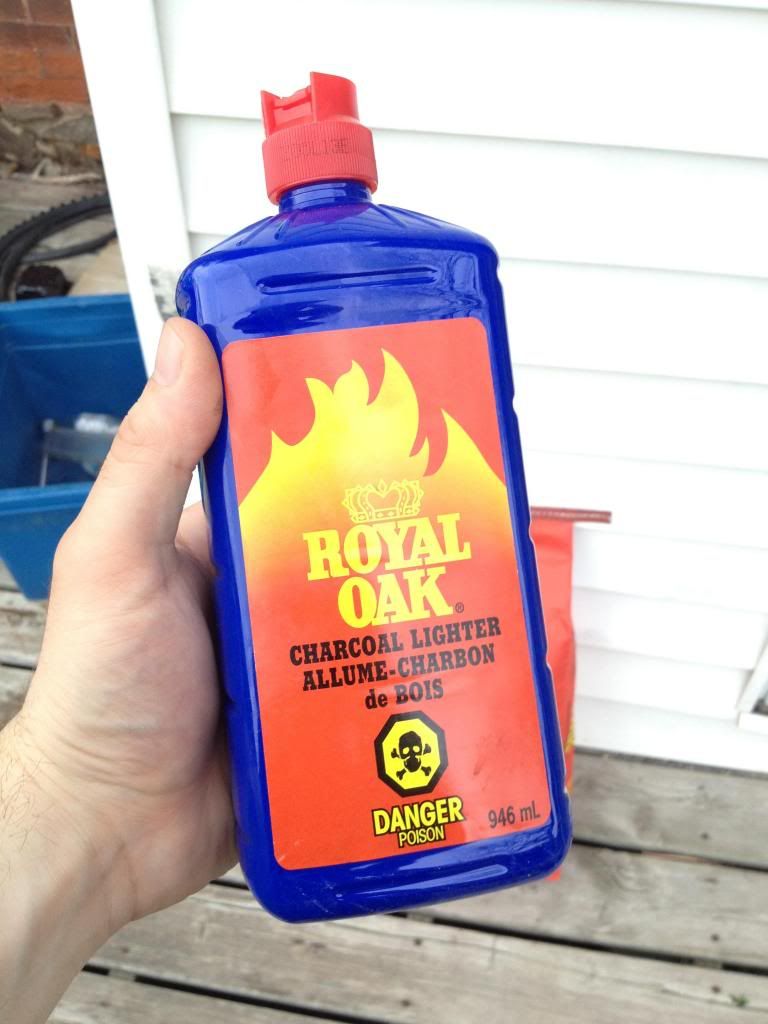 There are other methods to lightning your charcoal. In fact, the instruction manual that came with my grill suggested that you not use lighter fluid at all, and instead use paper to start the fire. However, while I tend to have a good amount of patience with the entire process, this is one facet where I do not. So I soak the charcoal with lighter fluid and go from there.
Now you  definitely don't want to overdo it with your fluid, or you'll just be wasting it.

Simpsons screencap grabbed from punkasspunk.com
Plus you could start a pretty big fire. You just want to spray enough so that all the bricks are wet.
7. Light it up!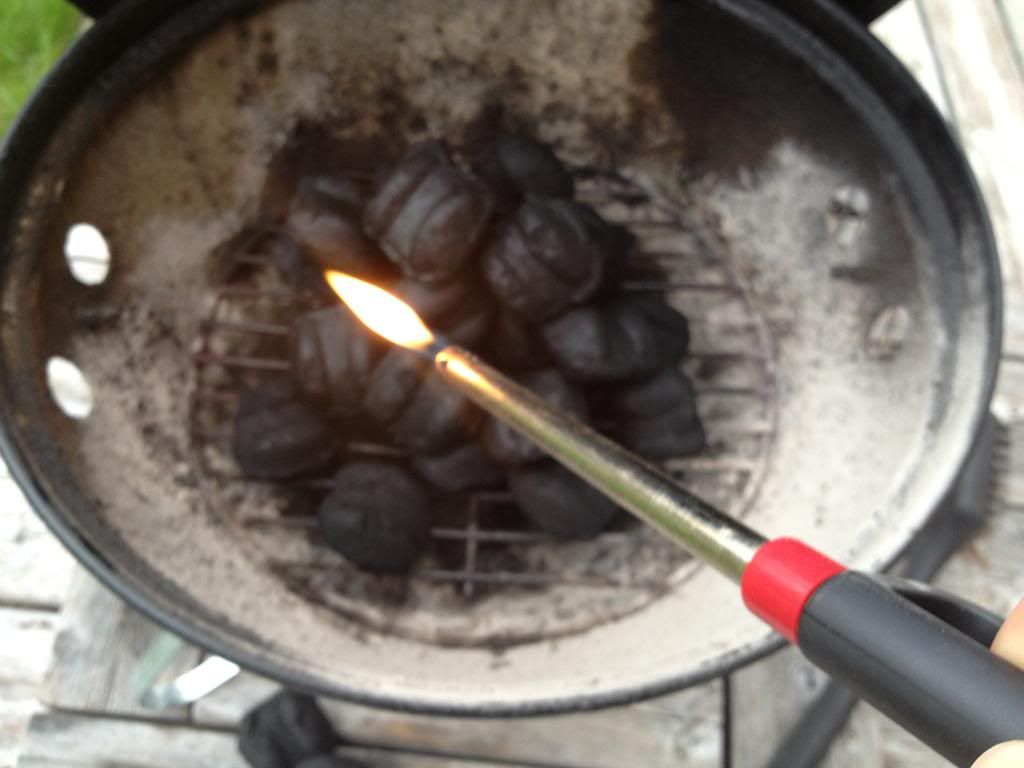 You'll need either a proper BBQ lighter or a long piece of paper or cardboard you can light on fire in order to get it going without putting your fingers in immediate danger. Make sure all the vents on your grill are open and light at various places around your charcoal pyramid.
8. Back the eff up!
Once you light it, you need to get out of the way, because it's gonna flame up pretty good. Step back and enjoy the show for a couple minutes.
9. Wait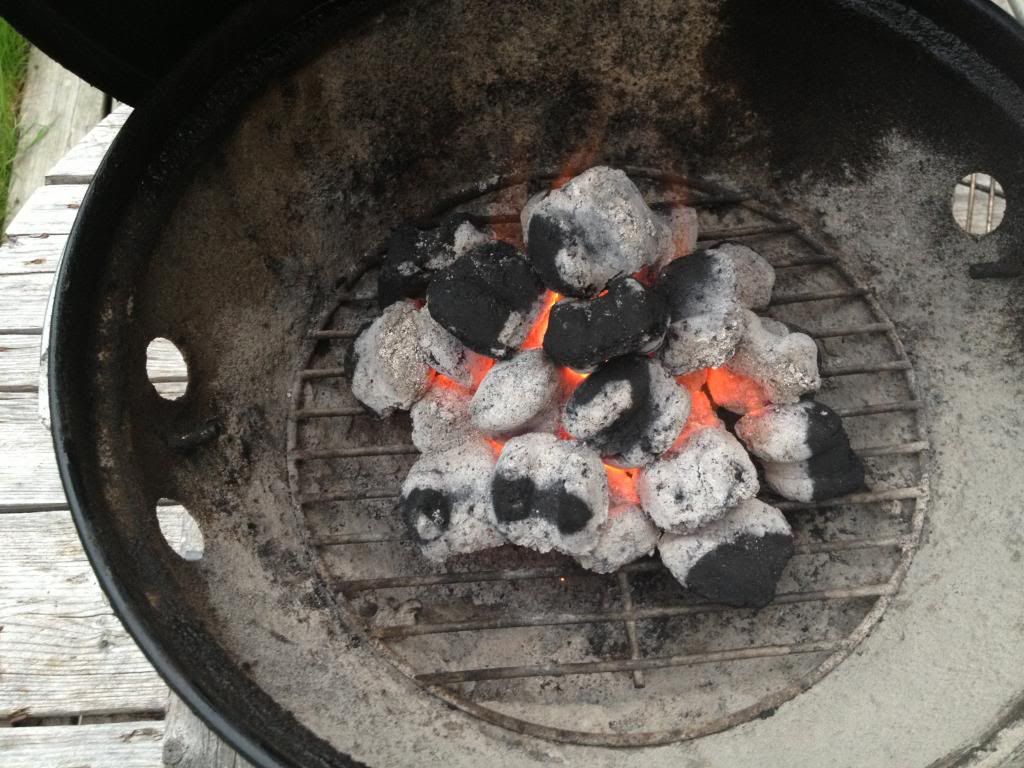 With charcoal, you can't just start cooking right away. In fact, before my first grilling experienced, I was told by an acquaintance about his first time grilling with charcoal. He said the food tasted like lighter fluid which, while wasn't the intended result, was still kind of cool. Unless you want that flavour gracing your meal, wait until a grey blanket of ash has formed on the outside of your charcoal bricks, and they're glowing orange (like the majority of the ones in the photo).
10. Spread out the coals
Once your charcoal is ready to cook, spread it out so that it's across the bottom of the grill to prepare for cooking. You may want to add a couple extra fresh coals to keep the grill burning long enough to cook your food. Place the grill section of the BBQ (I know, I'm using the word "grill" in too many different ways) across the top and let it warm up for a while before scrubbing it with a BBQ brush.
11. Place your food on the grill
Your cook time is probably going to be a bit longer than it would be on a gas grill unless you've got it really dialled in and cooking well. I find for me it's hit or miss, and sometimes it burns better than other times. The weather is often a factor too. You'd have a real tough time cooking anything when it's cold out. Keep an eye on it, and if you're worried enough to check this sort of thing, make sure your meat is at a safe internal temperature before eating it.
12. Pray the approaching storm stays away from you
Your best bet would be to avoid lighting the grill when inclement weather is on the way already, but if you like to tempt fate, be prepared for Mother Nature to slap you in the face. She did this particular evening, and certainly threw a wrench into my grilling. The rain poured down, soaking my coals and delaying my dinner time a fair amount. I eventually had to start standing over my grill, using my head and arms as a sort of umbrella to protect the coals.
The reason I didn't just put the lid down? The design of the particular BBQ doesn't provide enough airflow to keep the flames going while the lid is down (either that, or I'm just mistaken and it's actually doing its job properly).
13. Eat
I was too excited to actually eat to take a photo of the finished product, but once your grilling is done, it's time to kick back and enjoy the meal. And also make sure your BBQ is completely extinguished before wandering too far away.
And there you go.
Am I missing anything? Can I be doing something better? If so, please let me know in the comments below!