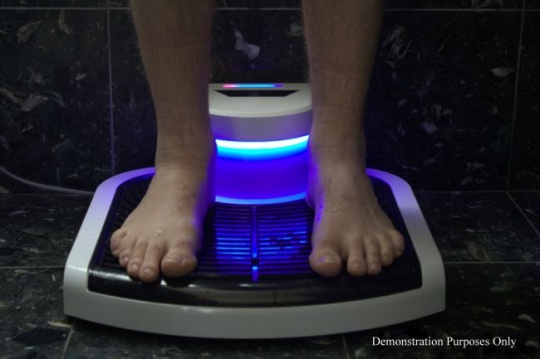 Body Dryer air-dries you off, no towel necessary
In this Cnet article, a new piece of technology is featured that could do away with grabbing that towel after you get out of the shower.
Here's some excerpts :
The Body Dryer looks a little bit like a bathroom scale (the production model is even slated to have a scale built into it). You stand on it and it blows air upward to dry you off. You can choose between hot or cold air, depending on your mood. The sensation of using it is described as feeling like a gentle wind pushing against your body in a circular motion.
The Body Dryer isn't designed to dry your hair, so some people might still want to keep a towel or blow dryer handy. Think of as being like a body-size Dyson Airblade. It takes about 30 seconds to push the water off your body. The water is collected in the platform, where circulating air evaporates the moisture.
It would be like standing on this I guess
The Body Dryer team would love to see the device adopted by gyms and pools to reduce the amount of laundry. A backer has already mentioned its usefulness for people with disabilities who have a hard time using a towel.
A working prototype of the Body Dryer has been created.  The company is currently hoping to raise $50,000 to get this idea off the ground.
Here's how it works :
CLICK HERE to see the video demonstration