Earth Hour is tonight (Saturday, March 29th) from 8:30 to 9:30.
If you're not aware of what Earth Hour is, frankly I'd be a little surprised. It's been nearly 7 years since the first Earth Hour, which was orchestrated by WWF Australia (the World Wildlife Fund, not the wrestlers). That first one took place on March 31, 2007 with residents of Sydney turning out their lights for an hour. The next year, 35 countries took part. Since then, it has continued to grow with people in cities all over the world shutting off their lights for just an hour.
Calgarians have somehow missed the memo, however. In 2008, the city's power consumption actually went up 3.6% during Earth Hour. This was partially due to the climate, however, since that particular Saturday was about 12 C colder than the previous Saturday. Even still, Calgarians haven't participated in subsequent Earth Hours.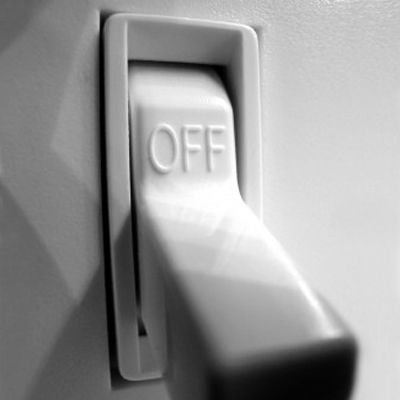 The only real requirement to participate in Earth Hour is turning your lights off. It doesn't even have to be all of the lights, it could be just the "non-essential" ones. You don't have to go an hour without electricity, although if you really want to support the cause, that wouldn't be a bad idea.
That's the way I like to observe Earth Hour, and so I've decided to put together a list of things to keep yourself entertained for an hour without using any electricity.
1. Play some music by candlelight

For this you'll need a candle and some sort of acoustic instrument. Talent helps, but is not a necessity. If you've got an acoustic guitar or even a drum set, this is a perfect opportunity to bust out a pick or some sticks and go to town. I spent Earth Hour a couple years ago hanging with my dad, strumming away in the dark.
2. Read a book

This is a good tactic to entertain yourself pretty much anytime, not just when there's no electricity. Personally, I struggle to make time to read because when I have some downtime, it's usually spent browsing the internet or playing video games to relax. When those aren't options, it suddenly becomes a lot easier to set aside at least an hour to do some light reading. If you're looking for a good book, I'll personally recommend Neil Young's Waging Heavy Peace, which I've been burying my nose in lately. If you're a fan of Neil, or even just of music and cars, you'll enjoy it.
3. Go for a walk
For the same reasons I don't read enough, I probably don't go on as many walks as I should (especially considering all the high-octane crap I eat on a regular basis). Earth Hour makes for a perfect opportunity to go out and get a little exercise. It helps that, while tonight is going to be a little on the chilly side, it's warmer than the majority of evenings we've had in recent memory, with a low of only -3 C. Go out for a walk by yourself, with a friend, or with your dog!
Or better yet, let the dogs walk themselves!
4. Play a board game
There's certainly no shortage of board games out there, and they generally don't require any electricity to play. Dig out the old Monopoly set and start building your empire, or impress your family with your extensive vocabulary over a game of Scrabble. If those aren't your style, there's always the card game sensation that's sweeping the universe, Cards Against Humanity!
5. Play "Forget About The Thing That's On Fire"
Now I can't really condone or promote this game, but I'm sure there's some of you out there who might get a kick out of it. This game was introduced to me by my buddy Mike Judson. The basic idea behind it is to light something on fire, set it down, and forget about it. If you remember that it's on fire, you lose. I'm pretty terrible at it, which I think is in part due to the fact that my dad is a volunteer firefighter and has told me many a story about responding to structure fires. I think it's only acceptable to play this game if you're in a place that's free of flammable objects, because I'm guessing you don't want to burn your house down, and I'm sure Peterborough Fire Services don't want to respond to your house burning down. Bottom line: Don't actually play this game. If you choose not to follow my advice, do not hold me accountable for anything that might happen.
… Or not.
6. Pillow fight!
There are few situations where a pillow fight isn't entirely appropriate, so obviously it's a great thing to do when there's no power. You can get out your aggressions in a relatively safe manner (because pillows are so soft they'd have a hard time hurting anyone). Just don't let it turn from "Pillow fight" into "Pillow smother." People have died that way.
7. Make love!
Depending on who you're with, and whether or not you play your cards right, a pillow fight can transform seamlessly into lovemaking, which I think is the best way you could spend Earth Hour. All you really need is two willing participants and a safe place to stretch out, and you're set.
Although, you don't absolutely need another person. I mean, you can always take things into your own hands…
Whatever it is you get up to this Earth Hour, be safe!