It's like a line out of a classic rock song…
Standing in the rain, with his head hung low
He couldn't get a ticket, it was a sold out show
Except in this case, the rain was actually just cold weather, but you get the picture.
This is one of my favourite bands, Between The Buried And Me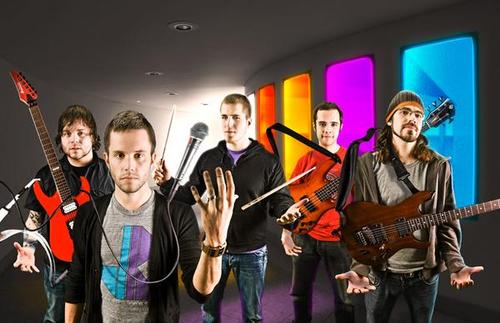 For those of you who happen to be metalheads and aren't familiar with them, I highly recommend checking them out.
I first discovered them nearly 10 years ago when I was in high school, and got to go see them in 2006 when they played in a tiny hole in the wall club in Toronto that was barely half-full. Thinking about that now, it's cool to see how far they've come, but as a fan who hasn't been able to actually see them play since 2009 (for various circumstances outside my control), it's kind of frustrating too.
I found out a couple weeks ago that the band would be playing at The Phoenix Concert Theatre last night. Having seen Vista Chino at The Phoenix a few months ago, I knew the size of the venue and figured it probably wouldn't sell out.
Whoops.
See, it wasn't until I had rounded up a few friends, loaded them up in my car, driven to Toronto, spent 20 minutes driving around looking for a parking spot, and waited another 20 minutes in line, that I realized that the show had been sold out.
I didn't even think to check online, and my friends all had similar mindsets that it probably wouldn't be sold out. That's why it came as such a shock when the security guard at the door replied with "No," When I yelled over the crowd asking if there were still tickets available.
That really put a kink into the evening's plans. I was then forced, along with my friends, to be THAT GUY, the guy walking up and down the lineup asking people if they have any tickets they'd like to sell. Apparently nobody did, so we walked back to the car and, after a quick stop at Sonic Boom to browse their vinyl selection, we set off back home.
Lesson learned:
If it is a must-see show, make sure it's not sold out before you drive all the way to Toronto
But on the bright side, I drove to Toronto to have a nice $14 meal at Young Thailand, Canada's first Thai restaurant, on Parliament Street.
So the moral of the story is: don't be like me. Make sure you have tickets (or at least that the show is not sold out) before you get in your car, unless you like driving to Toronto for essentially no reason.
That being said, have you ever pulled something like this?