Last night, I got a chance to do something I never really thought I would be able to do: Play sledge hockey.
I've had an interest in sledge hockey since I was a kid and saw it being played for the first time. I had at least one childhood friend who regularly played sledge hockey. Even still, I never had a chance to try it out. That is until now.
It all started with a tweet.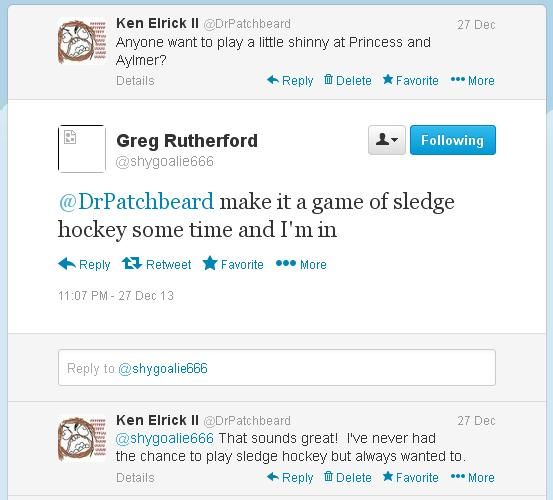 Now being a good ol' Canadian boy, I love getting out and playing a little hockey on the many outdoor rinks in Peterborough. As such, I figured I'd extend the invite to anyone else who might like to join. That's when Greg Rutherford tweeted at me. I'll be honest, at first, I didn't think much would necessarily come from this. It was shortly after, however, that Greg sent me a message mentioning that he's the president of the Peterborough Patriots sports club, and offered me a chance to hit the ice with their sledge hockey team!
They had a practice scheduled for last night (Saturday), so I made my way out to the Millbrook arena to join in.
The first thing I did when I got to the rink was get dressed. I tend to be a pretty sweaty guy, so I figured a good ol' Kelly Hrudey bandana would come in handy.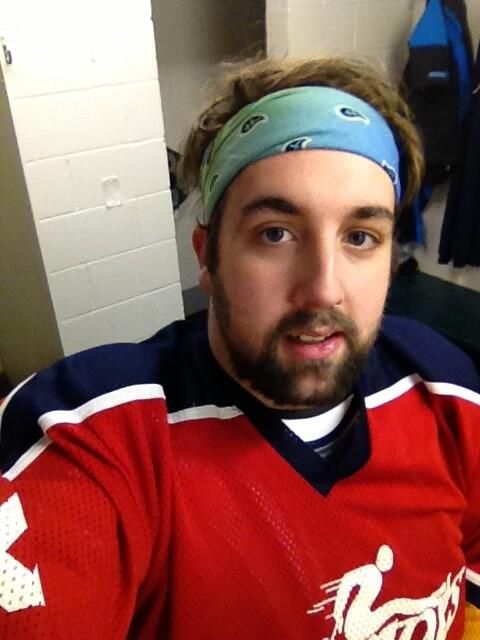 While I wasn't playing net, I think the bandana certainly did help my play.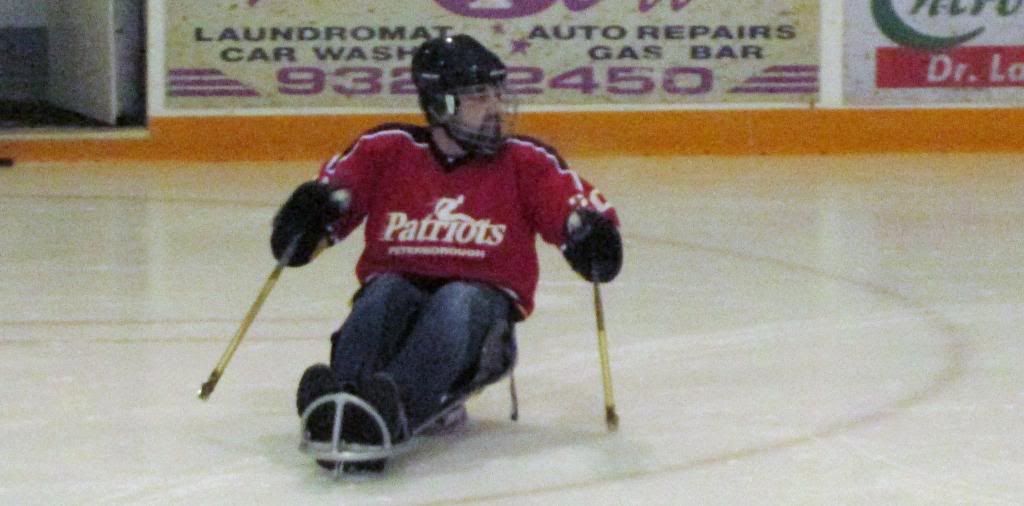 The first thing I had to do after getting strapped into the sledge was learn how to maneuver it. As it turns out, it's not actually that difficult. What did seem to be kind of difficult for me, however, was staying upright. In a straight line, it's pretty simple. Once you try to start turning with speed, somewhat less so. I had to watch the pros on the team for ideas on how to turn. It's actually kind of similar to riding a bike, you need to lean to the side. Most of the times I tried it, however, I would either run into the boards or lean a little too far and fall over completely. Given that you're strapped in, you can't really use your legs at all (and a number of sledge hockey players are amputees), so you need to use only your arms to flip yourself over, which I found to be a bit challenging at times.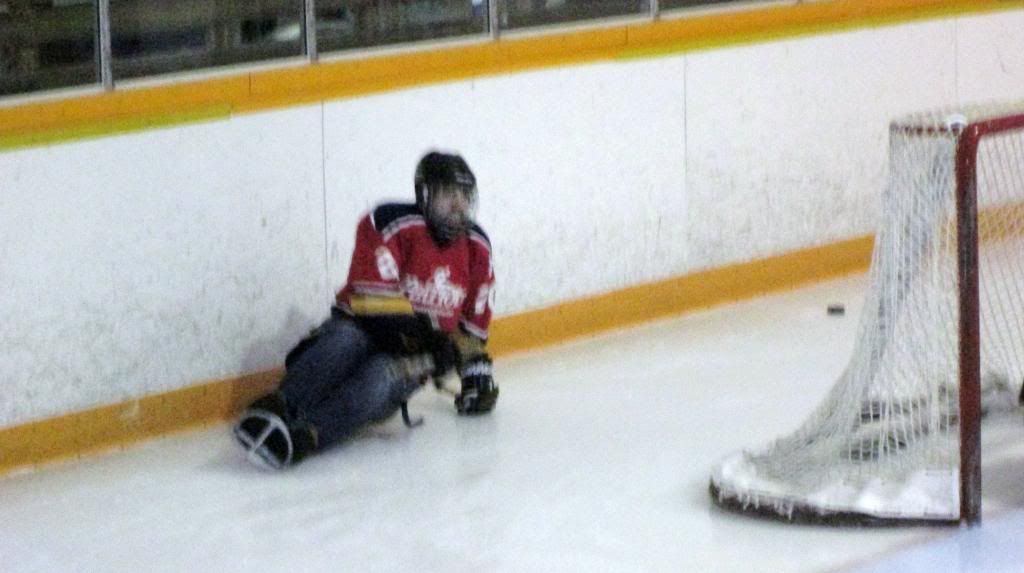 Here, I was either trying to turn or flipping myself back upright.
The first drill in practice was 3 laps around the rink. I did my best, but kept getting lapped by the experienced players on the Patriots. I managed to get 2 laps done before the rest of the team moved on to a passing/shooting drill. I opted to watch this, unsure if I would be able to properly participate. Eventually I went with a couple other players to the opposite end of the ice to work on shooting, and essentially just get the feel for puck handling while pushing myself around with my sticks.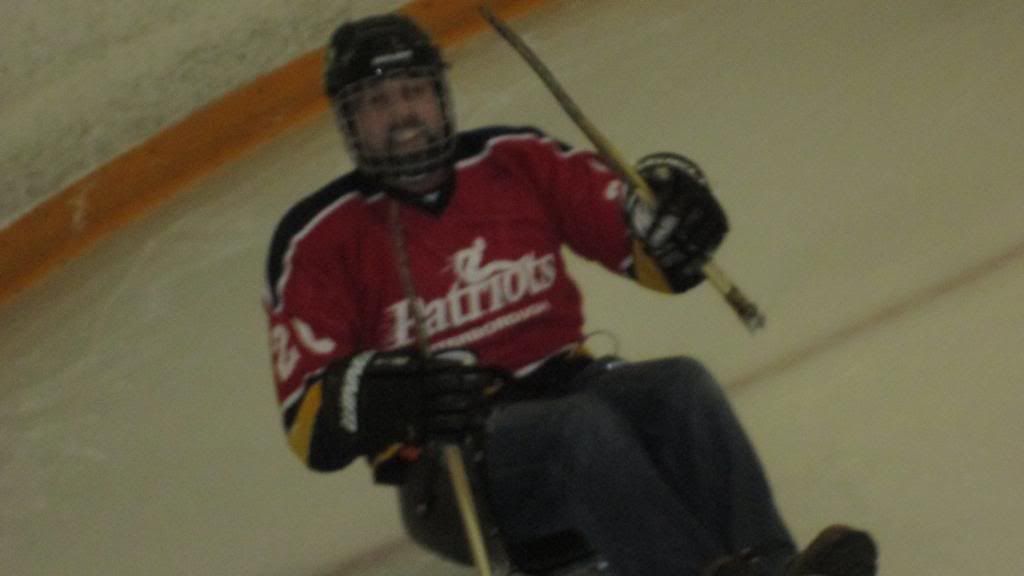 Eventually we got a scrimmage going and I got a chance to play a bit as a forward. I don't know how these athletes keep going like they do. Constantly pushing and pushing with your arms. Obviously, they're all much more conditioned to it than I am, but it's still mind boggling to see the speed and agility some of them have. Fortunately, I wasn't the only first timer out there, so that made me feel better. Anyway, I didn't end up scoring any goals, but I did get a couple half-assed shots on net and a blocked shot, so that's a success to me.
Though I met them all for the first time last night, the Patriots seem like a great group of people, and they were all super friendly toward me. It's an international bunch, with players from across the world playing for them. They even have a member who has played for Team Canada in Matt Abbott.
One of the reasons I was able to hit the ice with the Patriots is because they benefited from a donation of gear from the NHLPA's Goals and Dreams program as part of Hockey Day In Canada festivities in Peterborough last year.
The Patriots have a number of other sports programs in addition to their sledge hockey program. If you want to get involved, check out their website at www.peterboroughpatriots.ca.
The Patriots have a home game coming up in 2 weeks. January 18th, they'll be taking on Toronto at the Millbrook arena, 7 PM. Get out there and cheer them on!
And finally, I just want to extend a huge thanks to the Peterborough Patriots organization for allowing me to come out and have a little fun with them.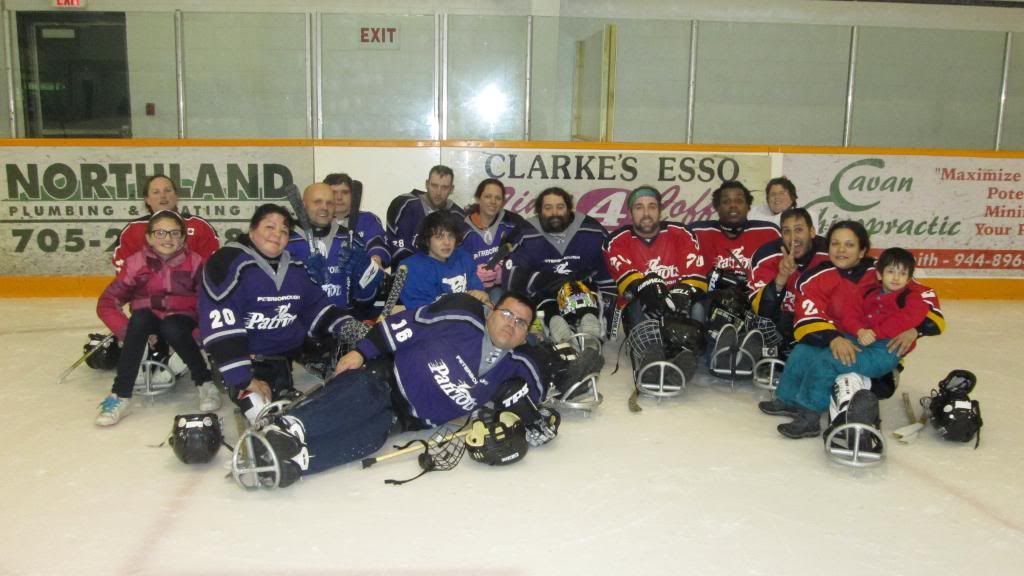 And a giant thanks to goalie Greg Rutherford, who is the whole reason I was able to get involved at all.
Thanks guys!
OH! And in case you're wondering… Yes, I am pretty sore today.