It's not a subject I think I've ever touched on in my blog, but it's one that's near and dear to just about everyone: SEX. More specifically, Safe Sex.
It's a crazy world out there, and you really need to protect yourself. Having unprotected sex, depending on your partner, can be asking for trouble. There's plenty of diseases out there that could just ruin your day (or even the rest of your life), and nobody wants an unplanned pregnancy!
The easiest (and most common) way to protect yourself during sex is to use a condom.
Fairly common knowledge, but important nonetheless.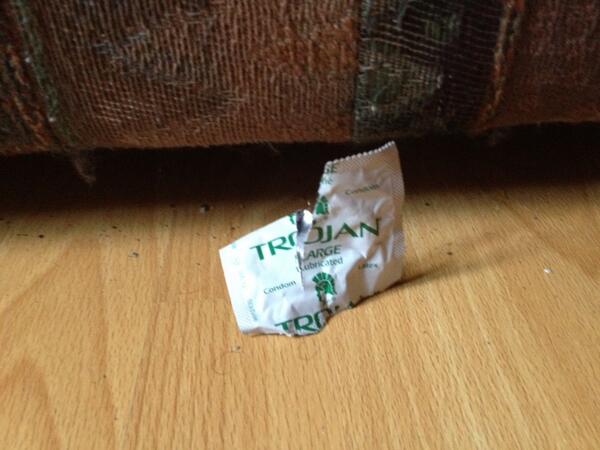 At least I know my roommate is being safe when he has sex on the couch in our living room.
Some people and companies have even used condoms as a form of advertising. For Example: One night a little over a year ago, I popped into the Wolf Den one Saturday night and Kearnsy had a couple of the guys from My Darkest Days hanging in the studio with him. I ended up leaving with a handful of their My Darkest Days Casual Sex condoms.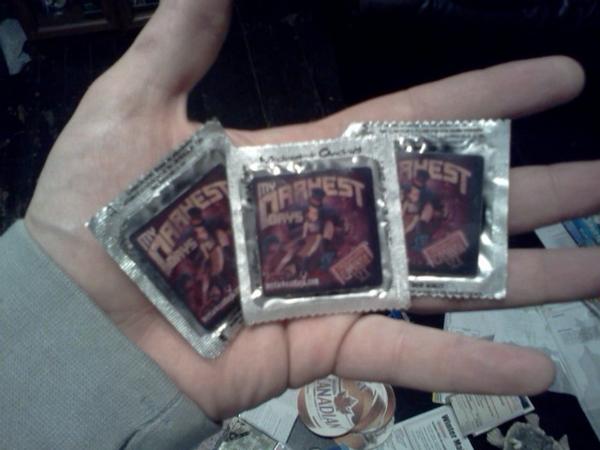 Of course, there's always going to be at least one person out there for who the regular version of anything just isn't good enough. In this case, it's Japanese company Sagami Rubber Indstries.
Of course, it has to be Japan that is working on this kind of thing. Not only are they technological leaders, we're talking about a culture in which used panty vending machines are the norm.
So how do you make a condom better? By making it thinner.
These Sagami condoms come in with a thickness of 0.01 millimetres. Just for some comparison, the thickness of a human hair is 0.06 mm. So yes, this particular contraceptive is 1/6th the thickness of a human hair.
Sagami has put over a decade of hard work into these, including testing over 20,000 of them. One can assume they passed water leakage tests, burst tests, tensile tests, and more than likely, some… other tests… or else they likely wouldn't be on the market.
Sagami seems committed to innovation. They were the first Japanese condom brand, and the first brand in the world to ever sell coloured condoms. Back in 2005 they released a line of 0.02 mm thick condoms, but that apparently wasn't good enough. For comparison, the thickest Trojan condom is the UltraThin, which measures in at 0.06 mm thick.
First off, I have one question: WHY?
I mean, I get that there will always be a demand for contraceptives, but is it really necessary to make them thinner and thinner? It has to get a point where you'd be too worried about it breaking that you won't really be able to enjoy the encounter.
And who are these marketed toward? Young men? Because as a young man myself, I can say that when it comes time to get lucky, you don't go searching for the thinnest contraceptive you can find. Anything that's not full of holes or past its expiry date is acceptable. I've seen guys (and even done it myself) who stay up til 4 AM when they need to get up at 5 for work just because there's the slightest hint of a chance to get lucky. If you're not picky about getting sleep, something tells me you're not going to be too picky about just how thin your contraceptives are.
Here's a little cartoon that illustrates just what I mean:
So marketing it toward young horny guys might not be the best bet (especially considering a back of 5 costs the equivalent of about $12), what about the older generations? Something tells me they might be a hard sell (pardon the pun) as well, as Dana Carvey's Grumpy Old Man explains:
So who would buy these? Apparently lots of people, because they're selling like hotcakes in Japan, with some stores apparently selling out their stock.
And apparently folks at Sagami aren't done yet. One researcher had this to say: "Honestly, I don't how we can make them thinner than this, but as long as there is a need for thinner, we will continue researching 0.009 millimeter and 0.008 millimeter thinness."
What do you think? Would you go out of your way to buy these exceptionally thin (and potentially untrustworthy) condoms? Or does it matter to you?
Regardless of the type you use, it's important you know how to use the damn thing. If you're a bit rusty, you can always practice with a banana!
Stay safe out there, friends.