It's a deal that everyone's tried to make at one time or another.
"I'd sell my ______ for a ______!"
The Simpsons illustrated it perfectly when Homer decided to sell his soul to the devil (who happens to be Ned Flanders) for a single donut. And of course, since he can't resist that last bit of forbidden donut, he ends up in hell eating donuts for the rest of eternity.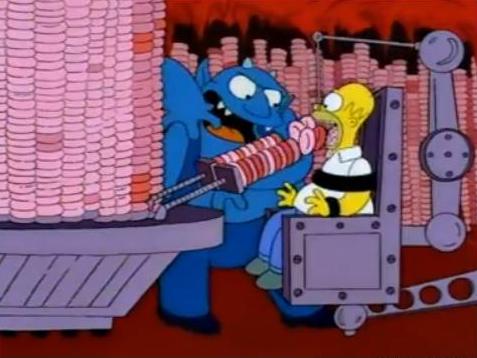 In that same episode, Bart, who seems intrigued by his dad's deal, suggests that he would sell his soul for a Formula One Racing Car.
Seems like a decent deal, aside from the fact that he'd never be able to use that car to the fullest of its ability on the streets of Springfield.
There's another similar saying that is popular among guys."I'd give my left nut for it."
As a testicle owner/operator myself, I reckon I've made such a claim on occasion (though no specific times jump to mind). The thought of actually doing it though is nothing short of cringeworthy.
In other parts of the world, black market organ sales actually happen somewhat regularly. Remember that teenager in China who sold his kidney for an iPad?
Rules are a little more strict in the United States, however, and you can't actually sell your organs. You have to donate them. Apparently you can be paid a handsome sum after the donation, however, and that's okay. I know this because there's a gentleman south of the border who is "donating" one of his gonads to get himself a sports car.
His name is Mark Parisi, and he's from Las Vegas (suddenly this makes a little more sense). Apparently he regularly enrolls in clinical studies, but says he is particularly "anxious" about this one. Gee, I wonder why. This study would see one of his testicles chopped off and replaced with a prosthetic one. His pay for taking part? $35,000.
He originally appeared on TLC's Extreme Tightwads to talk about having one of his family jewels removed, but it wasn't until he appeared on an episode of CBS's The Doctors that he revealed what he was planning to spend his money on: A Nissan 370Z.
Now I think everyone can agree that the 370Z is a pretty sexy car. Is it worth a testicle though? Let's break it down a bit.
First off, how do you calculate the price of a testicle?
Now if you give the Snopes page on Testicle Sale a quick skim, you'll see claims of people selling testicles for anywhere between $50,000 and $160,000.
At first glance, it would appear as though this guy is getting ripped off.
But once you read a little deeper into the article, you'll see this:
"Unfortunately for men seeking quick windfalls, universities and other medical organization don't regularly buy testicles. The National Organ Transplant Act of 1984 prohibits the sale of human organs and tissues for use in human transplantation, and that prohibition applies to testicles just the same as kidneys and other organs. Nonetheless, this rumor has run rampant in the last several years, with those desirous of selling portions of their male anatomy believing someone out there really and truly will pay for donated testicles. Such claims often identify a particular school that supposedly will pony up a hefty fee for these items, and they often include small details that seem to lend the rumors an air credibility: that only left testicles will are accepted, or that the purchase price increases with the size of the donated organ."
So if you go out there thinking "Hmm, I'm gonna sell one of my balls today," you're more than likely out of luck. Hate to break it to you. Maybe it's not such a bad deal that this guy has a guaranteed $35K coming his way, though.
However, there is still the car to examine.
It's worth nothing that $35,000 won't pay for the top of the line 370Z Nismo Edition, which fetches $43,020.
He'll also have to sell some blood if he wants a convertible, which comes in at $41,470.
His best bet is to get himself a base-model manual transmission 370Z which sells for just under $30K, which should leave him a little "I just lost my nut" spending money.
So guys, I gotta ask…
What would you be willing to give your left nut for?
Leave your answer in the comments below!
Many thanks to Jason Torchinsky and the folks at Jalopnik for sharing a great story. If you're into cars, then you should be frequenting Jalopnik for all the latest news and entertaining content.