Any sort of gambling is a bit of a risky venture, but most people would agree that putting money on the Toronto Maple Leafs might be downright foolish.
Don't get me wrong. I was born and raised a Leafs fan, and I think that's a flag that I'll fly until I die. However, I like to think of myself as a realistic Leafs fan. By that, I mean I have no expectations for my beloved Leafs to even make it to the playoffs, let alone win a Stanley Cup. Even still, it's nice to see them win, and it hurts to see them choke… Especially in Game 7.
Someone had an idea for the perfect comfort food following the Leafs' epic collapse last playoff.
When my Leafs were eliminated in the most ridiculous fashion imaginable, I had to find another team to throw my support behind. One day, Morganne Campbell announced on the morning newscast that the Ottawa Senators would be taking on the Pittsburgh Penguins in the next round of the playoffs. As a Leafs fan, I obviously could not support the Bruins, or the Senators (who are one of my most-disliked teams). Instead, I had to throw my support behind the Penguins, which was not an easy thing for me to do.
I'll be honest, I have difficulty supporting Sidney Crosby with that ridiculous chin-minge he grows in the playoffs. However, I'd have even more difficulty supporting the Senators.
When I made my comment about the Senators being done, I got a phone call from a gentleman named Frasier, who said "The Senators rule, and everyone else drools!" He then proceeded to bet me $20 that Ottawa would take the series. I was happy to make that bet, and thanks in part to James Neal's hat trick, I won it.
I wasn't sure if I would hear from Frasier again, but sure enough, a day later he showed up with a $20 bill and a coffee for me.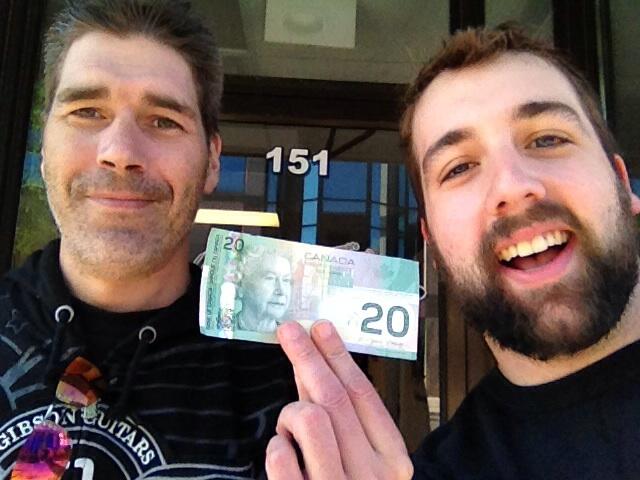 So this morning, before I'd even had a chance to talk about last night's Leafs vs. Senators game (which the Leafs won 5-4 in the shootout, in case you missed it),Frasier was on the phone to call me up and talk hockey. We chatted a bit about the players both the Leafs and Senators had acquired in the off-season, and then he proposed a wager. He put up $20 on a bet that the Senators would finish with more points in the regular season than the Leafs.
He's probably right. I would be surprised if the Leafs managed to finish ahead of the Sens. Sure, they're 3-0 now, but they have a history of starting the season strong and then just shitting the bed about halfway through, so who knows.
Regardless, apparently I'm turning into a betting man. Who do you think will be the team to beat this year?