If you didn't hear, yesterday was International Bacon Day. I did my best to spread the word through my BLOG POST on it.
It's a day to celebrate by eating bacon, any way you can. I mean, you could just fry up some bacon and eat it straight. That's perfectly acceptable, but it's usually more fun to get creative with it. Even just take your favourite foods and wrap them in bacon!
My pal Denise posted this on my Facebook wall yesterday:
What a great idea, right? And it actually got me thinking about chicken, and more specifically, one of my other favourite foods: chicken wings. You know, the Buffalo Chicken Wing Festival is also going on this weekend. They've got everything for the wing lover in the city where they were first served as a food, including vegetarian wings (WHY?!) and wing-eating contests.
I personally hope there was a contest that ended like this one, with the champ being pantsed and the pantser being punched:
Cheers to Matty Buller for finding this gem of a video.
Anyway, I'm writing this to tell you how I celebrated International Bacon Day. I've made a few elaborate bacon dishes in the past, but I didn't have the motivation to go all-out this time. Instead, I kept it fairly simple and decided to make a delicious Candied Bacon Weave.
First, you want to gather your ingredients: Bacon, Brown Sugar, Whiskey and Aunt Jemima's Original Syrup (Yes, I know real maple syrup would work better, but I'm fresh out so this works in a pinch).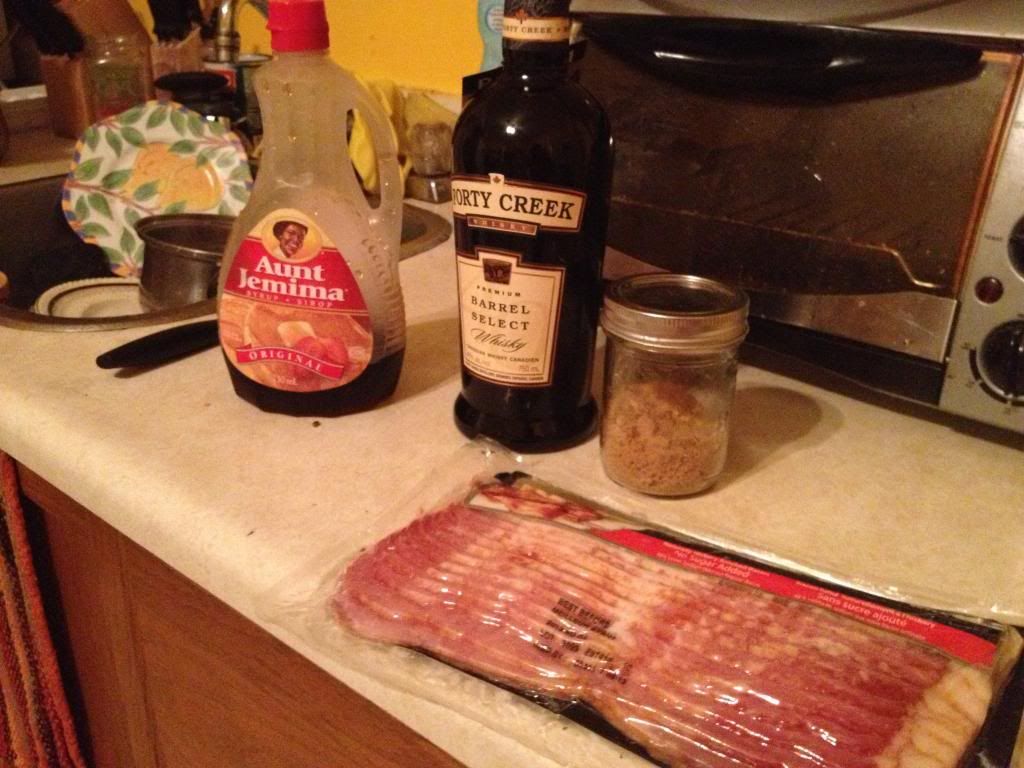 If you've ever done any basket weaving, you'll be able to get through this next part with ease. If not, it's not too difficult to figure out.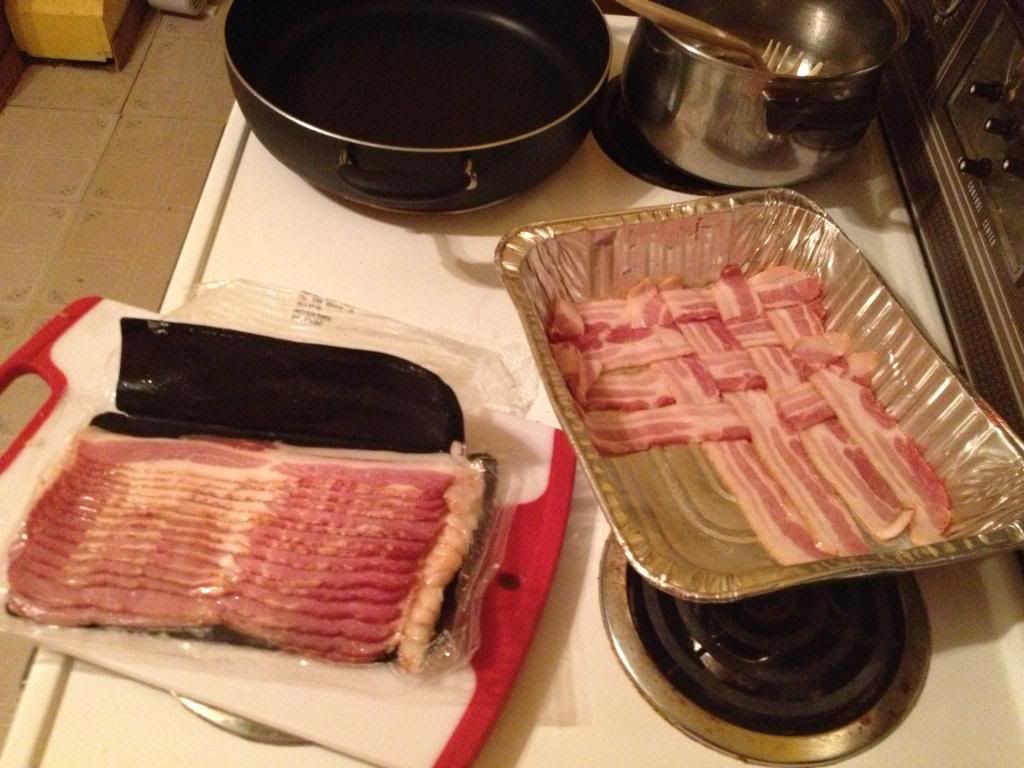 Once you've got your weave together, drizzle some syrup on that sucker and sprinkle brown sugar all over it. Once you've got it nicely coated, drown it with Whiskey! Well, maybe don't drown it (you don't want to waste the whiskey!), but put some in there for flavour. The first time I was involved in making candied bacon, Maple Whiskey was used. I went searching for it, but couldn't find it, so my old favourite Forty Creek rose to the challenge quite nicely.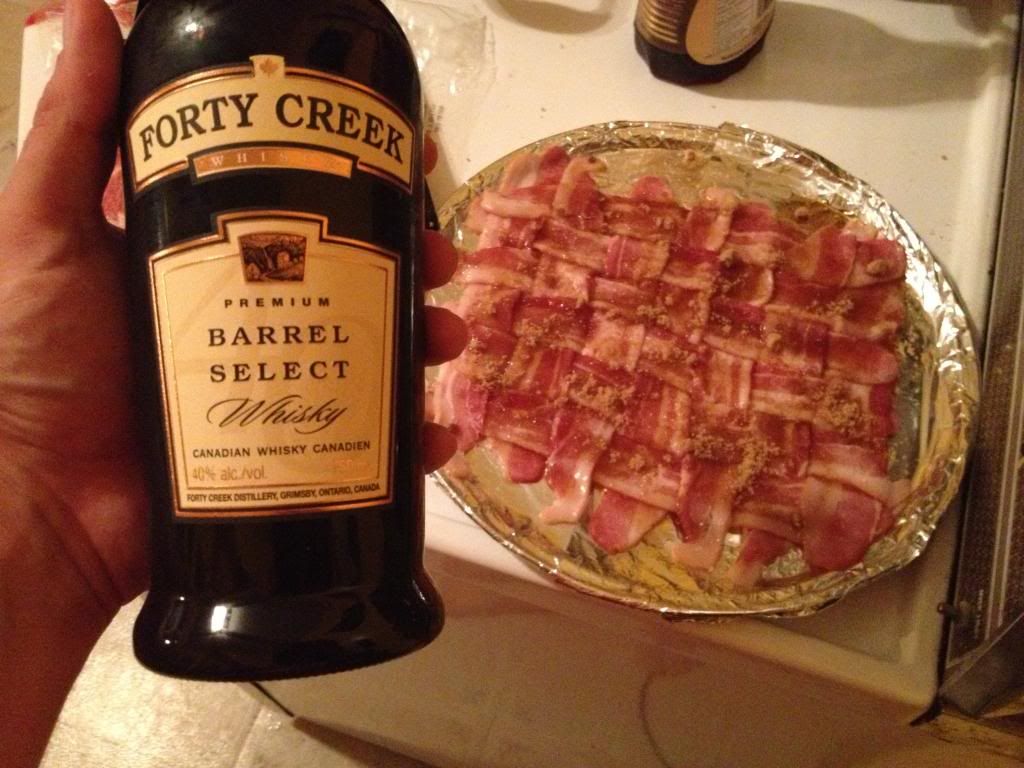 Make sure you preheat your oven before you get this far, otherwise you'll have to wait a few minutes for it to warm up. Once it's up to temperature, put your weaves in. I didn't really keep track of how long they were in for. Just use your best judgement as to when to flip them, and take them out. Also, depending on the type of pan you use, you'll want to keep an eye on the bacon grease. The last thing you want is it to overflow and start a grease fire inside your oven.
While your weaves are in the oven, you can do whatever you like. I chose to drink a beer. A Tusker Finest Quality Kenyan Lager.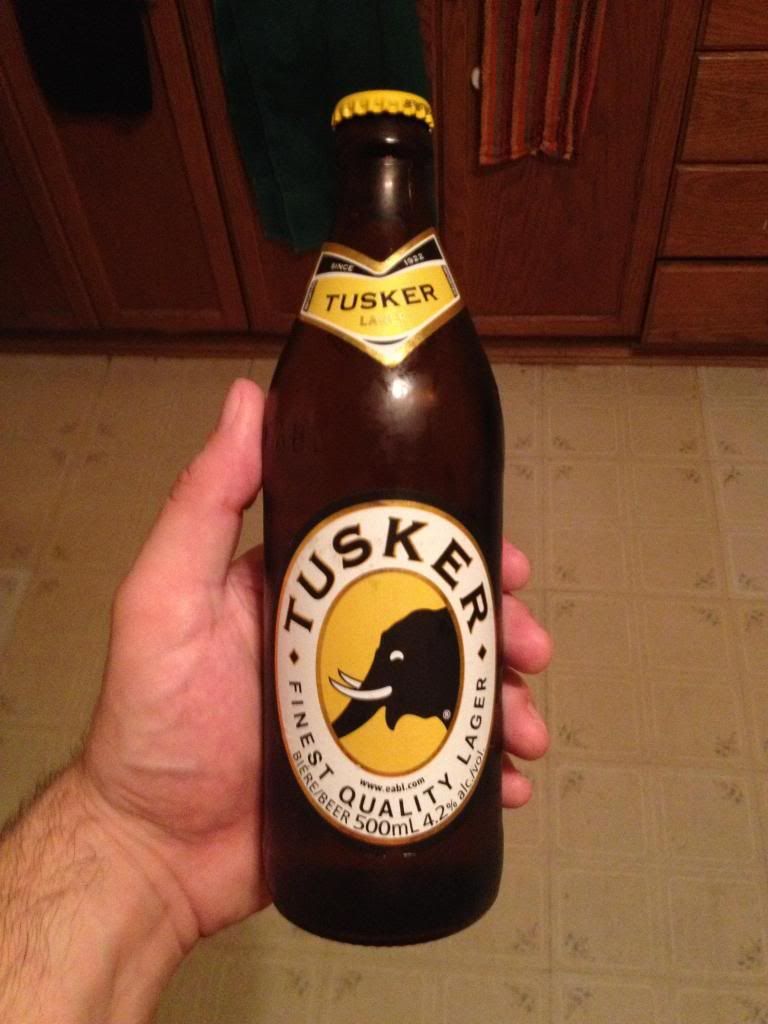 I also used this time to toss the rest of the bacon I had left over (from the 2 pounds I opened up) into a frying pan.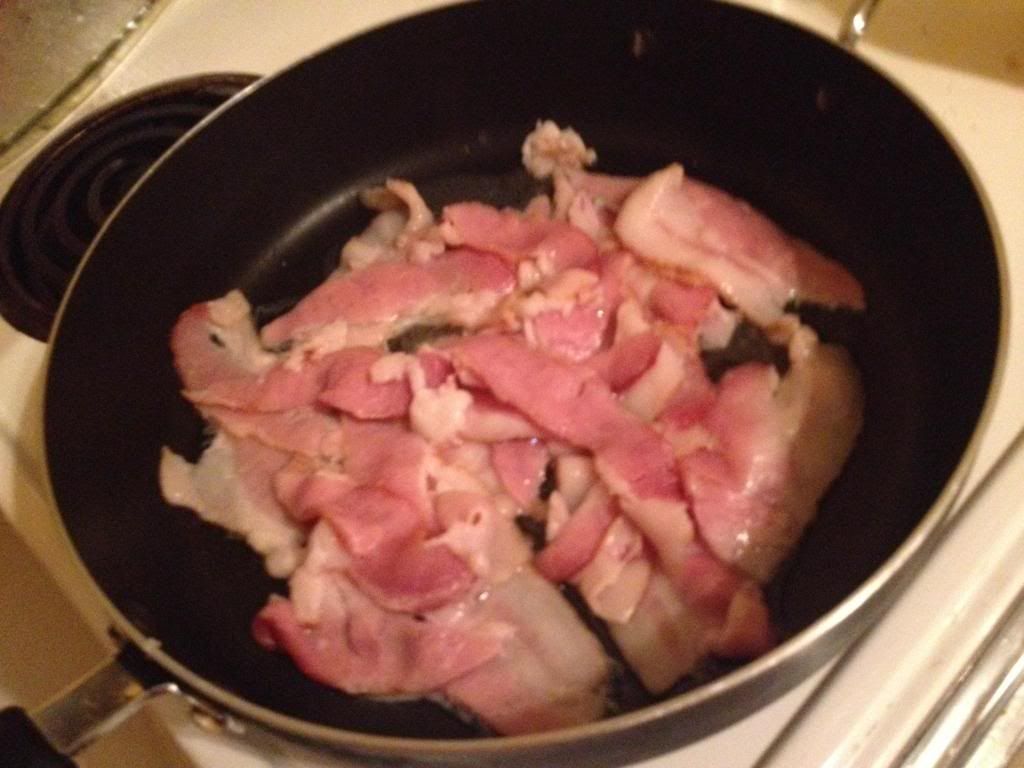 Like I said, you can enjoy bacon any way you like on International Bacon Day, but I'm a firm believer that the best way to enjoy bacon is on top of other kinds of meat. So I added this bacon to the burgers I grilled up for some tasty Bacon Cheeseburgers.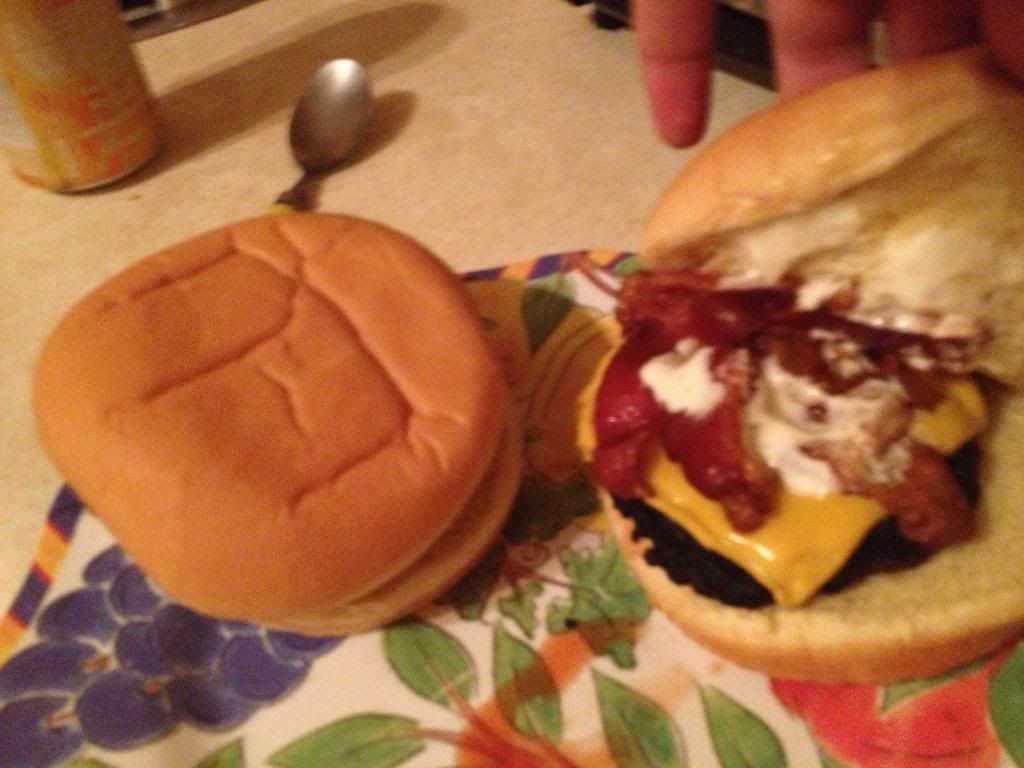 … Complete with that watery ketchup crap that always leaks out of the bottle and onto your food.
After dinner, I took the weaves out of the oven, and this is the glorious sight I was greeted with.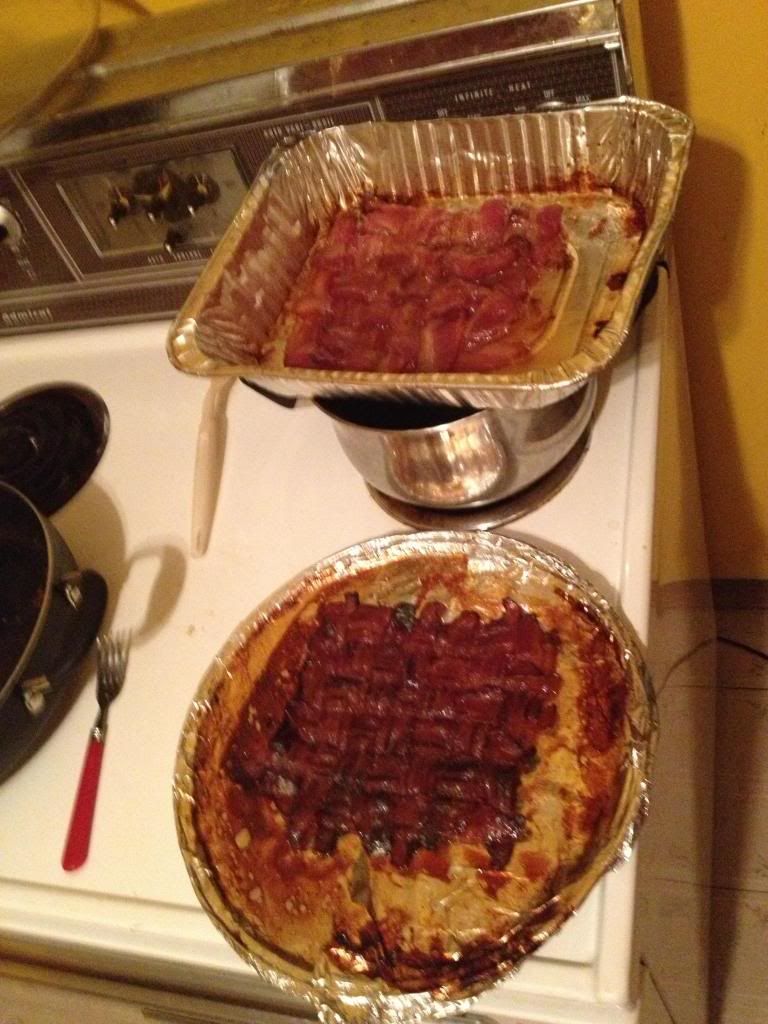 And after eating a little bit, I apparently felt the need to take another picture of essentially the same thing.
How did you celebrate International Bacon Day?