Most folks are celebrating this long weekend because of Labour Day. It's this Monday, and it celebrates the achievements of workers over the years, fighting for rights like the eight-hour work day movement.
… Because nobody wants to end up like this guy.
Or maybe you're excited because the kids will be going back to school on Tuesday.
… And if they're lucky, they'll get to ride in a sweet monster school bus!
I'll tell you why I'm excited, though. Today is International Bacon Day.
According to Professor Wikipedia, International Bacon Day was first conceived inBedford, Massachusetts in 2000. Bacon Day celebrations generally include social gatherings where folks create and consume bacon dishes containing bacon. It's the one day of the year where eating bacon with every meal is acceptable, and even encouraged! Actually, who am I kidding? I'm a big proponent of bacon with every meal of every day!
If you're not sure what it is you want to make out of bacon, the EpicMealTime dudes might offer some inspiration.
Obviously, you may not have Tom Green at your disposal to help out, but I've made a number of bacon dishes that are pretty simple, AND pretty awesome.
Back in February, a couple friends trekked to Peterborough to hang out for the night and cook ridiculous amounts of meat. We spent over $100 on meat alone and cooked it all up at once. Among other things, we made a candied bacon weave…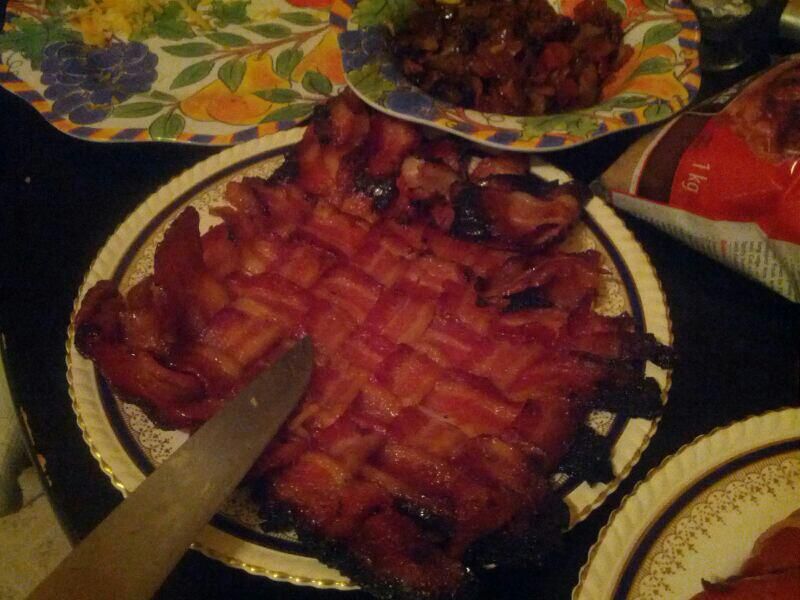 Bacon-wrapped sausages, and bacon-wrapped cheese- and chicken-stuffed steaks…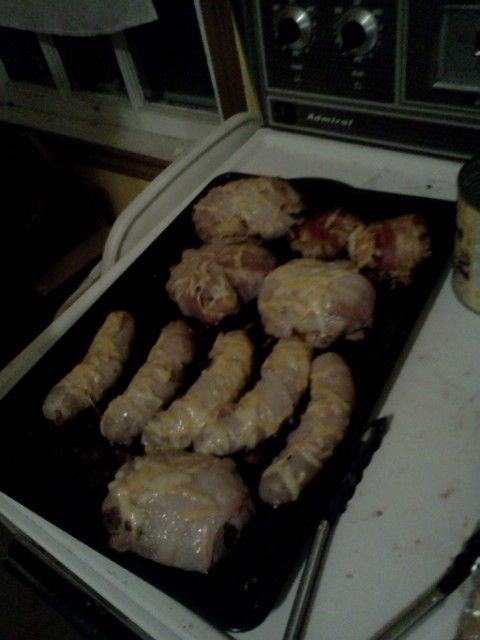 … and bacon-wrapped jalapeno popper-stuffed pork tenderloin!
If you've got a meat-loving sweetheart in your life and want to impress them, bacon roses are a surefire hit!
You can even cook up some bacon on the grill!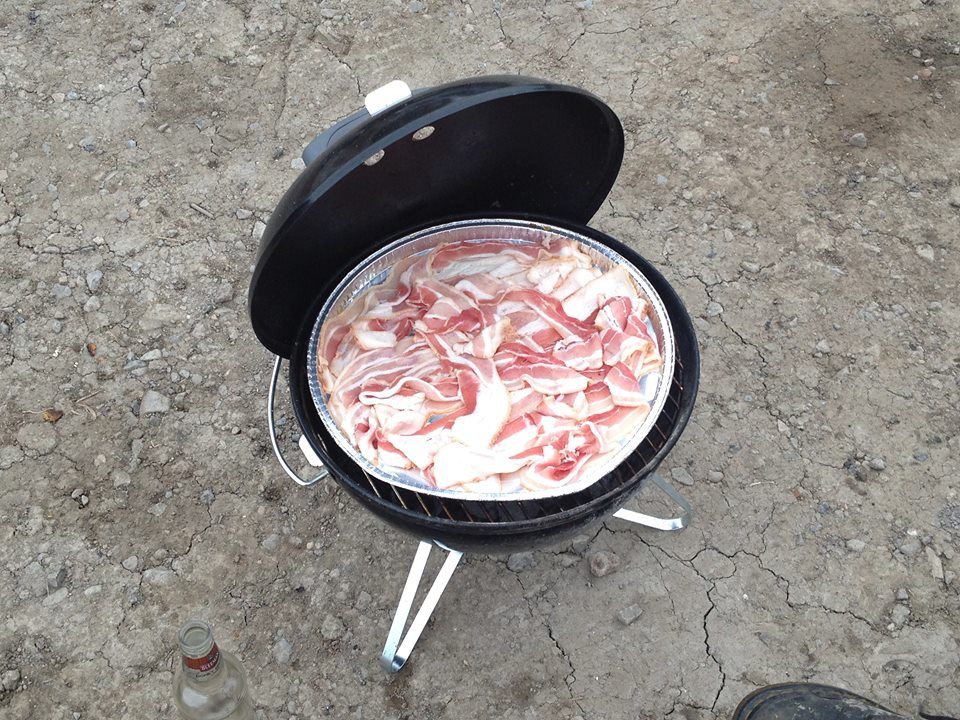 Just make sure you use some sort of pan to cook it on. If you don't, the grease will fall into the fire and cause major flare-ups, and burn your bacon to a crisp before it's even cooked. I found this out the hard way. The only bacon I've ever disliked came straight off the grill. Even though it did not taste great, I still ate it.
If you're looking for more creative ideas, you could make yourself a bacon stein…
Or you can make one of these, so it's ALWAYS bacon o'clock in your kitchen!
Maybe light yourself a bacon candle…
… while putting on your finest bacon suit.
A bacon suit is sure to impress the ladies. If you bring one home and things start to sizzle, don't forget to use a bacon condom!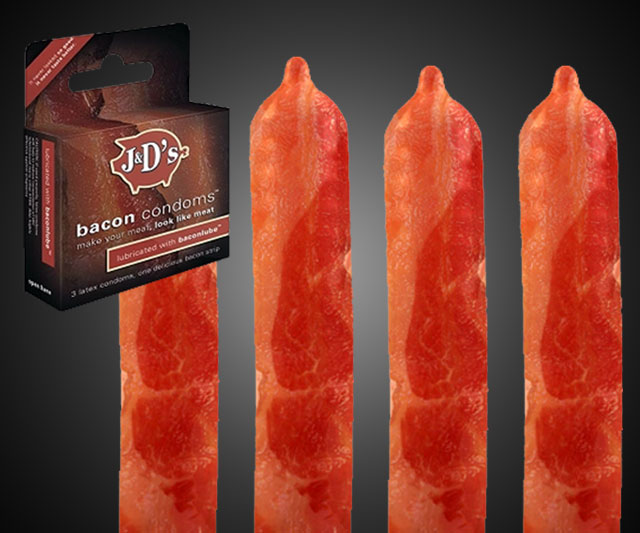 Or you just might end up with a bacon baby in the oven…
And you'll of course have to feed your bacon child bacon baby formula.
If there are no ladies around, you could always just roll around naked in a pile of bacon on your bed…
Whatever you do, I would advise against eating a Cronut Burger, at least in the near future.
As delicious as it looks, it's been responsible for a number of cases of food poisoning at the CNE. And while it hasn't killed anyone, unless you like getting violently ill, it's probably a good idea to stay away. After all, you don't want to prematurely end up in a bacon casket, do you?
How are you going to celebrate International Bacon Day? Let me know in the comments below!