Leading up to this weekend, it had been a hot couple weeks here in Peterborough, and unless you've got a decent air conditioner, then I'm sure you felt it.
I'll be honest, I can't believe that despite all the warnings we see and hear every day, there are still people who are stupid enough to leave their children and pets locked in cars with the windows up or only open like an inch. If you've ever gotten into a car that's been sitting in the sun for hours, you know it's bloody hot. Could you imagine roasting in that for more than the 30 seconds it takes you to roll the window down? Common sense, people!
That being said, this blog post is not about the ignorance of others. This blog post is about something that IS good to leave in a locked car in the sun… Cookies!
This past Wednesday, I had the pleasure of running the board for the Kruz-FM morning show while Pete and Catherine were down at the Silver Bean Cafe in Millennium Park.
Since Catherine was down there, Dani Stover handled the news duties. In one of her newscasts, she warned people against leaving their children and pets in hot cars, and added that with the temperature we were expecting, it might not even be a good idea to leave a sandwich in a car.
And it was that exact moment that an idea popped in my head.
Why not put cookies in the car to bake? This wasn't exactly a new idea though. In fact, it first popped into my head last summer, on the Saturday of Wolfstock Weekend.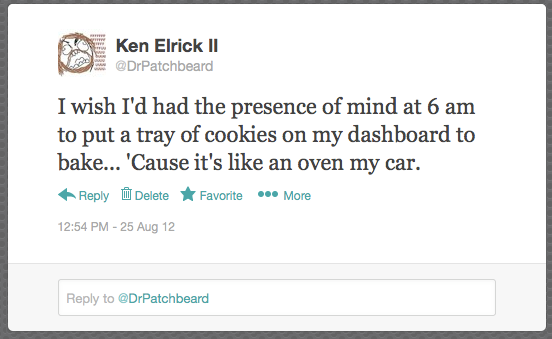 Well I had some free time, so why not? I stopped at Dieter & Darcy's No Frills on the way home from work to grab some Pillsbury cookie dough.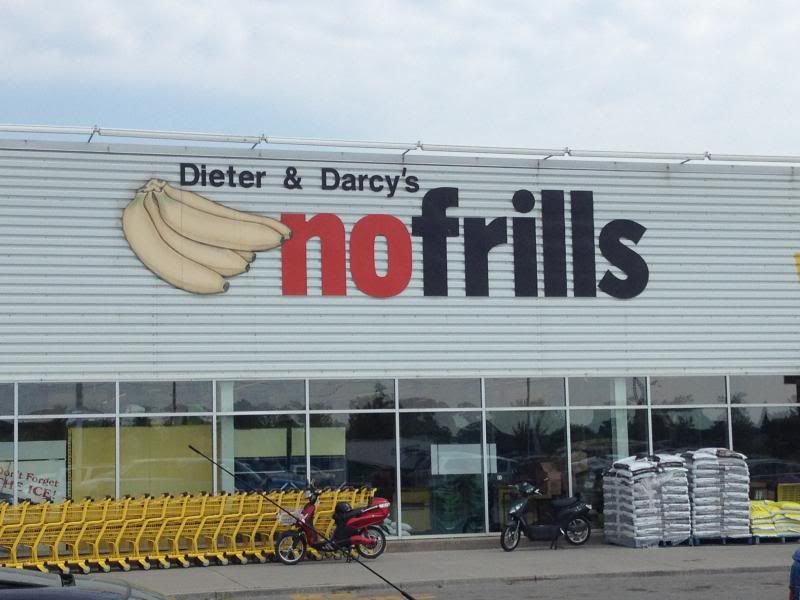 I then spread out the cookies on a baking sheet.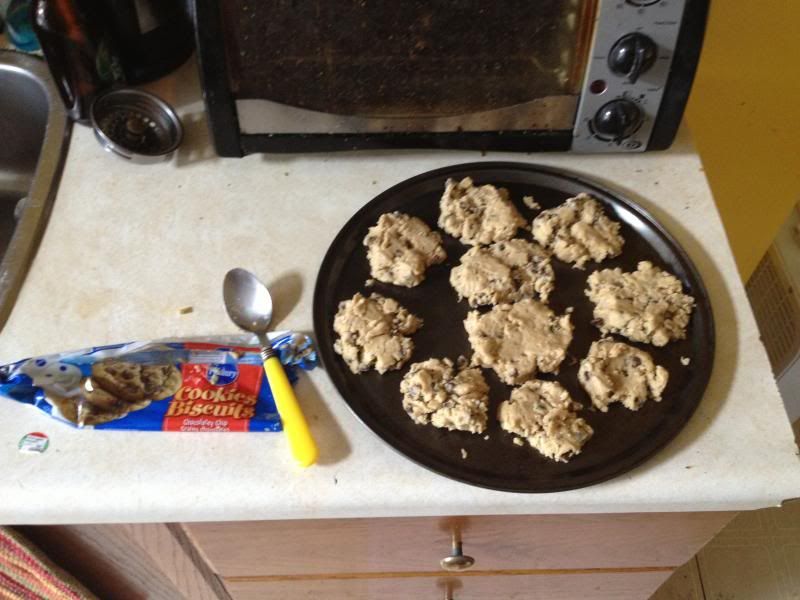 Now obviously, a car is a very important part of this experiment. If you have a dark coloured car, that's going to make it a little bit easier. As Mythbusters proved, dark cars heat up faster than light cars.
"A fan wrote in and asked a follow up question: "Does the color of a car affect the way it heats up?". The MythBusters used two identical cars, one black the other white and left them both out in the summer heat with thermometers in both. By mid-afternoon the black car had heated up to a temperature of 135 °F while the white car topped off at 126 °F, almost 10 degrees cooler."
I decided to use my trusty old Saturn SC1, which just so happens to be almost black (it's actually a really dark shade of purple).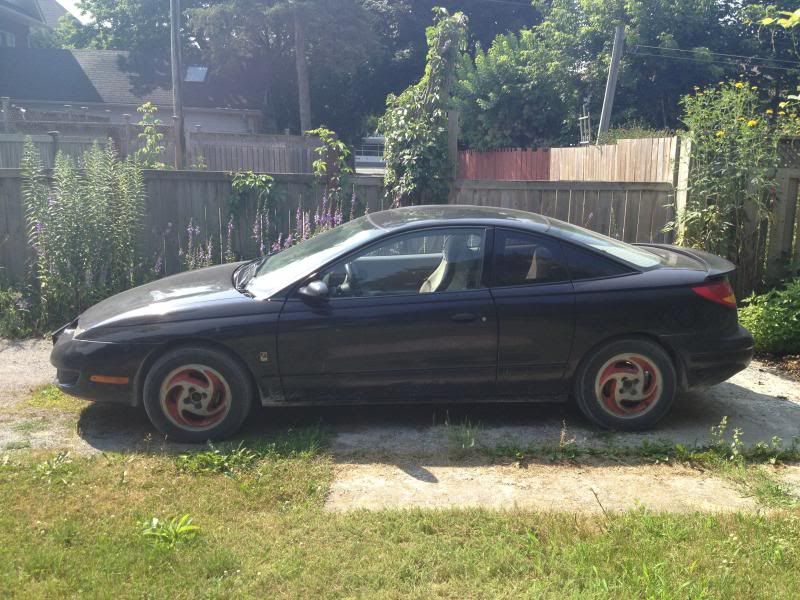 At this point, the sun was hanging over the front part of the car, so I set the cookies on the dashboard.
Now make sure you roll your windows up.
And remember to lock the door. You don't want someone coming and stealing your cookies!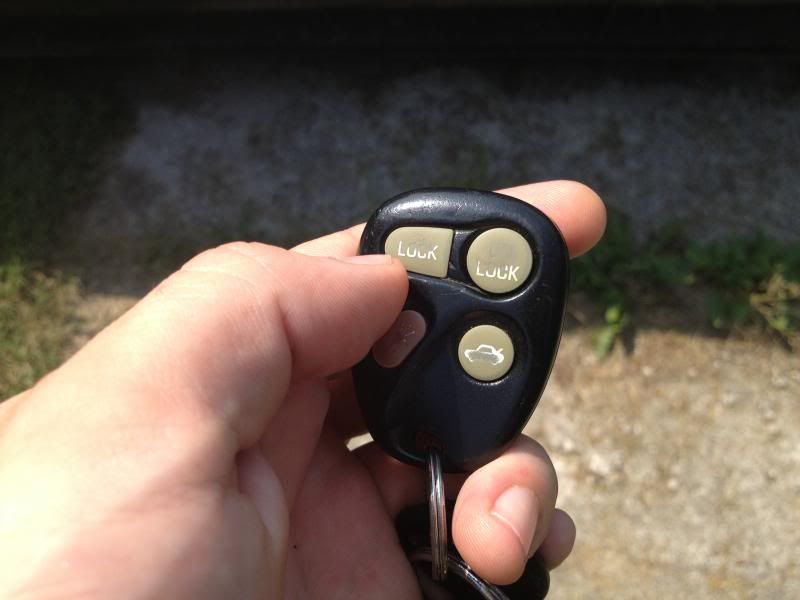 Then, leave them to bake and do whatever you like. I recommend having a nap.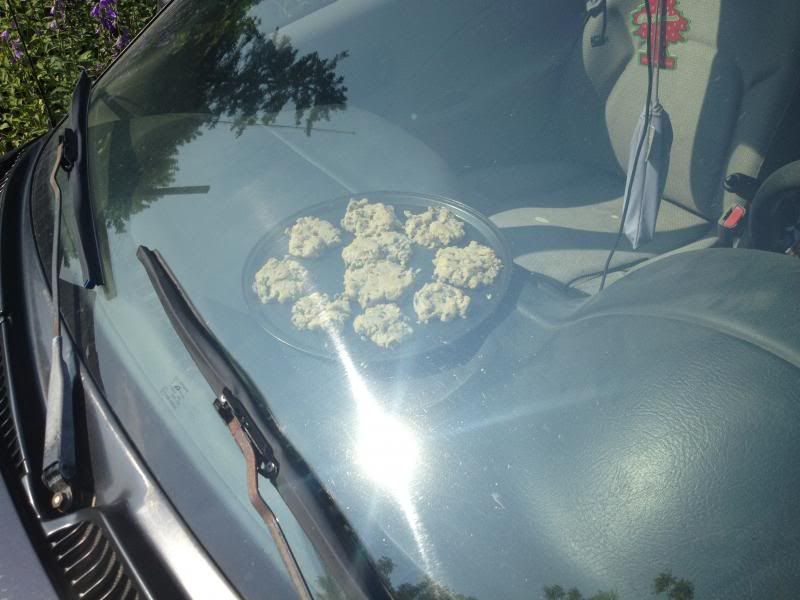 After about 2 1/2 hours, I came back to check on the progress of the cookies. This is what I found: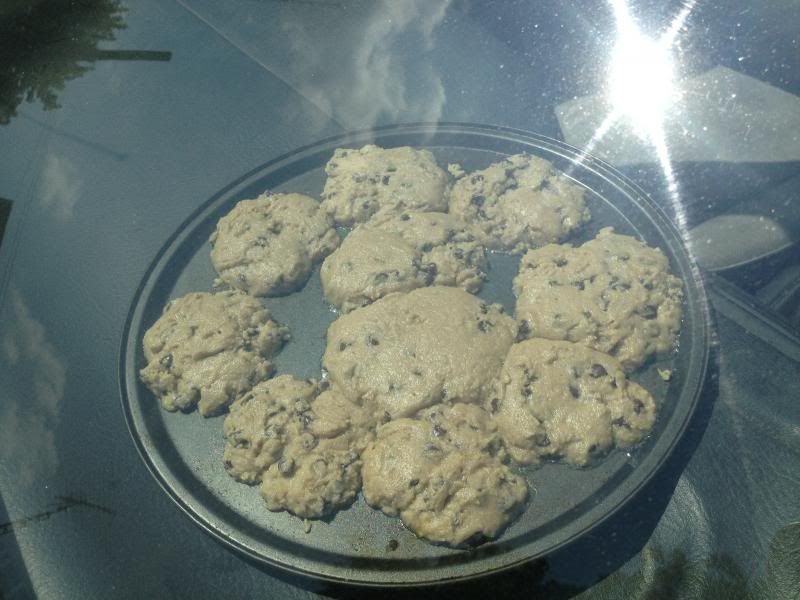 They looked like they were coming along, but not quite there, so I left them for another hour and a half.
Just for an idea of how hot it was, this is what my iPhone told me (keep in mind, with the humidity it felt like 43-45 or so):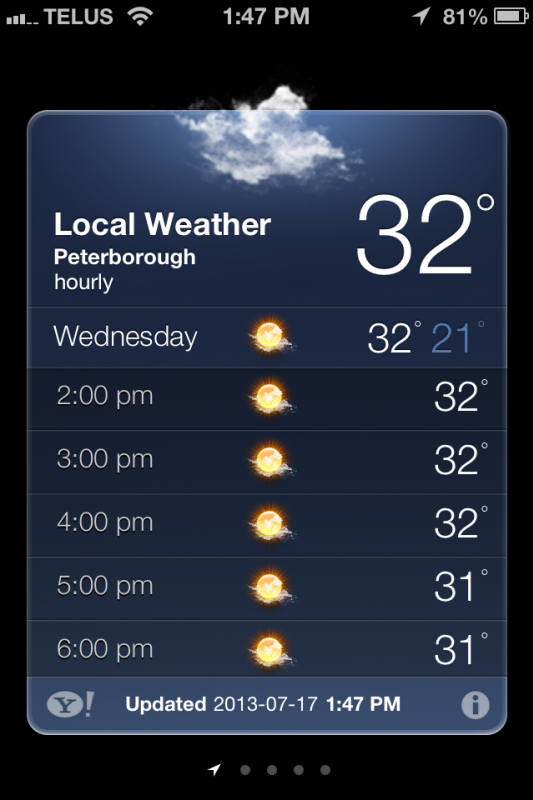 This is what the cookies looked like after another hour and a half:
The sun had started hanging over the back of the car at this point, and while I didn't want to open the car up, I figured it would make sense to have the cookies sitting in the back window.
That's another thing to keep in mind: Although it might be tempting to open the car up and smell the cookies baking, doing so lets the built up heat escape meaning it will take longer for your cookies to bake.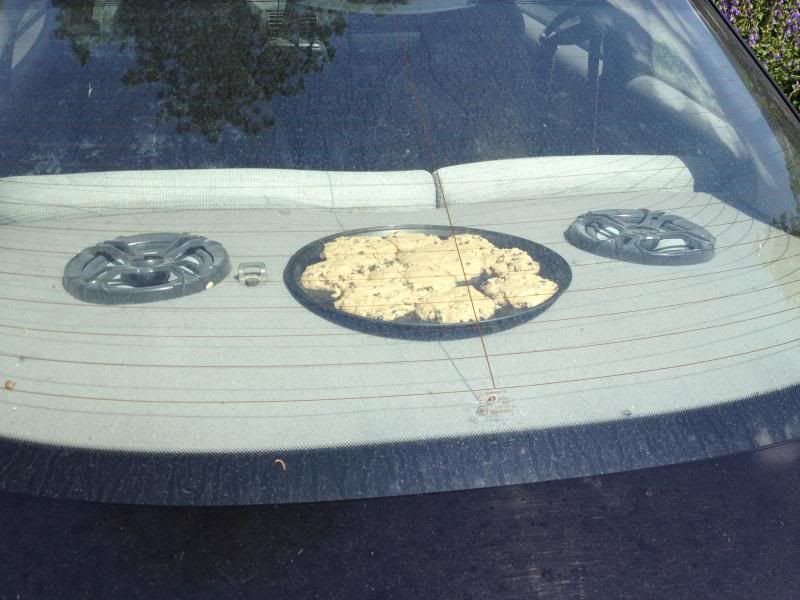 I left them for another hour and a half until I had to start getting ready for work.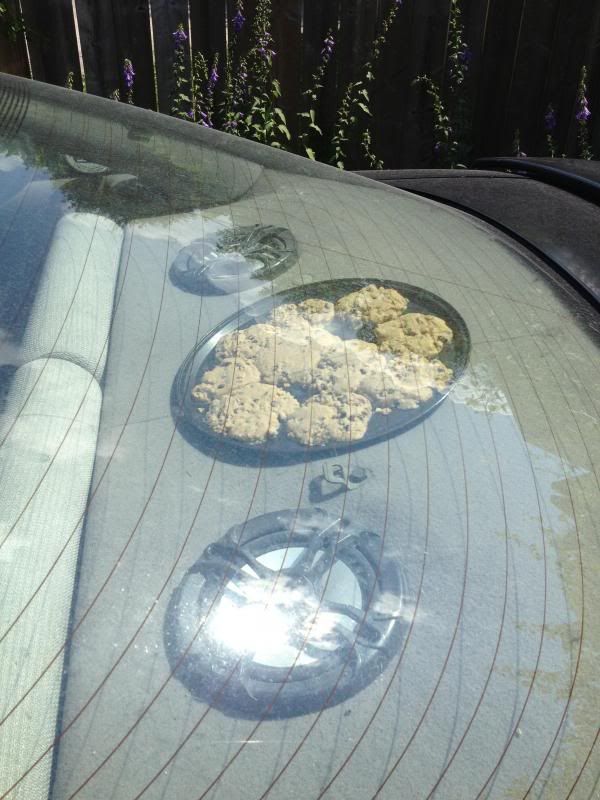 At the time, they didn't look completely baked to me. I figured it might be a good idea to bake them some more in the oven.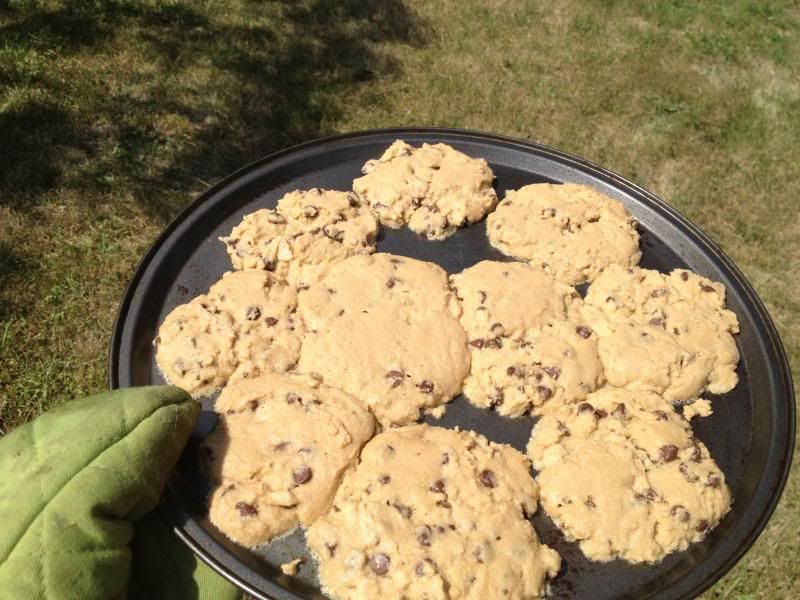 In the end, I had some tasty (although hard and crunchy) cookies. I think the oven might have been a bit overkill.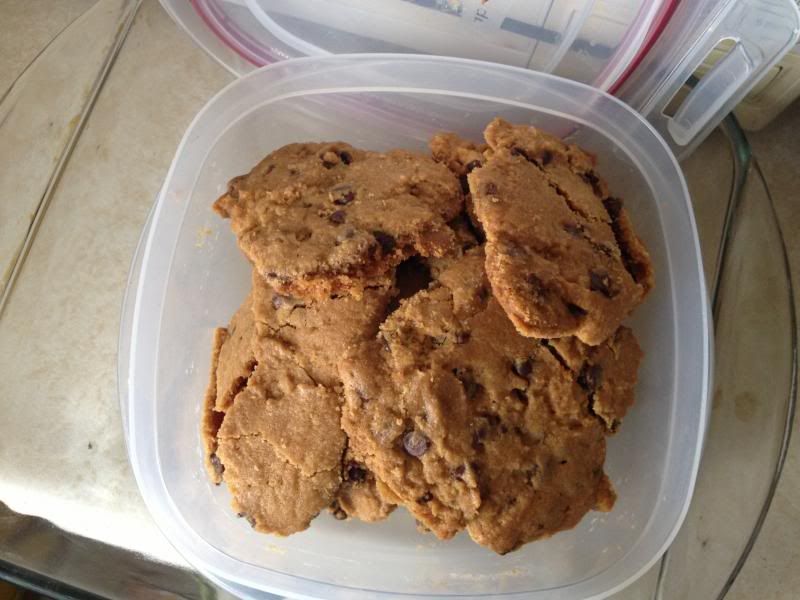 So remember folks, when it comes to leaving things in hot cars… Cookies, not kids! Pastries, not pets!