To many metalheads, Mötörhead frontman Lemmy Kilmister is a seemingly immortal figure.
Dave Grohl first recorded with Lemmy during sessions for his metal album Probot, and wrote a very fitting summary of working with him:
"We recorded his track in Los Angeles in maybe two takes about a year and a half ago. Until then I'd never met what I'd call a real rock 'n' roll hero before. Fuck Elvis and Keith Richards, Lemmy's the king of rock 'n' roll – he told me he never considered Motörhead a metal band, he was quite adamant. Lemmy's a living, breathing, drinking and snorting fucking legend. No one else comes close."
The song Lemmy recorded with Grohl, Shake Your Blood,  is in my opinion the highlight of an overall pretty solid metal album, with each song featuring a different metal legend on vocals.
Despite the fact that many fans consider Lemmy some sort of god…
… a few health problems recently have reminded us that he is just a man.  A man who now has some fancy electronics embedded in his chest. You see, earlier this year, Lemmy had a defibrillator installed in his chest. Not a pacemaker, but a full on "CLEAR!" chest zapper.
The implantable cardioverter-defibrillator (ICD) was a response to doctors' discovery of Lemmy's irregular heartbeat. Though he plays it off as just having "heart problems," this is the real deal. If an ICD detects an irregular heartbeat, it zaps the host to correct the heartbeat. One can only imagine Lemmy's response to such a shock: steadying his whiskey to make sure he doesn't spill any. Possibly part of the reason for his health issues could be his intake of alcohol. In the documentary Live Fast Die Old, it was revealed that he drinks a bottle of Jack Daniel's every day, and has done so since he was 30 years old (I did the math: he's 67 now, so that works out to about 13,500 bottles).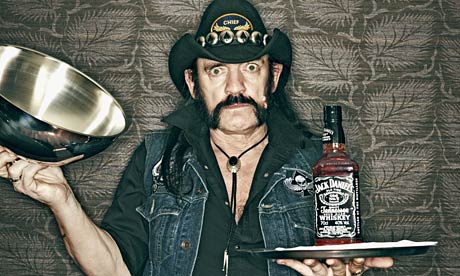 Gossip started circulating earlier this week when Mötörhead were forced to cancel 3 shows after Lemmy suffered a hematoma. To battle the rumours, the band released a statement to assure fans they've got nothing to worry about.
"We are happy to announce that despite rumours to the contrary, Lemmy is alive, breathing, talking, f**king, drinking, eating, reading and will be back to playing shows shortly. As reported, he did undergo a Motor-pit-stop for some medical maintenance this past spring, and the timing of his recent illness was unfortunate in that it came so soon after that. Lemmy and co believe in the 'keep calm and carry on' way of thinking. Fans can anticipate more Motorhead live action this summer."
So while he's still kicking, this serves as a reminder that he is but a mortal man. It seems as fitting a time as any, however, to pay tribute to him.
Even folks who aren't fans of Mötörhead are familiar with the classic Ace of Spades
And that distinctive stance on stage, with the microphone high above him so he has to look up to sing? That's been around since the early days. Apparently he started doing that for "personal comfort, that's all. It's also one way of avoiding seeing the audience. In the days when we only had ten people and a dog, it was a way of avoiding seeing that we only had ten people and a dog"
The TV documentary Mötörhead: Live Fast Die Old, it was claimed that Lemmy is a "sex legend," having bedded in excess of 2,000 women. Lemmy himself later said that he had told them "more than 1,000," and they they made 2,000 of it. In the 2010 documentary Lemmy, however, he said that was a myth made up by the press and the real number is closer to 100.
Lemmy is also known for his rather large collection of Nazi memorabilia. This has led a few people to think that he is himself a Nazi, but he maintains that he collects the artifacts for aesthetic value only. He considers himself an anarchist or libertarian, and he claims that "government causes more problems than it solves."
Lemmy has also worked as a chauffeur,  getting behind the wheel of the Foo Fighters' White Limo.
But possibly my favourite thing about Lemmy is the Lemmy Beard (which is less a beard, and more of a combo of muttonchops and a moustache).
Though it's unlikely anyone will ever rock the Lemmy Beard quite like Lemmy does, there have certainly been a lot of people who try it out. I've even given a shot a couple times too…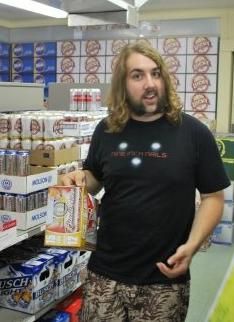 And the best non-Lemmy version of the Lemmy Beard I've seen recently was the playoff beard grown by Jaromir Jagr in the 2013 playoffs.
Lemmy is still alive and well, but even if he were to drop dead tomorrow, he'll leave behind quite a legacy.